Crosby, Stills, Nash and Young Again Join Voices in Spotify, Joe Rogan Debate
The four former members of the legendary folk-rock supergroup Crosby, Stills, Nash & Young have again joined forces, but this time to speak out in the debate involving Spotify, podcast host Joe Rogan and COVID-19 misinformation.
After Neil Young pulled his music from Spotify last week in protest against the false information he accused Rogan's podcast of spreading, his former bandmates David Crosby, Graham Nash and Stephen Stills announced Wednesday that they had requested that all of their joint recordings be removed from the streaming service.
This includes music by CSNY; Crosby, Stills & Nash; Crosby & Nash and solo recordings by Stills and Crosby, according to a press statement.
"We support Neil and we agree with him that there is dangerous disinformation being aired on Spotify's Joe Rogan podcast. While we always value alternate points of view, knowingly spreading disinformation during this global pandemic has deadly consequences," Crosby, Stills and Nash said in their joint statement, which marks the first time Stills had spoken out since Young's action.
"Until real action is taken to show that a concern for humanity must be balanced with commerce, we don't want our music—or the music we made together—to be on the same platform."
Young was the first to pull his music from Spotify after it sided with Rogan in an ultimatum that asked the streaming service to choose either Young or the controversial podcaster. Several other artists have joined ranks with Young since the announcement, including Joni Mitchell, India.Arie and guitarist Nils Lofgren.
Rogan's podcast, The Joe Rogan Experience, for which Spotify acquired the exclusive rights in a reported $100 million deal, has been accused of spreading misinformation about the pandemic and vaccines.
Nash announced Tuesday that he was requesting for his solo recordings to also be removed from the service, and stated support for "my friend, Neil Young."
"There is a difference between being open to varying viewpoints on a matter and knowingly spreading false information which some 270 medical professionals have derided as not only false but dangerous. Likewise, there is a difference between misinformation, in which one is unaware that what is being said is false, versus disinformation which is knowingly false and intended to mislead and sway public opinion," Nash said in a press statement.
"The opinions publicized by Rogan are so dishonest and unsupported by solid facts that Spotify becomes an enabler in a way that costs people their lives," he added.
David Crosby, who sold off his music catalog in March last year, previously tweeted Friday that he would have done the same regarding Spotify if he still had control of his music.
But the musician switched course on Twitter Wednesday and said that he was going to remove his music from the platform, but did not explain how he would be able to do so.
"I have not and will not demand anything from Spotify or Joe Rogan ...I just don't want my music on there if he's on there so I'm taking mine off," he tweeted.
Newsweek has reached out to Iconic Artists Group, which owns the rights to Crosby's music, and his publicist for clarification.
In an Instagram post on Tuesday, Nash also said that many musicians have to rely on platforms like Spotify in order to share their music and get exposure. The fact that not all artists can pull their music out makes it more important that Spotify and other services "must be more responsible and accountable for the content they are obligated to moderate for the good of the public at large," he wrote.
Since their formation in 1968 and subsequent reunions over the decades, CSNY have addressed political and social issues through such songs as "Ohio" and "Almost Cut My Hair." The last time that CSNY performed together in concert was in 2013, USA Today reported.
The latest remarks from Nash and Crosby highlight the growing conversation about what constitutes free speech versus promoting dangerous information, and the regulatory role platforms should or shouldn't play.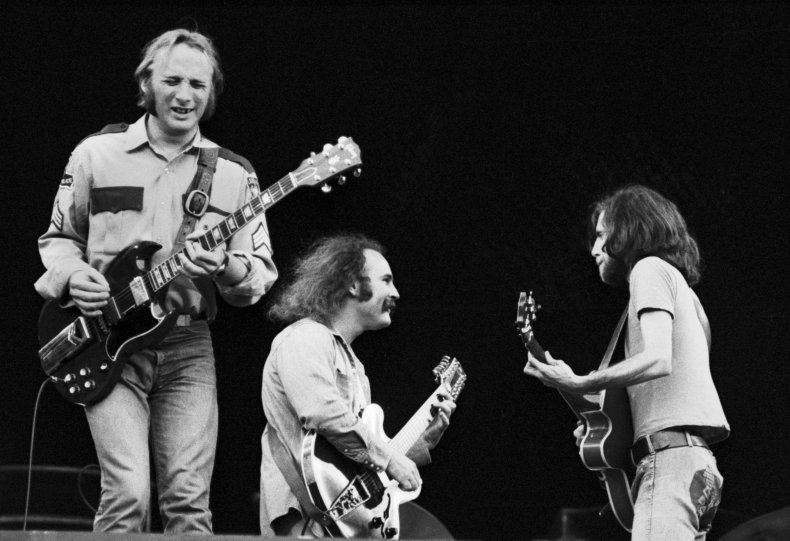 Young initiated the conversation regarding musical artists and Spotify last week when he published a now-removed letter on his website that said the streaming service "can have Rogan or Young. Not both."
"I am doing this because Spotify is spreading fake information about vaccines—potentially causing death to those who believe the disinformation being spread by them," Young wrote in the open letter.
Spotify agreed to remove his music, angering Young's fans and Rogan's critics. Instead, the streaming platform opted to add advisory warnings on podcast episodes on COVID-19.
Hundreds of scientists signed an open letter to Spotify in January that cited Rogan's "concerning history of broadcasting misinformation, particularly regarding the COVID-19 pandemic."
Update 2/2/22, 3:25 PM ET: The story has been updated with the announcement that Stephen Stills will also join his former CSNY bandmates in removing their music from Spotify.