An intern who was present at the now-infamous Crossfire episode when Jon Stewart sparred with Tucker Carlson has recalled how the audience was "dumbfounded" watching the volatile interview unfold.
Today (May 5) the clip of late-night host Stewart laying into Fox News personality Carlson on the CNN show 15 years ago began circulating on Twitter with many relishing in the drama.
The clip shows Stewart arguing with Carlson and roasting him for stoking controversy years before he became the right-wing reactionary controversial figure he is today.
The episode of Crossfire, which aired in 2004, shows Stewart telling the co-host that regarding "a responsibility to the public discourse," he had had "failed miserably."
"When you have people on for just reactionary, knee-jerk...." Stewart says before Carlson interrupts "I thought you were going to be funny."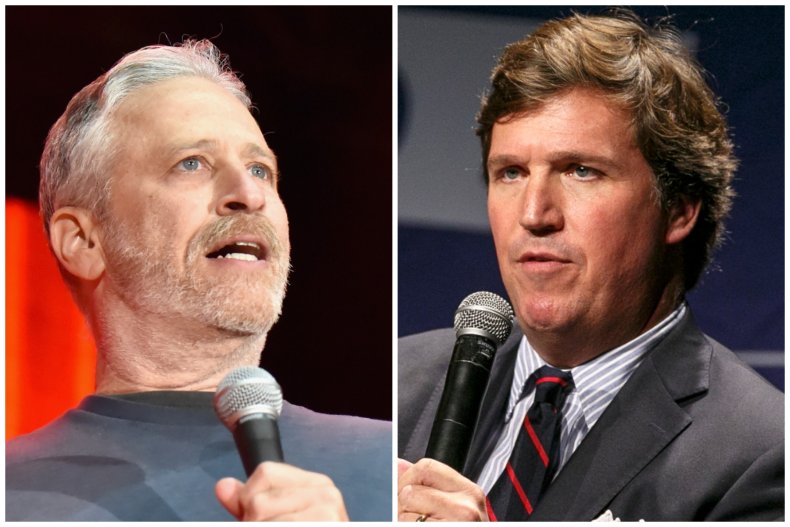 Carlson then adds that Stewart should "get a job at a journalism school" for scolding him.
The former host of The Daily Show responds: "You need to go to one."
Stewart later says: "You're as big a d*** on your show as you are on any show."
He also mocks Carlson's signature bowtie and condemns his "partisan hackery."
"You're doing theater when you should be doing debate," said Stewart. "What you do is not honest. What you do is partisan hackery."
The nightly political debate series Crossfire, which featured two pundits representing the left and the right of the political spectrum, had originally run from 1982 to 2005.
Carlson replaced Mary Matalin as the conservative pundit in 2001, alternating with columnist Robert Novak—while Paul Begala and James Carville were the alternating representatives of the left.
The show was canceled just three months after Stewart's appearance on the show in January 2005. It was revived again in 2013 with Newt Gingrich, S. E. Cupp, Stephanie Cutter, and Van Jones before being canceled for a second time a year later.
One person who was there on the day has said that "everyone was dumbfounded" by the interaction.
"I was an intern/volunteer for the show at the time and watched it happen live," tweeted Erin Moloney.
"I remember the producers/everyone involved thinking it was going to be a funny show and quickly realized things were gonna go south quickly. Everyone was dumbfounded."
Moloney added in another tweet: "I watched this live in the studio audience and it is still as cringey and wonderful today as it was in 2004."
Recently, Stewart referenced the clip on Twitter and called his then co-presenter a "d***" and a "failure."
"I called Tucker Carlson a d*** on National television. It's high time I apologize...to d**k*. Never should have lumped you in with that terrible, terrible person," he tweeted on March 11.
The comedian had only recently joined Twitter to mock the hypocrisy of Wall Street traders in the midst of the GameStock debacle.