Jon Stewart has finally joined Twitter in 2021 after years of showing no interest in being involved with the social media site.
The former late-night host was moved to join the platform amid the Wall Street/Reddit/GameStop frenzy that currently has enthralled the world.
"This is bulls***." the former Daily Show host wrote in his very first tweet from his brand new verified account. "The Redditors aren't cheating, they're joining a party Wall Street insiders have been enjoying for years. Don't shut them down...maybe sue them for copyright infringement instead!! We've learned nothing from 2008. Love StewBeef."
The account follows no one but has more than 90,000 followers already.
Fans of the comedian and commentator have been providing Stewart with a warm welcome to the site, who has kept a relatively low profile since leaving the Daily Show in 2015.
"Well, one thing changed since 2008- a friend of mine joined Twitter," fellow comedian Stephen Colbert said in response.
"In 2021, Twitter traded Donald Trump for Jon Stewart," wrote pundit Frank Luntz.
Another Twitter user added: "With Jon Stewart on twitter, and now verified, it feels like the planet is finally healing."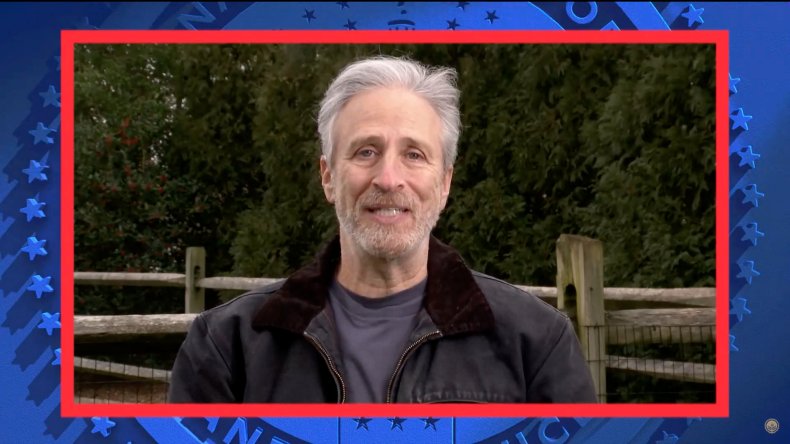 "Mr. Stewart starting off strong in his Twitter debut," said columnist Max Burns.
Reddit founder Alexis Ohanian joked: "I AM LONG JON STEWART ON TWITTER."
While commentator Lance Ulanoff added: "We're saved. Jon Stewart is here."
"Here comes Jon Stewart. Twitter is good again," said journalist Scott King.
Stewart went on to thank fans and friends for the warm welcome, tweeting promising "to only use this app in a sporadic and ineffective manner."
Many have commented on how Steward managed to avoid Twitter during Donald Trump's presidency but was so compelled to join the site amid the Wall Street news.
The TV personality used to tweet via the Daily Show account, and got into a heated exchange with Trump back in 2013.
Trump tweeted: "I promise you that I'm much smarter than Jonathan Leibowitz -- I mean Jon Stewart @TheDailyShow. Who, by the way, is totally overrated."
Trump later continued, tweeting that Stewart "should be proud of his heritage."
Stewart responded that Trump's real name was actually "F***face Von Clownstick," and urged his followers to "vote wisely."
Trump accused Stewart of having it stolen from "a moron on Twitter."
"Four days later, perhaps the next president of the greatest country in the world, at 1:30 in the morning, tweeted, 'Little Jon Stewart is a p**** and would be hopeless in a debate with me,'" Stewart said about Trump at the time.