While you may not have set foot into a GameStop recently, the video game retailer has seen a massive spike in stock value, thanks in part to Redditors on the subreddit r/WallStreetBets who've been rallying investments to get rich quick off the retailer.
Members of r/WallStreetBets have disrupted short-sellers on GameStop (which is abbreviated as "GME" on the stock ticker) by funneling money into the retailer's stock, causing its value to increase more than 700 percent in the past week, as of the time of this article's publication.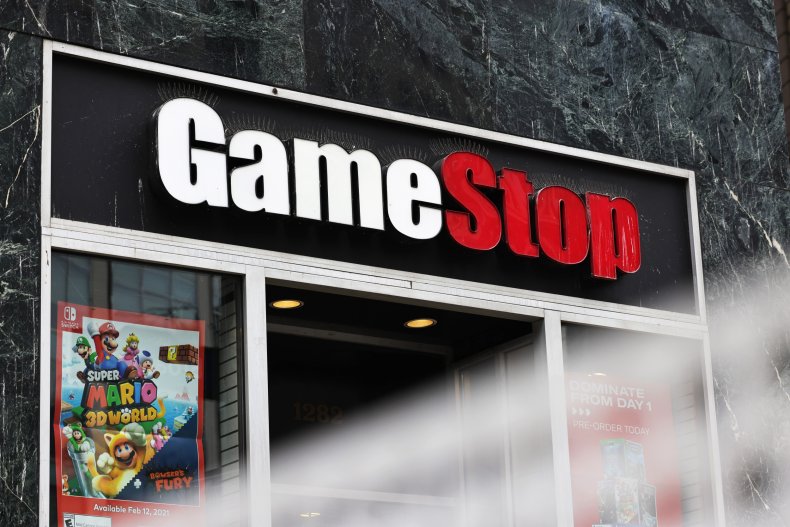 Scroll through the subreddit, and you'll see people sharing news and discussions about the stock market, and notice some sprinklings of memes (often featuring Leonardo DiCaprio as Jordan Belfort in 2013's The Wolf of Wall Street), and screenshots of people's RobinHood apps showing just how much money they've earned (often tens of thousands of dollars). The description for the sub describes it as, "Like 4chan found a Bloomberg Terminal."
One of the sub's moderators—who goes by the handle u/OPINION_IS_UNPOPULAR— wrote in an email to Newsweek that, with the GameStop success, members of the subreddit have "a lot more unabashed enthusiasm and confidence in the market than there was earlier in 2019 and 2020." She also noted that recently the sub has seen a major increase in new users, with more than 50 times the average daily pageviews.
Apparently, the influx of users has affected the subreddit's atmosphere. "Prior to this surge in readership, we had substantially more diversity in thought and content, but what you see now on the subreddit is almost entirely coming from relatively new users, despite our best efforts," she wrote.
But even before all of the activity on the subreddit, GameStop's stock was already starting to see an upswing, according to Camilla Yanushevsky, a retail analyst at CFRA, because of Chewy co-founder Ryan Cohen's involvement.
"The story with GameStop is clearly a company that's seeing deteriorating fundamentals, with the decline of the physical gaming industry but one of the reasons why it has been seeing, specifically, towards the second half of last year and then into this year, some upside price action is the activist investor Ryan Cohen," Yanushevsky told Newsweek over the phone.
"He was building a stake in that company, and then I would say the most recent not-so-steady jaw-dropping price action came earlier this year, when there was an announcement that Ryan Cohen would be joining GameStop's board," she added. "That news offset what we saw as disappointing holiday sales results. The holiday sales results that they had pre-reported go hand-in-hand with disappointment to their inability to deliver on targets that they had set in the previous quarters."
The r/WallStreetBets moderator who spoke with Newsweek admitted that the subreddit isn't solely responsible for GameStop's surge in valuation, but noted that some Redditors have long had their eyes on the game retailer.
And anyway, Redditors' current focus on GameStop is less about what Cohen can do for the company and more about making a statement to the hedge funds that were short-selling the gaming retailer's stock. "I guess the best parallel to make is the Occupy Wall Street movement," Yanushevsky said, adding that there's a clear anti-Wall Street sentiment on the subreddit.
As CNBC reported that hedge fund Melvin Capital had "closed out" its shorts on GameStop, Redditors reacted with vitriol, posting messages mocking and criticizing hedge funds like Melvin.
While GameStop's stock valuation has captured national headlines, Yanushevsky said that some people active on the stock market have begun targeting "heavily shorted retail stocks" to take advantage of, noting that similar campaigns might soon spring up.
Naturally, hedge funds have turned more of their attention to the online communities that are making waves on the stock market. "From the research that I've done, hedge funds are starting to monitor conversations on Reddit, and maybe in the future, what we might see is: We might invest in technology to be able to track or quickly get data on what are the targets of these Reddit crowds," Yanushevsky said.
She added that the Securities and Exchange Commission (SEC) "might do an investigation," but it seems unclear how the SEC would move, given the anonymity that many Redditors have. In a Tuesday statement to Barron's, Secretary of the Commonwealth of Massachusetts William Galvin said he was monitoring GME and said there was "something systemically wrong with the options trading" on the stock. In a Tuesday column, Bloomberg writer Matt Levine wrote that it's unclear if the Redditors targeting GameStop's stock had actually done anything illegal for the SEC to act on.
The moderator u/OPINION_IS_UNPOPULAR told Newsweek that the sub's group of moderators is prepared to support any SEC requests. She also said that she believes the mods do a good job of keeping bad actors away from the sub and use "a number of automated tools that scan videos, images, comments, post histories, etc. to try and stop as much as we can."
With speculation that the SEC could come down on the wannabe-Bobby Axelrods on Reddit, people posting in the r/WallStreetBets subreddit are lashing out at the idea of interference. But there are other ways that the market could correct itself.
According to Yanushevsky, besides an SEC investigation, the market could right itself if GameStop were to report disappointing earnings; or, people could simply lose interest and focus their attention on another stock.
The sub's moderator also mentioned the likelihood that people's attentions will shift. "As the pandemic comes to a close, I think retail investing will fall and will have less of an impact on the markets going forward. I hope everyone who started investing for the first time during this pandemic, and especially during this 'gamestop boom' comes away with an interest in finance," she wrote.
While it's unclear which stock they'll look to next, some members of the r/WallStreetBets subreddit still appear optimistic about GME hitting $1,000.