How the 'SaveAMC' Campaign Caused the Movie Theater Company's Stocks to Soar
Thanks to a community on Reddit, AMC Theatres saw blockbuster success with Wednesday morning's opening of the stock market, as shares of the movie theater chain soared up by almost 300 percent. The "SaveAMC" campaign not only spread quickly on Reddit, but also trended high on Twitter and TikTok.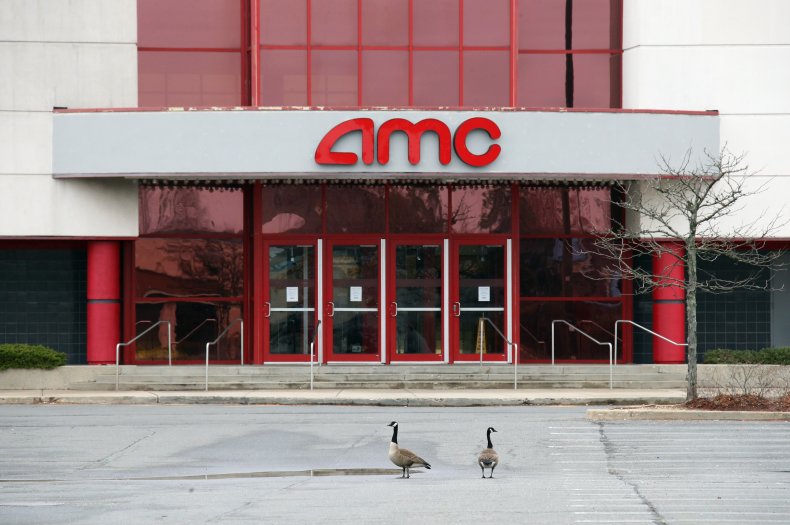 It all started with a message posted to Reddit's "r/WallStreetBets" community on Tuesday, in which a user shared a detailed list of reasons to encourage people to invest in AMC Entertainment Holdings, Inc. Some of these points included examples of why the company's business model is supposedly built for success, since its profits have steadily grown in recent years; other arguments appealed to people's nostalgia by saying that folks will always need theaters for dates, entertaining their children and for enjoying the unique experience of seeing motion pictures the way they're meant to be seen—on a large screen with superior audio.
That original post came from a community member who goes by the username "u/my-time-has-odor." He responded to an email from Newsweek to provide further comments, and noted that he and others feel AMC will survive through the coronavirus pandemic, thus making shares in the company a worthy investment. He wrote, "We believe that AMC can make it until the end of the year, and consumers will come back. It's that simple."
He also noted that neither he nor any one single other person speaks for or represents "r/WallStreetBets," a community that is closing in on 5 million followers as of this article's most recent updating.
Anyone who's been on social media the last couple of days has likely at least seen mentions of the r/WallStreetBets community. Members were responsible for making "AMC to the moon" a rallying cry across various platforms, which led to the creation of humorous memes, such as an astronaut happening upon an AMC theater on the moon. Other people online pleaded that buying up AMC shares supports local AMC theaters and those who work in them.
Needless to say, the call to arms worked, and AMC shares traded at $20.31 on Wednesday morning—less than a day after "SaveAMC" first took off on Reddit—compared to $2.01 three weeks ago and Tuesday's closing of $5 per share.
The r/WallStreetBets subreddit has also been in the news lately because members threw their share-buying (and internet-commenting) weight behind a similar sort of campaign for GameStop. Once a popular video game retailer, GameStop had been struggling as of late, with shares being traded at under $20 at the end of December. Then, r/WallStreetBets flooded Reddit with posts and memes calling for people to buy shares of GameStop, and that message spread all over social media. (Elon Musk even tweeted his support.) The result? GameStop shares were valued at roughly $330 on Wednesday afternoon.
But not everyone pumping up the prices of AMC and GameStop stocks is doing so out of the kindness of their hearts, or some sort of brand loyalty. Many of the social media messages from those spreading word of "SaveAMC" and "buy GameStop" indicate that these campaigns are about amateur traders banding together to, as they say, stick it to Wall Street.
The Wall Street investors and hedge fund managers getting targeted by people online are ones who short-sell stock. Short-selling is the practice of borrowing shares and quickly selling them off to only then buy them back at a lower price before returning the shares. In essence, these investors are profiting off of struggling retailers, which only continues to lessen a retail company's worth.
GameStop was one such widely known target of short-sellers, though r/WallStreetBets and its more than 3 million Reddit followers have seemingly put an end to that. Already, Melvin Capital and Citron, two high-profile hedge funds, have apparently closed their short-sells of GameStop.
While AMC's monumental stock price boost may prove to be temporary, the company doesn't anticipate being a huge financial flop in the near future. Though the pandemic has hit AMC particularly hard, the company recently put a plan into place to stave off bankruptcy. On Monday, AMC's CEO, Adam Aron, announced that the theater chain had raised $917 million in capital since December. Of that funding, $506 million came from the issuing of new common shares and an investment deal with Mudrick Capital Management, while the rest came from refinancing its European revolving credit facility.
Given the fact that AMC was apparently already on the road to recovery, one could easily speculate that the Reddit-fueled investors stand to financially benefit from driving the stocks even further up. In other words, those who bought in early on Wednesday morning could have some very valuable stock in their possession that they can sell off.
For his part, "u/my-time-has-odor" doesn't deny that money is a partial motivator. Acknowledging that he and others want money, he said most people taking part have been taken advantage of by banks, debt collection companies and loan lenders. He wrote, "We aren't using this money to go buy fancy things. Most of the posts I see are about people paying off their student loans. What's happening right now with student loans, and massive amounts of debt is unsustainable. And if it continues to happen, these market trends will probably continue as well. People are struggling financially, and sometimes we offer them a way out."
He added that saving theaters for movie-goers plays a role as well—but, really, a big part of the draw is being able to interfere with hedge funds' business. "But more importantly, we want to tell the hedge funds to 'f**k off," he wrote. "They take advantage of regular people, and the system is rigged in their favor ... We can do what they do, and we can do it better. Knowledge is power, and the big hedge funds have been taking advantage of their increased access to information, except now the public has the same info they (hedge funds) do. So it's time for hedge funds to stop making money off of 'dying businesses' and stop acting like vultures. Stop exploiting the public."
In his Monday statement about the theater company's new financial plan, Aron said, "Today, the sun is shining on AMC." AMC has yet to comment on Wednesday's social media-fueled stock surge, though Aron could now very well add that the theater chain might be receiving those sun rays while on the moon.
Updated 1/27/2021, 4:55 p.m. ET: This article was updated to provide greater context about the practice of short-selling, and the motivation behind r/WallStreetBets' move on GameStop's stock.
Updated 1/28/2021, 2:20 p.m. ET: This article was further updated to include quotes from the person responsible for the original "Save AMC" post in r/WallStreetBets.