Crowds Seen Socializing Without Masks in New York City as Coronavirus Cases Spike Across U.S.
New Yorkers crowded sidewalks the length of a city block in Manhattan's East Village neighborhood on Friday night, four days after all five boroughs entered phase one of the governor's reopening plan.
Lifestyle blog EV Grieve shared a video of the group that gathered along St. Mark's Place, an area popular for its nightlife offerings, to Twitter at around 8 p.m. ET Friday evening. The video showed a fairly dense crowd of people sitting and standing in close quarters while listening to performers play live music outside a nearby venue. Other New York City residents expressed frustration about crowds in individual tweets.
Several Twitter users who commented on the East Village video noted that many people in attendance did not appear to be wearing masks, despite Governor Andrew Cuomo's directive. Another posted a photo that pictured large crowds lining streets in Manhattan's Upper East Side neighborhood as well.
New York City became the final state region to start lifting restrictions implemented in March near the onset of the novel coronavirus outbreak. New York has confirmed significantly more virus infections, hospitalizations and deaths than any other U.S. state, with New York City experiencing the highest density of cases.
While New York's outbreak curve has seen a substantial decline since its peak in mid-April, dozens of other states have recently reported sharp spikes in virus cases. As The Washington Post reported on Tuesday, health officials in at least 14 U.S. states confirmed their jurisdictions' highest seven-day diagnosis averages since the start of the pandemic last week.
A handful of those states—Alaska, Arizona, Arkansas, California, Florida, Kentucky, New Mexico, North Carolina, Mississippi, Oregon, South Carolina, Tennessee, Texas and Utah, in addition to Puerto Rico—have also reported record daily increases in coronavirus cases and hospitalizations since the start of June. The most notable spikes were reported by health authorities in states like Arizona, Texas, Florida and California, all at least a few weeks into widespread reopening strategies for businesses and public areas.
According to Cuomo's guidelines, phase one of New York's reopening plan allows businesses across several industries—including construction, manufacturing and retail—to resume modified operations. Food service establishments remain limited to takeout and delivery services, and entertainment venues remain closed.
Reports of New York City residents gathering outside restaurants and bars first surfaced halfway through May. In response to some photos and videos that showed people gathered without adhering to face mask and social distancing protocols, New York City Mayor Bill de Blasio warned that police would enforce virus mitigation mandates.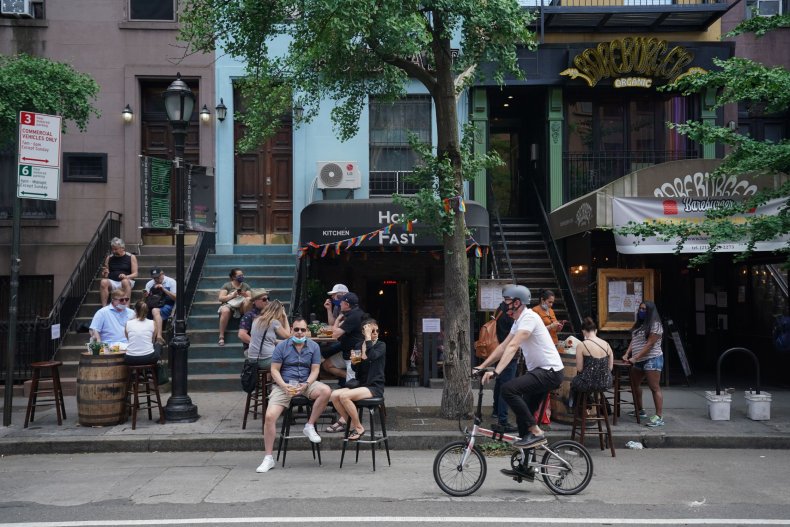 Another Twitter user who commented on the video of St. Mark's crowds Friday night shared a screenshot of a social distancing complaint filed to the New York City Police Department (NYPD) around 10:30 p.m. ET. The department closed the complaint minutes later, saying officers responded and "determined that police action was not necessary."
Newsweek reached out to NYPD on Saturday morning for additional information about crowds on Friday evening, but did not receive a reply in time for publication.