'The Crown' Controversy a 'Royal Hit' to Distract From Harry Memoir—Podcast
The controversies surrounding the fifth season of Netflix's hit royal drama series The Crown and potential "factual inaccuracies" could have been a "royal hit" to distract from a larger problem facing the monarchy—Prince Harry's upcoming memoir—Newsweek's The Royal Report podcast has heard.
Chief royal correspondent Jack Royston and royal commentator Kristen Meinzer discussed the latest installment of the streaming series with special guest, and the host of The Parting Shot podcast, H. Alan Scott.
As part of the wider conversation around the series, Meinzer raised the backlash that has surrounded it, particularly in Britain, over the show being a factual representation of historical events.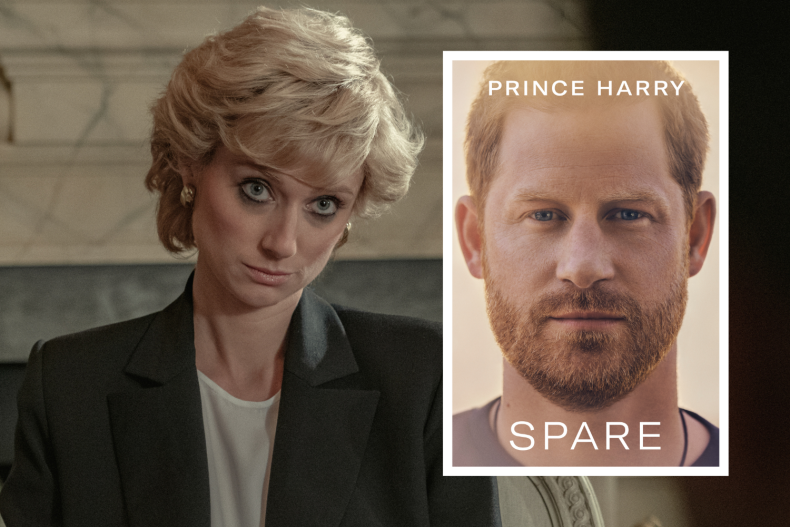 In October, Dame Judi Dench, who herself received an Oscar nomination for her portrayal of Queen Victoria in the 1997 royal drama Mrs. Brown, wrote a letter to The Times of London, denouncing the series, calling for Netflix to display disclaimers before each episode.
Sir John Major, a former British prime minister, added his voice to the criticism, calling The Crown "damaging and malicious fiction" and "a barrel-load of nonsense peddled for no other reason than to provide maximum—and entirely false—dramatic impact."
Major's comments came after he had been shown scripts of an episode in which King Charles III (when Prince of Wales) approaches the prime minister over potentially bringing about the abdication of Queen Elizabeth II. An idea, Major asserts, which is wholly fictitious.
These headline grabbing admonishments have almost conveniently distracted from real life dramas occurring for the royals, H. Alan Scott pointed out, namely the announcement that Prince Harry's highly anticipated memoir will be released on January 10.
"In the weeks before The Crown came out there was all the press about how it was factually incorrect, and now that we're getting into the modern times people remember living through these times and they're correcting the record," he told Meinzer and Royston.
"And I feel like that was fully driven by the royal family—by Charles. In that, that whole press about the factual inaccuracies in the show was fully a royal hit to get people talking about something else to distract them, probably from what book that's coming out? Oh, Prince Harry's book that's coming out."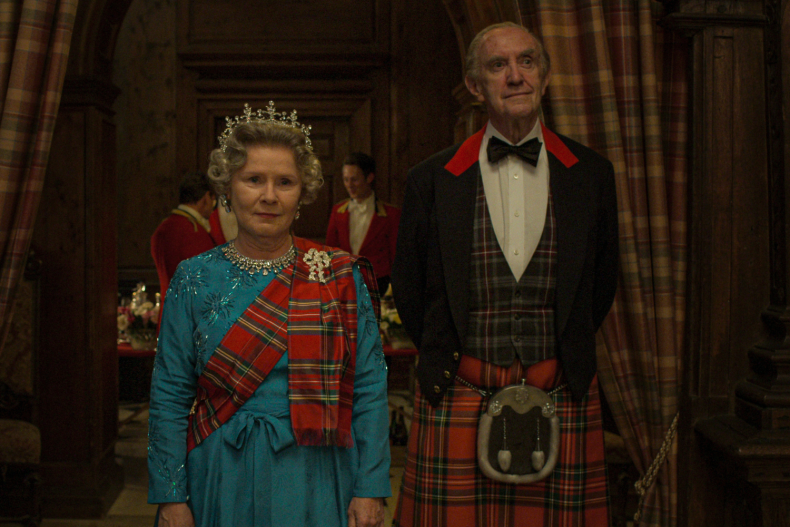 "I feel like that was one big distraction from the show," he continued, "and once people watch the series this season, they're probably going to be like 'Oh, just like every other season, it's cool, it's fun,' they're not going to care about anything, about the factual inaccuracies."
On how the royals themselves might react to the season, which documents the turbulent decade of the 1990s during Queen Elizabeth's reign, Scott said: "I feel like the royal family doesn't love it, I think Harry and Meghan probably do love it," before he added, "and Harry's book is going to be huge."
Buckingham Palace hasn't commented on The Crown or the release of the latest season, which sees Imelda Staunton take on the lead role of Queen Elizabeth, Jonathan Pryce star as Prince Philip, Dominic West as Prince Charles, Elizabeth Debicki as Princess Diana and Lesley Manville as Princess Margaret.
Despite this, a number of the royals have appeared to acknowledge the series in some personal way. In March 2022, Queen Camilla joked that Emerald Fennell (who played the royal in seasons three and four) could step in for her if needed during an International Women's Day event at Clarence House.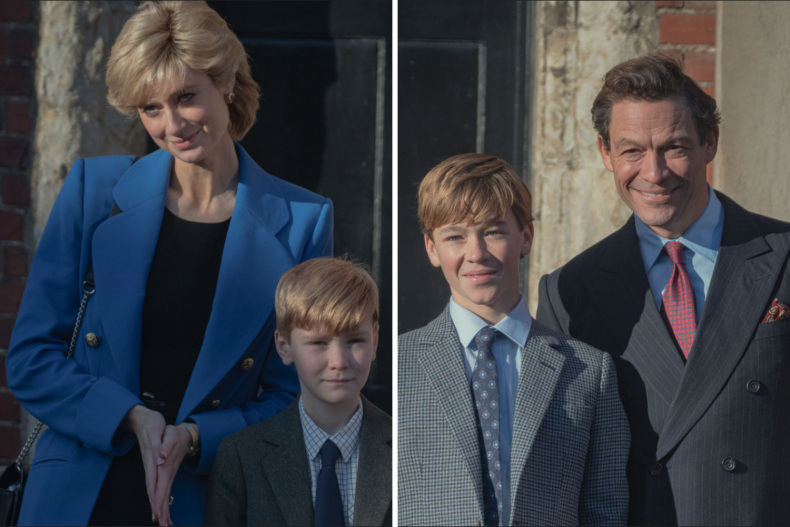 Prince Harry is perhaps the royal who has been most outspoken about the series, saying it gives the public a "rough idea" of what royal life is like.
"Of course, it's not strictly accurate," he told James Cordon in a 2021 interview, "but loosely... it gives you a rough idea about that lifestyle and what the pressures of putting duty and service above family and everything else; what can come from that."
Harry's memoir, "Spare," will be published in January and present his side of events to the public, including his experiences surrounding the tragic death of Princess Diana at the age of 36 in a high speed Paris car crash.
The accident and the public reaction to the royal's death is expected to be a key storyline in The Crown's sixth season, which is currently being filmed. Scenes of a young Harry and Prince William walking behind their mother's coffin have already been shot.
Newsweek approached Buckingham Palace for comment.
Season 5 of The Crown is available to stream on Netflix now.
Do you have a question about King Charles III, William and Kate, Meghan and Harry or their family that you would like our experienced royal correspondents to answer? Email royals@newsweek.com. We'd love to hear from you.