Prince Harry's 'Spare' Book Supported by Nearly Half of Americans—Poll
Prince Harry's tell-all memoir Spare has the backing of 47 percent of Americans compared to 10 percent who think he should not publish it, according to exclusive polling for Newsweek.
The Duke of Sussex's long-awaited book is due to be published by Penguin Random House on January 10, 2023, and will, according to the press release, be "full of insight, revelation, self-examination, and hard-won wisdom about the eternal power of love over grief."
British commentators have long been speculating about whether it will renew criticism of the monarchy as an institution and also of royal family members after the bombshells of Harry and Meghan Markle's 2021 Oprah Winfrey interview.
Some have called for the duke to bury the book out of respect for Queen Elizabeth II, who passed away in September, while others have called for Harry and Meghan to be stripped of their royal titles over it.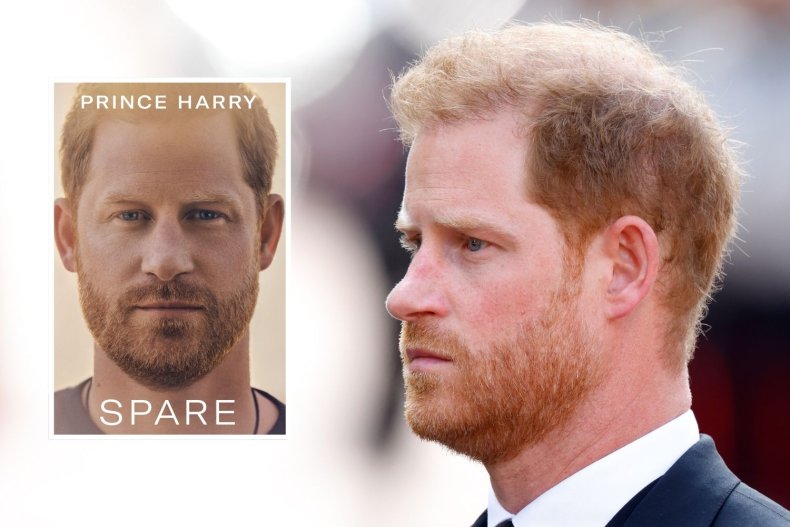 However, Americans appear far less concerned about Harry's decision to release his life story, with support for publication far outstripping his own personal approval rating.
A survey of 1,500 U.S. adults by Redfield & Wilton for Newsweek conducted on October 30 showed 47 percent support Harry writing and publishing the book.
This included 26 percent who strongly supported the move and 21 percent who supported it, compared to 10 percent who opposed the decision, including 6 percent who strongly opposed it.
The research has implications for the royal family's reputation management and how they respond to the memoir if it contains new bombshells.
The title hints at Harry's fraught relationship with his brother and his standing within the royal family, as it is derived from his own status as the spare second son, waiting on the substitute bench in case the heir, Prince William, should pass away or abdicate.
The book will likely include a significant chunk of Meghan's story, and her time in the royal family, which she is already on record saying was difficult to the point she experienced suicidal thoughts in January 2019.
Of particular concern may well also be how he depicts Camilla, the Queen Consort, who became his step mother in the years after Princess Diana died.
Richard Kay, a journalist and former friend of Diana's, wrote in his Daily Mail column in August: "Understandably there is considerable anxiety in Buckingham Palace circles that Harry, 37, will use the memoir to settle perceived scores with family members and senior courtiers.
"They are particularly nervous about his attitude towards his stepmother, the Duchess of Cornwall, the woman who many of the late Princess's supporters still blame for the collapse of the Charles-Diana marriage."
Penguin Random House's press release said: "SPARE takes readers immediately back to one of the most searing images of the twentieth century: two young boys, two princes, walking behind their mother's coffin as the world watched in sorrow—and horror.
"As Diana, Princess of Wales, was laid to rest, billions wondered what the princes must be thinking and feeling—and how their lives would play out from that point on. For Harry, this is his story at last.
"With its raw, unflinching honesty, SPARE is a landmark publication full of insight, revelation, self-examination, and hard-won wisdom about the eternal power of love over grief."
The U.S. View on Prince Harry's Memoir
Newsweek asked: "Prince Harry will be publishing a tell-all memoir about his life growing up and living in the U.K. Royal Family. To what extent, if at all, do you support or oppose Prince Harry writing and publishing this book?"
| | |
| --- | --- |
| Strongly support | 26% |
| Support | 21% |
| Neither support nor oppose | 33% |
| Oppose | 4% |
| Strongly oppose | 6% |
| Don't know | 10% |
Correction 11/2/22; 13:08 p.m. ET: This article originally stated the survey was of British people. It was of Americans. Newsweek regrets the error.