'Cruelty Is the Point': Tearful Megan Rapinoe Blasts Roe v. Wade Decision
Megan Rapinoe emotionally denounced the Supreme Court overturning national abortion rights as intentionally "cruel," saying the bombshell decision would "affect everyone in the entire country."
The Olympic gold medalist made the remarks Friday during a pregame news conference ahead of the U.S. women's national soccer team (USWNT) match. Rapinoe joined the chorus of abortion-rights voices speaking out against the nation's highest for court striking down the landmark 1973 Roe v. Wade ruling.
"I think the cruelty is the point, because this is not pro-life by any means," she said. Rapinoe said the "way of thinking" behind the decision is accompanied by a lack of action on gun laws, as well as support for childcare, food assistance, health care and other social services.
Speaking to reporters, Rapinoe encouraged people to "understand the intersectionality of" the Court's decision, linking it to a broader assault on the rights of women, as well as LGBTQ communities.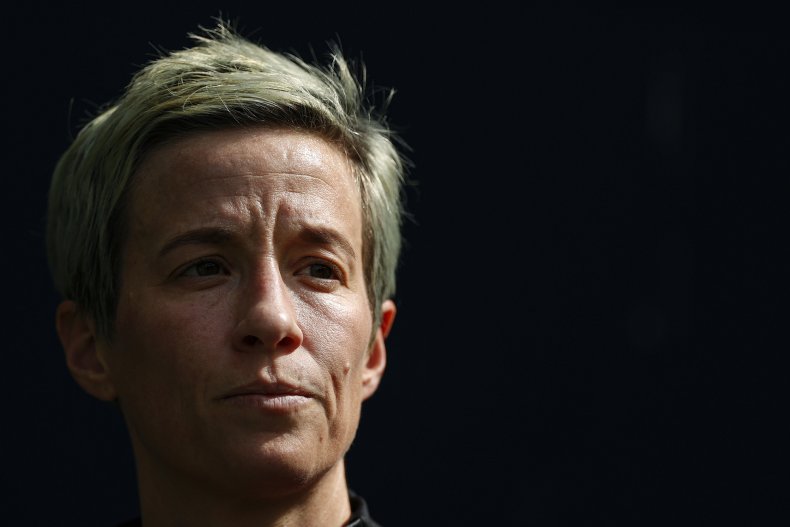 "You can understand from an individual perspective how difficult it is to live in a country where you have a constant, unrelenting, violent tide against you—an onslaught as a woman, and it would be as a gay person, and as a nonbinary person, as a trans person," she said.
The Court's decision came a day after the 50th anniversary of Title IX being signed into law as part of a landmark education bill. Title IX sought to bring gender equality to education by barring educational institutions that receive federal funds from discriminating on the basis of sex.
Rapinoe was one of over 500 women athletes that submitted a brief to the Supreme Court last year arguing that the effectiveness of Title IX was intertwined with the Roe decision remaining in place.
"[The athletes] believe that, like themselves, the next generation of women athletes must be guaranteed bodily integrity and decisional autonomy in order to fully and equally participate in sports," reads the brief.
Speaking during the pregame news conference, Rapinoe said it was "oddly cruel" that the Court struck down abortion rights at a time when Title IX was being celebrated for its success. She said the Court's decision is "another assault on women's autonomy to do what they want because it won't stop here."
She linked the Court's decision against abortion rights to a lack of health care, which state legislation critics say restricts the rights of transgender students, as well as attacks on gay marriage.
Other abortion-rights advocates, including President Joe Biden, have warned that the Court's decision on Friday undercuts the constitutional right to privacy, which could undo other rulings enshrining gay marriage and protecting additional civils rights.
The Court's three liberal justices wrote in a dissent that the Roe decision was "embedded in core constitutional concepts of individual freedom, and of the equal rights of citizens to decide on the shape of their lives."
"Those legal concepts, one might even say, have gone far toward defining what it means to be an American. For in this Nation, we do not believe that a government controlling all private choices is compatible with a free people," the justices wrote. "So we do not (as the majority insists today) place everything within 'the reach of majorities and [government] officials.'"
"We cannot understand how anyone can be confident that today's opinion will be the last of its kind," the text concluded.
Describing herself as a "cisgendered, rich, white woman that lives in two of the most progressive cities in the world," Rapinoe said not everyone is as lucky. She said the new restrictions on abortion rights will disproportionately fall on poor, Black and brown women, as well as immigrants and survivors of abuse.
"I have zero faith that my rights will be upheld by the Court," she said. "I have faith in our country and I have faith in people. And I have faith in the voters and if you've ever needed a f**king motivation to vote to get involved."
Newsweek reached out to the Supreme Court.
Update 06/24/22, 6:37 p.m. ET: This article was updated with additional information and background.