Is the Cruise Ship Coronavirus Quarantine Working? Scientist Says Close Confinement Is a 'Recipe for Transmission'
Quarantines in confined spaces, such as a cruise ship or hotel, may make people more prone to contracting the COVID-19 coronavirus. Concentrated levels of exposure, closer contact in shared spaces and the possible spreading of the virus through the air conditioning system heighten the risk, health experts warned.
The virus, which was first identified in Wuhan city in the Hubei province of China, has now infected 74,280 people and killed 2006 in the country as of February 19, according to World Health Organization (WHO). It has also spread to 25 countries outside China, with 924 confirmed cases and 3 deaths.
Of those infected outside China, more than half were confirmed to be on the Diamond Princess, the Princess Cruises ship which was quarantined off the coast Yokohama in Japan until February 19.
The ship reported 542 of its 2,666 passengers and 1,045 crew members have been infected. Two infected passengers on board have died. Those who tested negative have started to disembark the ship as of Wednesday.
The graphic below, provided by Statista, illustrates the spread of the COVID-19 virus as of February 20.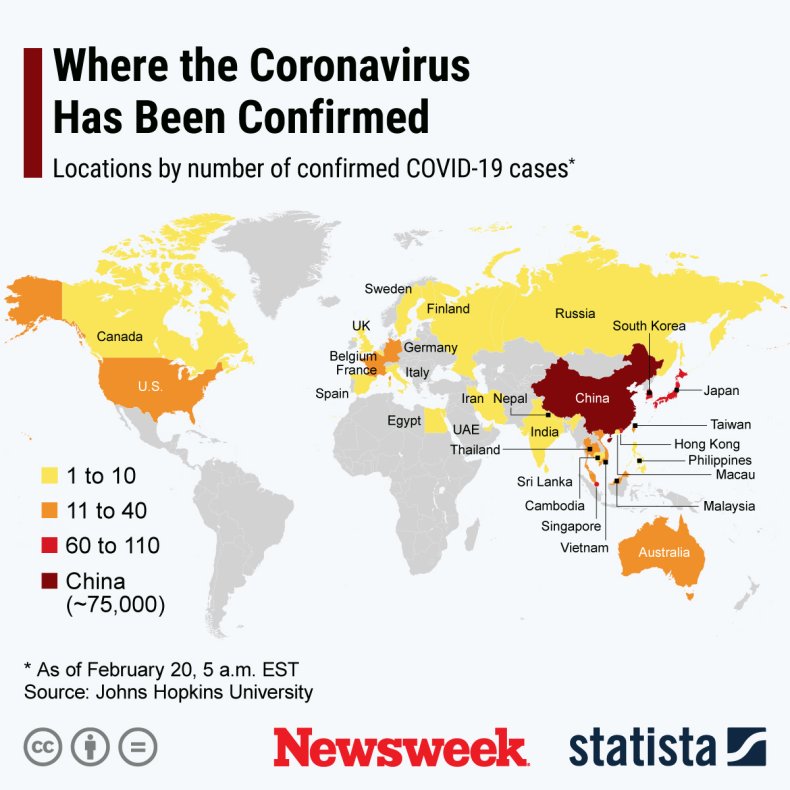 Speaking to Newsweek, Dr. Bahrat Pankhania, a public health lecturer at the University of Exeter Medical School in England, said: "The daily increase in numbers of [infected] cases on the [Diamond Princess] cruise ship off [the coast of] Japan is of much concern. It is indicative that their control, containment and quarantine procedures are not working. We need a very urgent review of what to do next, now that the ship is shown to be generating more cases instead of reducing the spread of infection."
He added: "In my opinion under these circumstances, the remaining passengers on the liner ought not to be kept in this environment, where containment is not working, and is instead creating more cases. A safer strategy would be to change course, under controlled measures allow all passengers to disembark, to a place of safety, be it clinical for the cases and other for the test negative passengers."
"The Ebola outbreak in West Africa, where the country (Ghana) introduced a curfew and 'lock down' plus restriction of all movements did eventually work. Historically, huge outbreaks have only been brought under control via the use of quarantine as the only armament available for the control of an infectious disease," Pankhania told Newsweek.
Pankhania also noted in a statement to the Science Media Centre: "Initially the plans for containment on the ship were to quarantine the passengers, in the hope that the infection would die away. Instead, more cases have arisen and the pattern for the new cases arising after the 'lock down' seems to suggest there has been another route of transmission of infection to the passengers in their cabins."
Dr. Simon Clarke, an associate professor in cellular microbiology at the University of Reading in England, also noted in the statement: "While cruise ships are not typically known for being breeding grounds for infectious disease, having a large number of people in relatively close confines, is a recipe for transmission. There have previously been problems on such ships with spread of viruses that cause diarrhoea and vomiting."
John Oxford, professor of virology at Queen Mary University in London, said in a statement: "Invariably the ships are overcrowded and with so many passengers hygiene levels can slip… In fact it might be impossible to properly quarantine people on a ship. I am sure that passengers will need to be quarantined properly when they return home."
With more than 3,700 people having been stuck in their cabins for most of their time during the quarantine period, the confined setting of the cruise ship might have made passengers more exposed to the virus.
The recommended distance to minimize exposure to the coronavirus is about 3 feet, according to WHO. "Maintain at least 1 metre (3 feet) distance between yourself and other people, particularly those who are coughing, sneezing and have a fever," the WHO states.
But keeping this distance, especially when you're confined to a small cabin space, can be difficult on board a cruise ship, notes Pankhania.
One member of the crew on board the ship was reportedly told to stop working after developing a fever and was told to stay inside their cabin, which is shared with another crew member. That roommate was subsequently diagnosed with the coronavirus, reports Wired.
Because these cabins are small, any exposure to the virus within that space is more concentrated than in other settings, he notes.
Speaking to Wired, Pankhania said: "People are cooped up in cabins that are very small, with not a lot of air movement, especially if you've adopted the lock down instructions. The only exchange of fresh air is the air conditioning systems that do not necessarily have proper filters."
But the air conditioning system, which links across all cabins, may also be a part of the problem, Pankhania noted.
Relating the coronavirus to a previous theory that the air conditioning system within a hotel may have helped spread the SARS outbreak, Pankhania told Newsweek: "The SARS outbreak of 2002, was effectively managed by public health actions, which were restrictions on movement, screening and isolation of cases, initially the management were not aware that a number of people were infected in one hotel and here it is thought the virus spread via the air conditioning shafts and ventilation systems of the hotel."
In the statement to the Science Media Centre, Pankhania added: "My supposition [regarding the air conditioning system] is based upon the large number of cases on the cruise liner when we were told all holiday makers were confined to their cabins, all the time. How did they manage to make so many cases, over a period of time considering interactions with fellow passengers was supposedly not happening?," he said in the statement.
Therefore, passengers on a cruise ship need to be monitored even more carefully, due to the highly concentrated levels of exposure and those who develop symptoms of the virus should be taken to a hospital, rather than a hotel, in order to prevent the infection of more people, Pankhania warns.
Dr. Nathalie MacDermott, NIHR (National Institute for Health Research) academic clinical lecturer at King's College London in England, said in a statement: "The failure of the quarantine on board the Diamond Princess requires a full investigation to determine whether quarantine measures were appropriately implemented or whether some form of environmental contamination has occurred through contact with surfaces, the re-circulation of air between cabins or the mixing of waste materials from different cabins."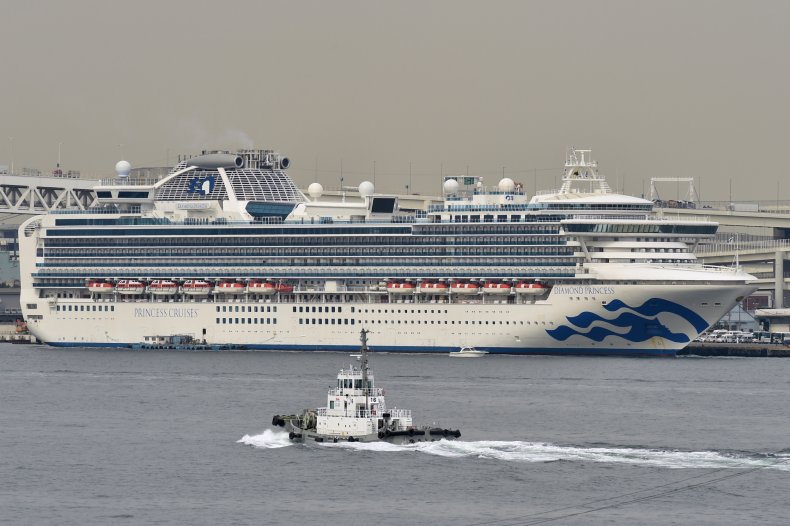 The "chaotic" conditions on board the Diamond Princess, which reportedly failed to make a clear distinction between infection-free zones and infected areas, has also made it more dangerous for those on board, according to Kentaro Iwata, a specialist in infectious diseases at Kobe University Hospital, who voiced his concerns in two videos on YouTube after spending several hours on board the ship on Tuesday, The South Morning China Post reports.
Describing the vessel as having been "completely inadequate in terms of infection control," he condemned the "completely chaotic" protocols on board.
"I was in Africa dealing with the Ebola outbreak. I was in other countries dealing with the cholera outbreak. I was in China in 2003 to deal with SARS… I never had a fear of getting infection myself," he said in the videos.
"But inside Diamond Princess, I was so scared…because there was no way to tell where the virus is," he added.
Japan's health ministry refuted his claims, stating the ship did differentiate the safe areas from high risk zones and that officials had "consultations on appropriate infection control in the ship" with experts.
The ministry also reported a separate station was set up for safely removing contaminated gear and that it released a video outlining "proper hygiene management" for medical workers boarding and disembarking the ship as well as for passengers on how to properly wash and disinfect their hands, The South Morning China Post reports.
"We've been doing our best in the circumstances," Japan's health minister Katsunobu Kato told members of Japanese parliament on Thursday morning.
The videos were reported to have been deleted by Iwata, who said he stood by his original "chaotic" criticism, but now felt reassured his concerns had been addressed by officials, including Japan's National Institute of Infectious Diseases, The South Morning China Post reports.
He was reportedly "very happy to hear" that "a significant improvement of the zoning was done," adding that the risk of new infections from disembarking passengers was "tremendously reduced" but warned some risk still remained.
Earlier this week, fears over the coronavirus spreading to more countries escalated after an American cruise passenger, who previously showed no symptoms, was diagnosed with the virus on Sunday after disembarking the MS Westerdam.
The ship carried 1,455 passengers (around 600 of whom were reported to be American) and 802 crew members, all of whom had previously been cleared for travel after reporting no symptoms of illness.