The most effective way to protect yourself while traveling during the ongoing coronavirus outbreak is to minimize your exposure to it. This is best achieved with basic hygiene practices including cleaning your hands with soap for at least 30 seconds, using hand sanitizers with at least 70 percent ethanol, not touching your eyes, nose and mouth with unwashed hands, and disinfecting surfaces with which you are in contact, health authorities advise.
Other key measures for minimizing exposure include maintaining at least a three feet distance between yourself and others and making sure to cough into your elbow, they add.
The coronavirus, which was first detected in the city of Wuhan in the Hubei province of China, has seen the death of at least 1,368 people in China. At least 46,550 cases have been reported in China, while 447 cases have been confirmed outside the country, according to the latest figures from the World Health Organization (WHO). The health body declared the virus a public global health emergency last month, with now just under 47,000 cases confirmed across 25 countries around the world.
"There is currently no vaccine to prevent 2019-nCoV infection. The best way to prevent infection is to avoid being exposed to this virus," the U.S. Center for Disease Control and Prevention (CDC) states.
While the fear of possibly catching the virus at the airport, on a plane, cruise ship or elsewhere on your travels is very legitimate, you need not cancel your trips in order to protect yourself, the WHO confirms.
"You should not change your travel plans if you had planned to travel during this time. You should be aware of what [measures] countries have put in place in terms of restrictions and plan your trips accordingly," Dr. Carmen Dolea, the head of the International Health Regulations Secretariat at WHO, said in a new video released by the health body on Wednesday.
"You should practice hand and respiratory hygiene as advised by WHO and your [medical] practitioners, practice proper coughing etiquette, wash your hands properly, and just use the same [protection] measures you would use for any other type of respiratory disease like influenza.
"But travelers should take into account the various restrictions airlines have put in place when planning their next trips," she added, as several airlines have either reduced or suspended their services to China and potentially other countries.
Speaking to Newsweek, Dr. Amesh A. Adalja, senior scholar at the Johns Hopkins Center for Health Security, said: "There are no real specific precautions traveler should take to protect themselves from the coronavirus. What travelers should do is practice common sound good hygiene, similar to what they practice during flu season. This involves washing your hands frequently, especially before touching your face, avoiding as best you can those who are coughing or sneezing, in avoiding large crowds as best as possible. If you are sick, make sure to cough into the crook of your elbow."
The executive director of ABSA International (The Association for Biosafety and Biosecurity), Ed Stygar, also told Newsweek: "When travelling, you are always going to be at risk for exposure to a variety of infectious agents, including COVID-19 and seasonal influenza. There is no avoiding the presence of pathogens from fellow travelers, but you can protect yourself by following the CDC recommendations for reducing everyday risks to respiratory viruses, including good handwashing practices, avoiding visibly ill people, avoid touching your face, eyes, mouth, and nose with unwashed hands, and wiping down surfaces before using them."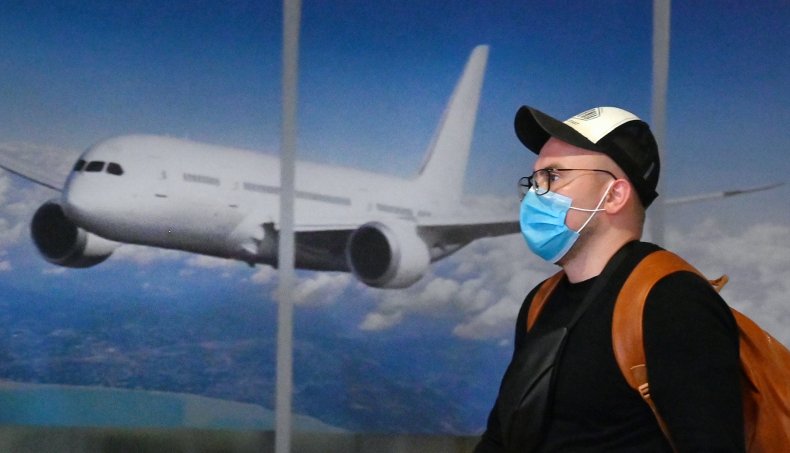 "When washing your hands, do this for at least 20 seconds with soap and rinse for at least 10 seconds with water, taking care to not forget your nail beds, under your fingernails, and in between your fingers," he adds.
"Additionally, travel with a travel pack of disinfectant wipes to wipe down armrests, trays, and tables to minimize exposure to potential pathogens. If hand-washing facilities are not easily accessible, a bottle of hand sanitizer containing at least 70% ethanol is helpful in reducing the presence of infectious agents on hands but should not be used as a replacement for good handwashing practices," he said.
The CDC also advises avoiding close contact with people who are sick, staying home when you are sick, covering your cough or sneeze with a tissue and making sure to throw the tissue away in a rash bin as well as using a regular household cleaning spray or wipe to clean and disinfect any surfaces or objects with which you come into contact frequently.
"Maintain at least 1 metre (3 feet) distance between yourself and other people, particularly those who are coughing, sneezing and have a fever," the WHO states.
"When someone who is infected with a respiratory disease, like 2019-nCoV, coughs or sneezes they project small droplets containing the virus. If you are too close, you can breathe in the virus," it adds.
How effective is wearing a mask while traveling?
The masks prevent the spread of the virus, so they're most effective for those who are already infected and won't necessarily protect you from the virus.
"For people that are not sick, the masks are not very effective. It's also important to use the mask properly and to not touch the exterior of the mask, even if you are not sick," Dr. Dolea explains.
"If you do wear a mask, you should be aware of how to wear it...so that you don't get infected by touching the mask unnecessarily. What we also know is that if you are asked to self-quarantine because you showed symptoms after passing through immigration at the airport, you must contact your local emergency clinic and at that facility you must wear a mask to prevent infecting other people in case you are infected," she adds.
Can you get the virus without any contact with an infected person?
"For someone to be able to transmit the virus, they have to have some kind of symptom," Dr. Dolea said.
"People who are infected or symptomatic can transmit the virus. There is no such thing as a truly asymptomatic person. Even if people may not show immediate symptoms like coughing or sneezing, they still might have some sub-clinical [level] symptoms like a fever, which we are now studying," she added.
The graphic below, provided by Statista, show where the coronavirus has been confirmed around the world.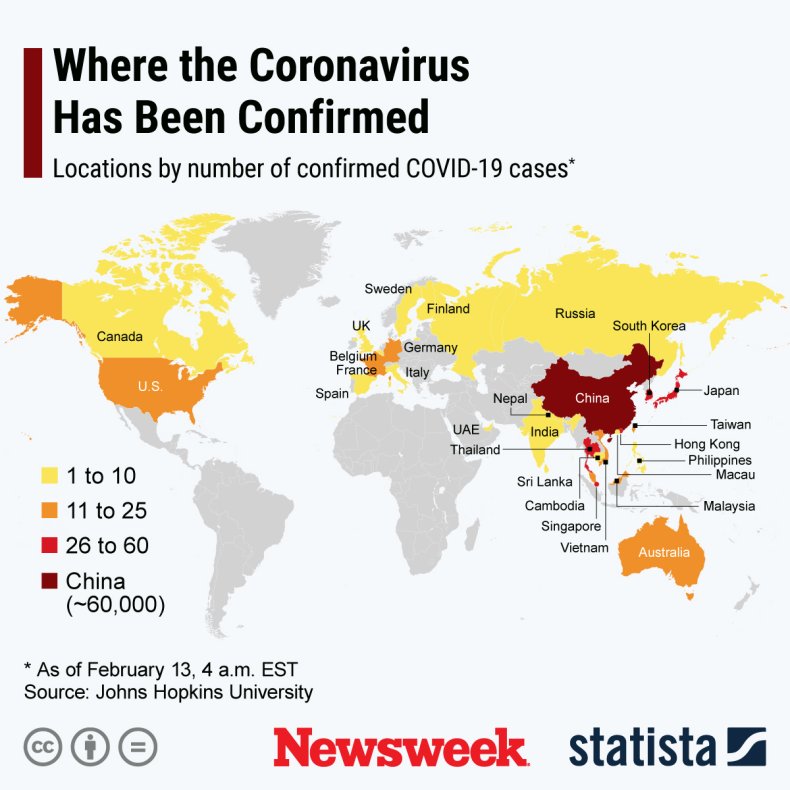 How do I protect myself on a plane?
"The virus so far is transmitted via droplets, which means [only by] close contact with people who have the virus. It is possible the virus can live on surfaces for a short amount of time. The best thing to do on a plane is to practice proper hygiene to wash your hands with soap and water or an alcohol-based rub and to use coughing etiquette and keep a distance from people who are coughing or showing other symptoms," Dr. Dolea advises.
What about at the airport?
"We know that the virus can survive for about 30 minutes. But we also know that with the proper hand hygiene protection, we can prevent getting the virus from contact with infected surfaces," Dr. Dolea said.
But there has been no evidence of the virus being contracted by touching the luggage of other people at the airport or on even on a plane. Airport workers and airline cabin crew are expected to follow the same protective protective measures as anyone else, she explains.
Is the cabin air safe on a plane?
"The air inside a cabin is clean and circulated and there is a specific system [installed] to keep it ventilated," Dr. Dolea said.
"This is not an airborne virus, it's transmitted via droplets and contracted when you're in close contact with someone with the virus," she said, so passengers shouldn't worry that by simply breathing in the air on a plane that they will be infected.
What happens if a passenger is suspected of having the virus mid-flight?
Those sitting two rows behind and ahead of the suspected passenger will be asked to fill in a "personal locator form," Dr. Dolea notes, where you will need to provide your contact details in case the relevant authorities need to contact you. If that passenger does test positive, then you may be contacted and be asked to monitor yourself for 14 days for symptoms like fever, coughing, shortness of breath or general fatigue.
How do I minimize exposure to the virus on a cruise ship?
There has been a growing fear around the spread of the virus on cruise ships, in view of the latest cases including the Diamond Princess, which has been quarantined in Japan after a passenger was diagnosed with the virus, and the MS Westerdam, which was denied entry to nearly every port it visited even though there were no confirmed cases of the virus among its passengers. Is it better to avoid taking a cruise right now?
"These [cruise] trips should not be canceled and we are in discussion with the International Maritime Association about how best to address the situation on these ships, because we know that a number of ships are now in a difficult situation because of the cases that have been detected," Dr. Dolea said.
Measures are in place on all cruise ships to provide the proper care for passengers who are suspected of having the coronavirus, she adds.
What about hotel rooms?
Similar to airports, planes and cruise ships, it's an issue of practicing good hygiene, including washing your hands and wiping surfaces and "proper food hygiene should also be taken into account."
"Handle raw meat, milk or animal organs with care, to avoid cross-contamination with uncooked foods, as per good food safety practices," the WHO states.
"Strictly avoid any contact with other animals in the market (e.g., stray cats and dogs, rodents, birds, bats). Avoid contact with potentially contaminated animal waste or fluids on the soil or structures of shops and market facilities," it adds.
Should I avoid contact with anyone who has traveled to China or Asia?
"No. The virus originated in China in a specific province and the Chinese authorities have taken extraordinary measures to protect the world and [prevent] the spreading of the virus externally. People from other [Chinese provinces] are not at high risk, so they shouldn't be discriminated against or stigmatised for coming from a country with one province with a high number of infected people," Dr. Dolea said.
Newsweek has contacted the U.S. Department of Health and Human Services for further comment.
About the writer
Soo Kim is a Newsweek SEO Reporter is based in London, UK. She reports on various trends and lifestyle stories, from health, fitness and travel to psychology, relationships and family issues. She is also a South Korea expert who regularly covers Korean culture/entertainment for Newsweek, including the latest K-dramas, films and K-pop news, and is the author of the book How to Live Korean, which is available in eight languages. Soo also covered the COVID-19 pandemic extensively from 2020 through 2021 after joining the general news desk of Newsweek in 2019 from the Daily Telegraph (a U.K. national newspaper) where she was a travel reporter/editor from 2010. She is a graduate of Binghamton University in New York and the journalism school of City University in London, where she earned a Masters in international journalism. Languages spoken: English and Korean.
Follow her on Twitter at @MissSooKim or Instagram at @miss.soo.kim
You can get in touch with Soo by emailing s.kim@newsweek.com