Cruise Ship Evacuated After Running Aground on Galapagos Islands
Holidaymakers' vacations were cut short and the armed forces called in after a cruise ship ran aground on the Galapagos Islands and had to be evacuated on Tuesday night.
Celebrity Cruise's parent company, Royal Caribbean Cruises, released a press release on Wednesday to announce the 46 guests and 58 crew members aboard the cruise ship Celebrity Xpedition are safe after the vessel hit a sandbar and ran aground at Punta Vicente Roca. Punta Vicente Roca is on the northern shores of Isabela Island, the largest island in the Galapagos.
According to Cruise Critic, the grounding occurred in the middle of a seven-day cruise of the Galapagos—an experience that can cost upwards of $3,000—on a ship that has been described by Forbes as "the most luxurious way to explore" the islands. This particular outing was planned to start on November 2 and end on November 9.
However, things did not go to plan. Instead, an alert had to be sent by Xpedition staff on November 5 notifying the Armed Forces and Galapagos National Park of the ship's predicament. Three boats were called in to help crew and passengers caught up in the incident.
According to Royal Caribbean Cruises' update, guests are now aboard the Celebrity Flora, Xpedition's sister ship, and en route to Baltra Island, also in the Galapagos, where hotel accommodation has been booked and return flights are being provided. A full refund for their savings will be offered in "appreciation for the inconvenience experienced," in addition to full cruise credits for a future Celebrity vacation.
The ship suffered no damage to the hull, Ecuadorian newspaper El Universo reported. It is afloat and safely at anchor, Royal Caribbean Cruises confirmed.
"We've seen no signs of environmental impact and continue to monitor the situation closely," a spokesperson for Royal Caribbean Cruises has said. "As we assess the condition of Xpedition and implement contingency plans, we will keep our guests informed regarding any cancellations or revised itineraries."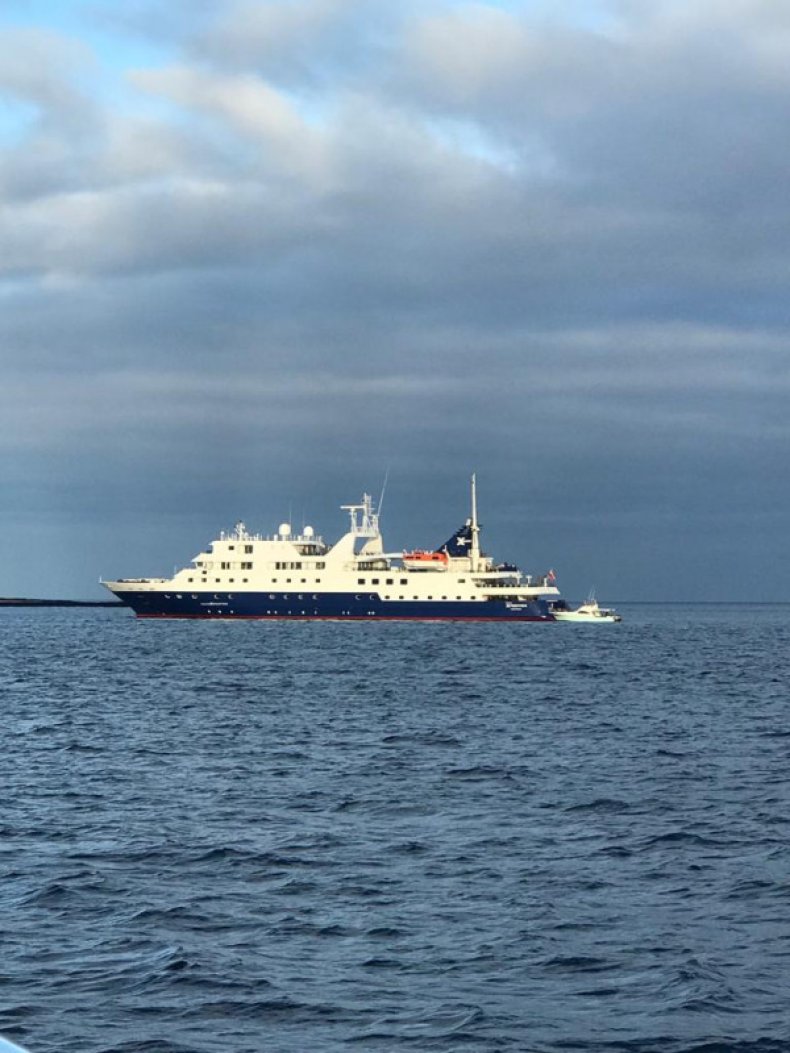 Those aboard Xpedition are not the only passengers to have a cruise experience go awry in recent weeks. Last month, passengers aboard the Norwegian Spirit were left stranded in the ocean for five days, unable to dock because of poor weather—and had stale food, an internet blackout and a failing sewage system to grapple with, Newsweek reported at the time.
Groundings like the Xpedition's are relatively uncommon—according to Cruise Junkie, only 131 incidents reported to have occurred between 1972 and 2013. However, 66 of those have taken place since 2005.