Cruise Ship Passenger Claims Crew Member Pulled Him Down Stairs, Hurting His Back
A man who claimed he fell on a flight of stairs as a cruise ship employee was leading him to another part of the vessel has sued the cruise company for alleged negligence.
Luis Barrios said he hurt his back during the incident—an injury he claimed affected his quality of life, according to The Florida Record, which first reported the story Saturday.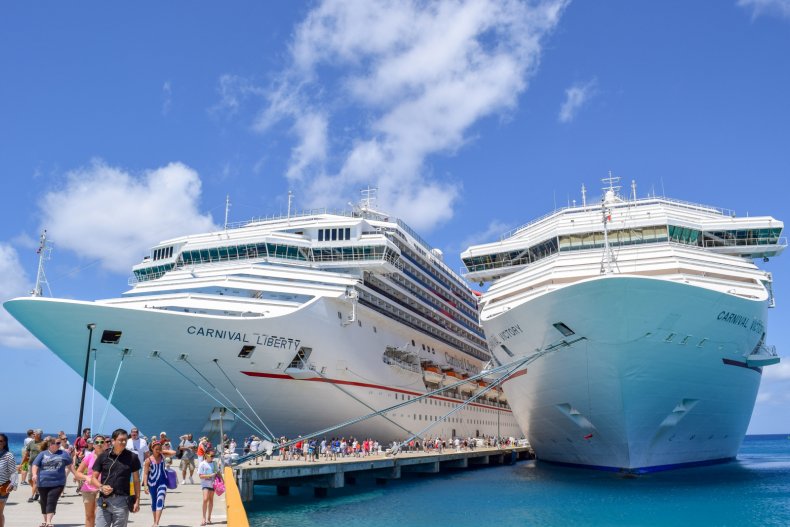 Shortly after he boarded the Carnival Inspiration on February 26 2018, a Carnival Corporation employee "hastily" led him and a companion from one muster station to another during a safety drill, his lawsuit stated. Barrios's travel companion has mobility restrictions and had previously had a stroke.
Barrios said he was holding on to his fellow passenger's arm to support him, as the employee pulled them along. As they navigated a set of stairs, his companion fell to the ground "as a result of [the employee's] rushing and pulling." This pulled Barrios to the ground, damaging his spine, left leg and left knee, he claimed in the suit filed with the U.S. District Court for the Southern District of Florida earlier this year.
Barrios—who later underwent surgery on his spine—said his injuries were caused by Carnival's failure to provide him with "reasonable care under the circumstances." According to the lawsuit, the employee did not aid Barrios or his travel companion, instead telling them to "hurry."
Barrios was later treated in the ship's medical department, the suit claimed.
Carnival denied it was responsible for the passenger's injury in a response which cited sixteen legal defenses. One defense stated Barrios's ticket prevented him from taking legal action over the matter. But the court, presided over by U.S. district judge Federico A Moreno, decided to strike this defense, and another related to maritime law.
Carnival Cruise Line did not immediately respond to Newsweek's request for comment. The case is ongoing.
The Carnival Inspiration is an 855-foot long liner that can carry more than 2,000 guests, according to the cruise company's website. Originally christened Inspiration in 1996, it underwent refurbishment in 2007. It includes several bars, restaurants and a water park.
In other maritime news, two passengers recently died of "unrelated natural causes" onboard the same Royal Caribbean cruise ship. The company told Newsweek it extended its "most sincere condolences" to the passengers' families, and "was providing them assistance during this difficult time."
Another Royal Caribbean vessel—the Oasis of the Seas—was recently damaged by a construction crane at a dock in the Bahamas. Several injuries were reported, but none were considered life-threatening, local media reported. A video of the damaged vessel soon went viral on social media, racking up hundreds of thousands of views.