Cruise Ship Passenger, 70, Sues Younger Man After Violent Argument Over Sunbed Causing 'Loss of Holiday Pleasure'
A German man is suing a fellow cruise ship passenger after a violent argument broke out over a sunbed. The ship was sailing through the Indian Ocean during a cruise last year when the captain invited passengers to a pool party onboard, German newspaper Bild reported. The names of the people involved weren't stated.
As the vessel headed towards Mauritius—an Indian Ocean island famed for its idyllic beaches, lagoons and reefs—an older woman tried to reserve two sun loungers. One was for herself and the other for her 70-year-old husband.
But the plaintiff claimed another woman threw her handbag on to one of the loungers in an attempt to secure the seat. The woman claimed the bag flew past her. This prompted an argument between the women's husbands, according to the report.
Inge Bahlmann, director of the Auerbach district court, told Bild the argument between the 70-year-old and the man in his late 40s became so heated that the older man suffered injuries to his forearm.
But the younger couple remembered the encounter differently. They claimed they had already saved the sun lounger with the handbag when the older couple asked if it was free. The older man was told it had been reserved, causing an argument to break out.
The older couple rejected their account, and the man in his 70s is suing for compensation. After an initial attempt to settle the dispute failed, the case is going to be heard in a court in the eastern German state of Saxony.
The two men, a security guard working on the vessel, and the defendant's mother-in-law are due to appear in court in the town of Auerbach, Saxony, in August. The 70-year-old is seeking €4,200 for "loss of holiday pleasure" and his injuries.
It was unclear which cruise line the passengers were traveling with.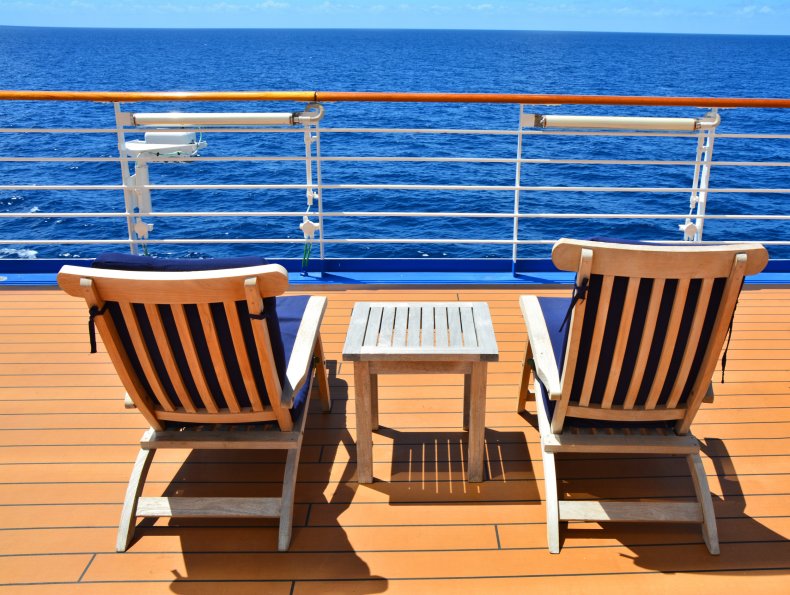 The incident is far from the first account of a clash between passengers on a cruise liner.
Earlier this month, a report emerged of a Russian man bursting into a Japanese couple's cabin while high on drugs before fighting with crew members. The ship was heading from the Russian port city of Vladivostok towards South Korea.
The 46-year-old man was hallucinating when he entered couple's cabin just before 6 p.m., The Korea Times reported citing a Korea Coast Guard official.
A coast guard investigator told The Korea Times: "He was roaming and suddenly dashed into the room after seeing a person walking out of it. Crew members caught him after a brief shoving match."