Cruise Ship Passenger High on Drugs Bursts into Japanese Couple's Room After 'Roaming' Around Vessel
A Japanese couple's cruise voyage was briefly disrupted last week after a Russian man burst into their cabin room while allegedly high on drugs before fighting with crew.
The 46-year-old culprit broke into the cruise ship cabin shortly before 6 p.m. last Thursday while suffering from hallucinations, The Korea Times newspaper reported, citing an official from the Korea Coast Guard. The news outlet reported the Russian man had tested positive after being made to take a drug test.
"He was roaming and suddenly dashed into the room after seeing a person walking out of it," one coast guard investigator told The Korea Times. "Crew members caught him after a brief shoving match."
It remains unclear what type of drug the man had consumed and how it was smuggled past the unnamed cruise liner's security, which should typically screen passengers prior to boarding. The ship was reportedly sailing from Vladivostok—a port city in Russia—towards South Korea at the time of the incident.
The company involved was not named in the report, which only described the incident as having happened on an "international cruise ship."
According to travel website Direct Ferries there is only one main firm that is currently connecting the 25-hour route between South Korea and Russia: DBS Cruise Ferry. Its ship is called the Eastern Dream and it travels the route once a week, according to information posted online by booking advice websites. DBS Cruise Ferry did not immediately respond to queries on whether its vessel was involved in the incident.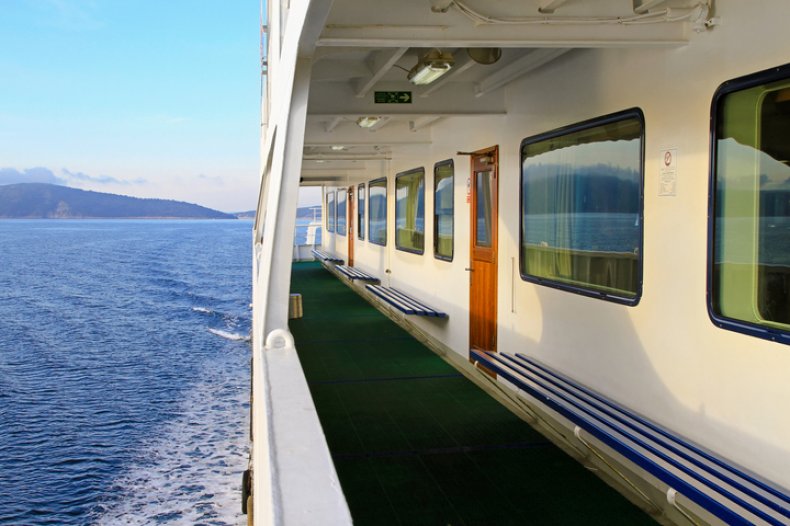 Despite attempts by port officials to intercept illegal packages from cruise ship customers before boarding, it is far from the first time customers have been detained for maritime drug incidents.
In March this year, British law enforcement announced the arrest of six men and six women who were allegedly using a cruise ship for an illegal operation involving close to 20 kilograms of cocaine.
The drugs, which were smuggled on the MSC Opera by the culprits—who were posing as tourists—had an estimated street value of more than $2 million and were hidden in bowls and chip bags, police said.
In January, more than a dozen passengers hoping to attend a dance music party on the Norwegian Epic cruise ship didn't make the trip after being arrested on drug charges by Florida port authorities.
The next week, a police dog that was screening passengers for the second leg of the cruise—known as Holy Ship!—overdosed after ingesting a passenger's drug. Luckily, the K-9 named Jake, made a full recovery after being administered Narcan, an anti-narcotic drug for humans.