Cruise Ship Passengers Left to Suffer on Dockside in Full Sun for Hours While Waiting to Board: 'This Is Obviously not Fun'
Hundreds of vacation-makers found themselves stuck in the hot Miami sun on Sunday, as they faced several hours of delays while attempting to board a cruise ship.
The passengers were hoping to board the Carnival Magic vessel—operated by Carnival Cruise Lines—but were forced to wait because guests on the previous cruise took longer to disembark than planned, according to WPLG Local 10.
Carnival Cruise Lines sent a letter to its customers explaining the hold-up. "Embarkation at PortMiami for today's voyage of Carnival Magic has been delayed due to several factors, including late debarkation from a previous voyage."
"Embarkation for the next voyage is ongoing and we expect no impact on the itinerary of this next seven-day cruise," the company added. It later noted that boarding was further delayed by a customs inspection.
A Carnival Cruise Lines spokesperson told Newsweek the company "sincerely apologizes for this inconvenience and appreciates our guests' patience and understanding."
But the high temperatures and humidity took their toll on some waiting passengers. The company offered to bus passengers to a local restaurant, handed out water and free lunch vouchers, but 7 News Miami reported there were multiple medical calls regardless. Emergency officials did not specify the nature of the calls, the channel explained.
Passenger Diane Felicissimo told 7 News, "We got an email like three, four days ago that said, 'You need to be here on time. Don't come early, just be here on time." She said the experience was "horrible. There's people out here sweating, sunburning. There's kids that are overheated and cranky," she explained.
Carolina Calkins told WPLG that this was her first cruise, "so I have no idea how it's done." Regardless, she added, "this is obviously not fun."
WPLG also spoke with passenger Joe Guarderas, who was among those waiting at PortMiami. "It's been hot, but they brought us water, and there's no restrooms, and we don't know why, what happened," he told the channel. "We've never had this experience before."
According to 7 News, the guests were able to start boarding at around 4 p.m. local time, with the Carnival Magic eventually departing at approximately 6:30 p.m.
But some passengers are demanding Carnival Cruise Lines make amends for the delay. "I hope Carnival is gonna compensate us for this, because this is horrible," Felicissimo said. "This is really bad."
Earlier this month, passengers traveling on the company's Carnival Inspiration ship were stuck in a malfunctioning elevator. The guests—who were banned from all future Carnival cruises after being rescued—claimed that company staff were insensitive and disinterested towards them, even as one of those stranded fainted.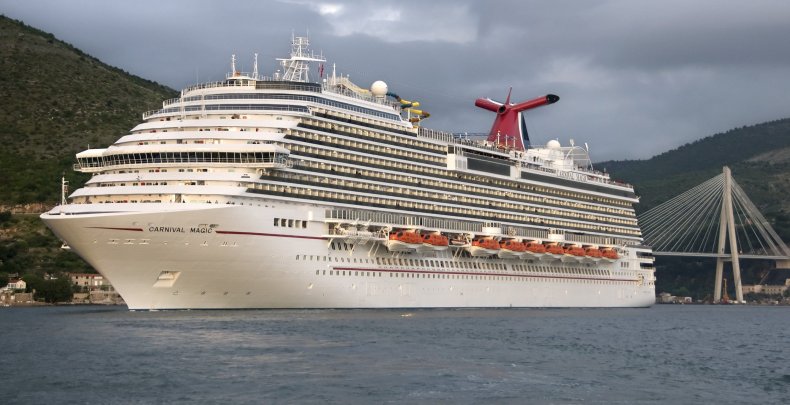 This article has been updated to include a statement from Carnival Cruise Lines.