How Cruise Lines Are Faring, and What Passengers Have to Say, After Hurricanes Hit Caribbean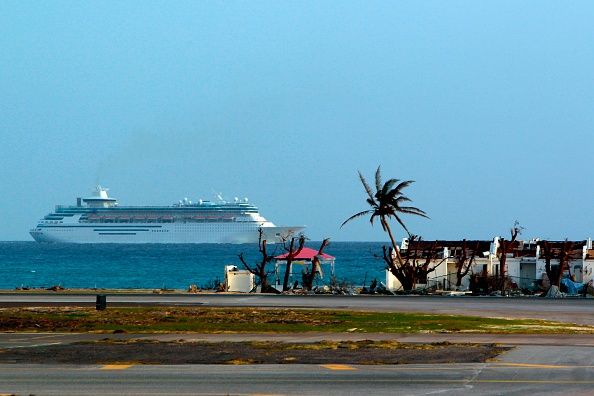 Cruise lines are recovering after hurricanes Irma and Maria slammed the Caribbean earlier this year, though cruise-goers describe "blackout" conditions on some islands, and mourn the loss of some of their favorite attractions.
The storms hit from late summer into early fall, affecting Florida, Cuba, Puerto Rico and St. Martin, and forcing cruise lines like Carnival Cruise to reroute or cancel cruises. Carnival lost 10 percent in revenue per share due to canceled cruises, but shares climbed back up 2.7 percent by this week, the Miami Herald reported.
The category 5 storms damaged the Caribbean dramatically—in Puerto Rico, residents have lived with power outages for weeks on end, and may not have power fully restored until May, around eight months after Hurricane Maria. Delays in restoration efforts created a humanitarian crisis as the island struggled to fix roads and provide for basic needs, such as health care.
But apparently the islands have recovered enough to reopen their ports to tourists in recent weeks. Ships were able to arrive for the first time since Irma on December 4 in St. Martin, the Dutch and French island that's a favorite for many cruise lines.
The cruise lines may be open, but cruise-goers took to Reddit to swap stories and advise one another on whether it's safe and enjoyable to stop in the Caribbean.
"The main port area had power but you don't have to go far from downtown before you are in blackout. We are talking no traffic lights nothing," wrote user martymar18 of his cruise earlier this month. "We sailed by Puerto Rico at night and there was a single strip on the island that had power and the rest was in darkness."
It's been a rough few months for cruise lines. More than 500 people fell ill after contracting norovirus on two Royal Caribbean ships, a common problem for cruise ships, though a small percentage of total passengers. It's an unfortunate scenario for the companies that are just now getting back to business as usual. A single cruise season generates $2.4 billion for the Caribbean, 55,000 jobs and $842 million in wages, according to the Miami Herald.
Back in October, when damage in the Caribbean was still at its peak, the Florida-Caribbean Cruise Association, a group that comprises several major cruise lines, started an online campaign with a website called CaribbeanIsOpen.com, encouraging travelers to book trips and reassuring that cruises could still operate despite the devastation.
The campaign sought to keep cruise companies on track for what was expected to be a big year for cruises. In 2016, cruise bookings for travel agency Tourico Holidays was at an all-time high, with a 37 percent increase in cruise bookings compared to the previous year. The group anticipated even bigger numbers in 2017.
Cruise lines were forced to make changes to itineraries, removing St. Martin, Tortola, and Turks and Caicos destinations from travel plans. Some smaller lines upset customers when they didn't offer refunds after diverting the ships to the Federal Emergency Management Agency to house hurricane relief workers in St. Thomas.
While many of the major relief efforts in the region have slowed, hurricane damage is still affecting where tourists can visit while on a cruise. In San Juan, Puerto Rico, 100 hotels and 4,000 restaurants have reopened to visitors, but much of the island is still inaccessible. In St. Martin, cruises are dealing with much of the same.
"Royal Caribbean discouraged passengers from heading to St. Martin, the French side of the island, and it's true that the level of debris and destruction seems greater there," reads a news update on the website Cruise Critic. The site optimistically points toward new attractions that are being built for incoming tourists, but also mourned the loss of favorite sites that no longer exist.
"This is the least crowded this place has ever been," said one visitor, Cruise Critic reported.