Ted Cruz Calls Out Law Student Who Ambushed Him on Camera as Embarrassing and Ignorant
Senator Ted Cruz verbally sparred with a law student and his professor after the student questioned the Texas Republican for opposing Democrats wanting to add more justices to the Supreme Court. The student, Billy Berns, recorded the brief interaction and posted it online.
Cruz on Friday wrote that he assumed the student "was a Dem tracker reciting talking points." His message also read: "Not sure what's more embarrassing: that he's an actual law student who doesn't know the difference btwn filling vacancies & packing the Court. Or that his law prof is proud of his ignorance & thinks it's 'giving me hell.'"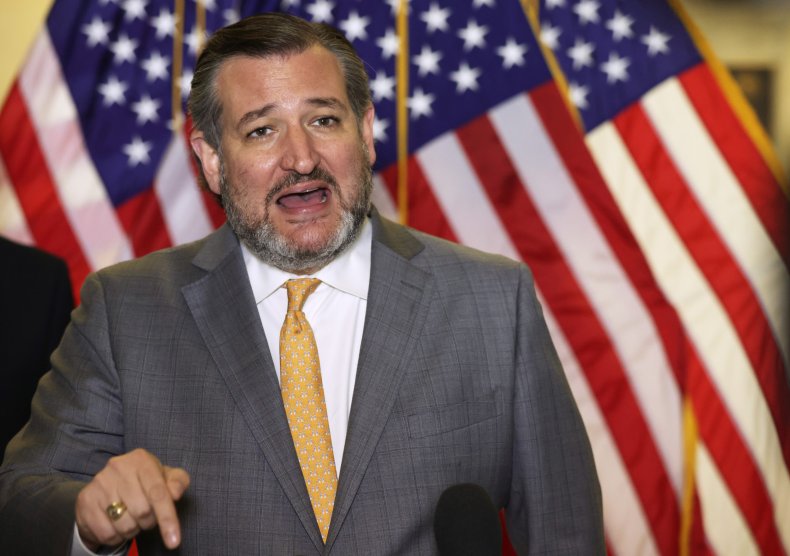 On Thursday, Josh Chafetz, a law professor at Georgetown University, posted about the verbal exchange and video. He retweeted Berns' video with the caption: "One of my students came across Ted Cruz's anti-Court-packing press conference and naturally gave him hell..."
The words between Berns and Cruz occurred after the latter spoke outside the Supreme Court. The senator held a press conference at which he made a case against legislation introduced by a group of Democratic lawmakers last week, led by Representative Jerry Nadler (D-N.Y.) and Senator Ed Markey (D-Mass.).
The proposed bill would add four new justices to the Supreme Court, in a move seen as an attempt at giving the court a more liberal slant. Cruz and others have called the legislation "court packing."
"You didn't see Republicans, when we had control of the Senate, try to rig the game," Cruz said during the press conference, where he was joined by Senator Lindsey Graham (R-S.C.). "You didn't see us try to pack the Court."
As Cruz walked away from the podium following the press conference, Berns approached him and questioned him about Republicans trying to pack the court in the past with conservative justices. Cruz responded to his questions, saying Republicans were filling seat vacancies and not adding seats as the Democrats' bill would do.
In the video, Cruz says, "We didn't add a single justice. We could have done the same garbage, but we didn't because it would've been wrong. If there's a judicial vacancy, Joe Biden and the Democrats in the Senate are entitled to act to try to fill it, and if they nominate someone bad, we'll oppose that justice. I mean, that's the political process."
President Barack Obama's Supreme Court 2016 nomination of Merrick Garland was held up for nearly a year in what many speculated was an attempt to allow a Republican president to fill the spot.
Cruz even suggested leaving the ninth seat vacant if Hillary Clinton were to become president, saying at that time that "[t]here is certainly long historical precedent for a Supreme Court with fewer justices."
Berns also brought up Republicans trying to stack the court in their favor last year, when Amy Coney Barrett was confirmed quickly following the death of Ruth Bader Ginsburg. Cruz, though, maintained that filling empty seats was different than adding new ones.
Chafetz declined to comment for this story. Newsweek also contacted Cruz and Berns for comment but had not heard back at the time of publication.