Cruz, Graham and Lee 'Reinforced' Trump Lawyers' Defense Strategy in Meeting, Jason Miller Says
Before Donald Trump's team took over the impeachment proceedings on Friday, they received some last-minute advice from a handful of Republican senators—who also have to serve as jurors on whether to convict the former president.
Senators Ted Cruz of Texas, Lindsey Graham of South Carolina and Mike Lee of Utah were seen meeting privately with Trump's attorneys on Thursday evening, hours after the House impeachment managers wrapped up their presentation.
Jason Miller, an adviser for the former president, confirmed the meeting with Newsmax on Friday. He praised the lawmakers, calling them "very accomplished and very skilled lawyers."
"I would say that most of the points that the senators were raising we have in our presentations and we have in our arguments, so that was good reinforcement for us that we're thinking about this in the same direction," Miller said.
He continued, "But I'll tell you, Ted Cruz, Lindsey Graham, Mike Lee—these are some smart guys with some very good ideas, and I think President Trump is going to get the absolute best defense today. And it was a real honor to have those senators come in and give us some additional ideas, so we're appreciative for that."
During an impeachment trial, senators are expected to be impartial jurors and listen to the evidence presented by both sides before voting on a conviction. To secure a conviction, Democrats will need 17 Republicans to find Trump guilty, a scenario experts have said is unlikely.
Asked if it's appropriate to meet with senators during the trial, Trump's attorney David Schoen told CNN, "Oh yeah, I think that's the practice of impeachment." He also said that Trump has been denied due process throughout the proceedings.
But others had a different take. Ben Cardin (D-Md.) told CNN that it was "very unusual," noting that senators "took a separate oath to be jurors and to weigh the information as presented." Representative Gerry Connolly (D-Va.) tweeted, "I'm no lawyer, but I'm fairly certain jurors aren't supposed to strategize with defense counsel in the middle of a trial."
Cruz told reporters the meeting with the Trump defense team was an opportunity for "sharing our thoughts" about their legal strategy. The senator also said the outcome of the trial was "crystal clear" in that Trump will be acquitted.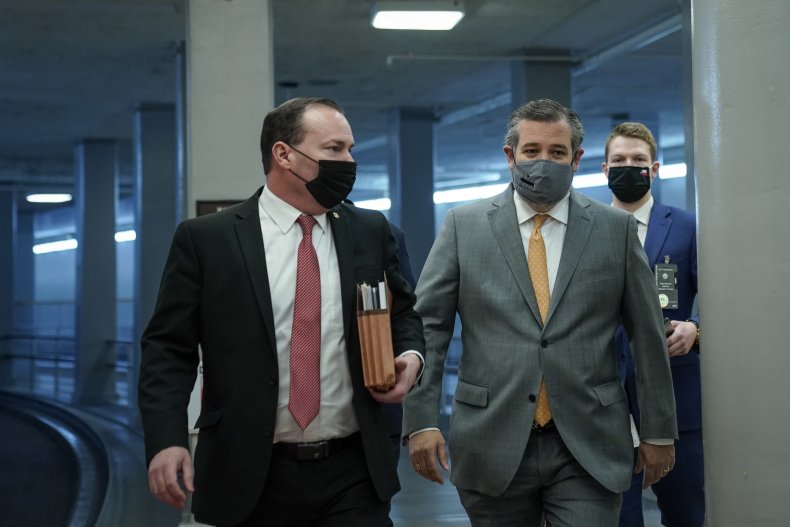 In response to criticism about the meeting, a Lee spokesperson told Newsweek: "The president's lawyers asked to speak with him, and he obliged. He'd be happy to meet with the House managers as well."
Trump's legal team, led by Schoen and Bruce Castor Jr., were to begin presenting their defense of the former president on Friday. Like House impeachment managers, they have up to 16 hours to make their case, but Miller told Newsmax that their arguments will last roughly four hours.
Miller also asserted that Friday would be a "redemption day" for Castor, who got off to a rocky start on Tuesday with meandering opening remarks. Miller said Castor's arguments were going to be crisper and tighter.
"Today is the day of truth. Today is the day that we actually put the Democrats on trial, and you're going to see a full and complete picture of what really happened," Miller said.
Newsweek has reached out to Cruz's and Graham's offices for comment on the meeting but did not hear back before publication.