Can Donald Trump Fire His Impeachment Lawyers Bruce Castor and David Schoen After Rocky Start?
Donald Trump's historic second impeachment trial began on Tuesday with what many have deemed a subpar presentation from his defense team—a performance that reportedly left the former president enraged.
"If Trump still had his Twitter account, he may Tweet-fire this lawyer on the spot," Seung Min Kim, a White House reporter for The Washington Post, quipped on the social media site.
Experts told Newsweek that Trump could very likely fire his impeachment attorneys midtrial, but that it would probably cause only more harm.
"Of course he can fire his attorneys," said Nick Akerman, a Watergate prosecutor in the case that led to the resignation of President Richard Nixon. "The problem he would have is a practical one: Who do you put in their place?"
Akerman noted it would be "very difficult" to bring in other counsel and get them up to speed midtrial.
Brian Kalt, a constitutional law professor at Michigan State University, echoed that sentiment in an email to Newsweek, writing, "It would be disruptive, and given that he does not seem to be in danger of being convicted, I don't think it would be worth it."
Trump has been charged with "incitement of insurrection" after a mob of his supporters stormed the U.S. Capitol on January 6 to disrupt the congressional certification of President Joe Biden's electoral victory. The House voted 232-197 to impeach him exactly one week before he left office.
"There have been so few presidential impeachments, I don't think there is a specific rule dealing with whether a president can fire his attorneys midimpeachment," said Michael Stern, a former federal prosecutor for the U.S. Department of Justice.
"If I were to analogize this to a criminal trial, the defendant could fire his attorneys midtrial because he has a constitutional right to represent himself. So Trump could likely fire his attorneys," Stern said. "But, that would also leave him in a tighter bind than he's already in. He could let the case proceed without representation, he could represent himself, or he could find new attorneys."
The former president has had problems with his impeachment defense team from the get-go. Five lawyers left his case just one week before the trial started, reportedly over Trump's insistence they argue that the 2020 election was stolen from him through widespread fraud.
On January 31, Trump announced he had hired David Schoen and Bruce Castor Jr., both experienced in criminal defense. According to the press release, Schoen had already been working with Trump and other advisers to prepare for the trial, and both attorneys "agree that this impeachment is unconstitutional."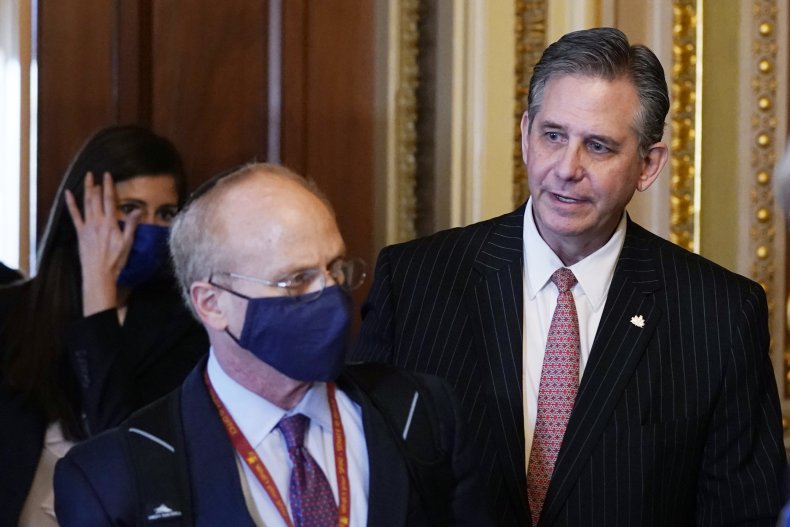 Castor kicked off Trump's defense on Tuesday in what many have described as a rambling, meandering rebuttal to claims made by the House impeachment managers. Schoen, who presented arguments after Castor, gave a more spirited performance.
But many Republican senators were unimpressed by the presentation by Castor and Schoen. Bill Cassidy of Louisiana, the only conservative member to change his vote on constitutionality, told reporters Trump's team was "disorganized." Susan Collins of Maine, who also voted in favor of the trial's constitutionality, said she was "perplexed" by Castor's argument.
Trump is reportedly unhappy with the performance from his team. One source told the Associated Press Trump felt his team looked weak on television and came off badly in comparison to the Democratic prosecutors. The New York Times also reported that Trump was furious with Castor's performance.
Schoen defended Trump's team during an interview with Fox News host Sean Hannity on Tuesday night. Schoen said Castor hadn't planned to present on the first day and added he was sure the defense would do a "great job" as the case continued.
As he arrived at the Capitol on Wednesday, Castor told reporters, "Only one person's opinion matters, and that's what I'm going by." Asked if Trump had expressed displeasure at his performance Tuesday, Castor replied, "Far from it."
Asked the same question, Schoen told reporters that his conversations with the former president fell under attorney-client privilege. He added that Trump "always gives good advice."
Weighing in on the first day of Trump's impeachment trial, Akerman said he thought that Castor's argument was "bizarre" and that the former president's defense lacked a unified message.
"When you're a defense lawyer in something like this you have to have a theory of the case. You have to have a coherent argument that you can present the Senate or the jury or the American public, and that's where they're really falling short. It doesn't seem like they have any coherency to what they're doing," Akerman said.
He added, "It doesn't exactly put Trump in the best light to have people up there who really can't defend him."
Newsweek reached out to Castor and Schoen for further comment but did not receive a response in time for publication.
This story has been updated to include Bruce Castor's and David Schoen's comments to reporters as they arrived at the Capitol on Wednesday.