David Schoen Defends Trump Legal Team After Republican Criticism
Former President Donald Trump's impeachment defense lawyer David Schoen said his legal team would be "well prepared" in future after Republican lawmakers criticized their performance on the impeachment trial's opening day.
Speaking to Fox News on Tuesday night, Schoen said he was sure the former president's defense team would do a "great job" as the case continued, and added that they felt "very strongly" about pushing back against Trump's second impeachment trial.
The attorney also said his partner Bruce Castor, whose opening statement was criticized, hadn't planned to begin his arguments on Tuesday. But he nevertheless Castor's law firm were "very capable people."
Asked if the defense would be better prepared for later hearings, Schoen told Hannity: "The fellow who did the opening today had his law firm there. They seem to be very capable people, I'm sure. Today he hadn't planned on going, and so I'm sure they will be very well prepared in the future, and do a great job in the case.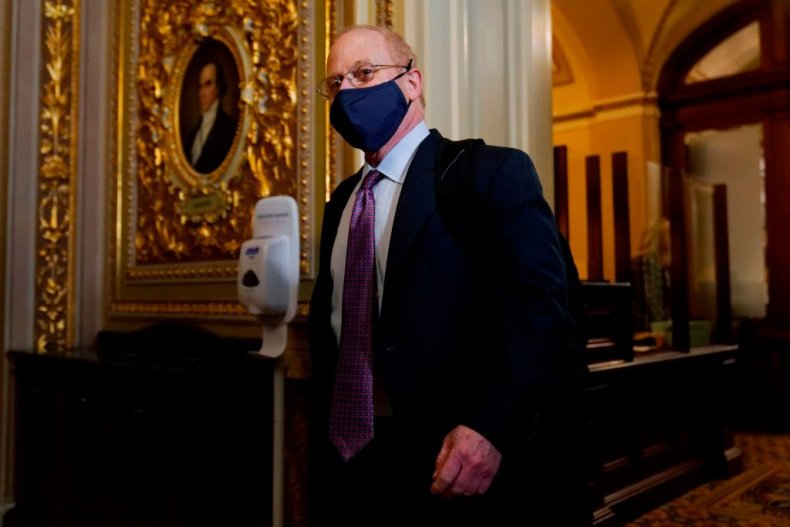 "There's a lot to say, and I know they feel very strongly about fighting against what they're seeing."
Newsweek has contacted Schoen's law firm for further comment. This article will be updated with any response.
Several Republicans were less than impressed with the opening arguments made by Trump's defense team. Castor's 48-minute defense of Trump came in for the most criticism, with pool reports noting that lawmakers look perplexed as he delivered his speech.
"I thought I knew where it was going," Senator Lindsey Graham (R-SC) told reporters after the trial's first day. "And I really didn't know where it was going."
Defending his decision to vote in favor of the impeachment trial proceeding on Tuesday, Senator Bill Cassidy said: "If anyone disagrees with my vote and would like an explanation, I ask them to listen to the arguments presented by the House Managers and former President Trump's lawyers. The House Managers had much stronger constitutional arguments. The president's team did not."
The Harvard Law School professor Alan Dershowitz, an attorney for former President Trump at his first impeachment trial, also told Newsmax that he had "no idea" what Castor was doing in his opening statement.
"There is no argument. I have no idea what he's doing. I have no idea why he's saying what he's saying," Dershowitz said. "Come on. The American people are entitled to an argument, a constitutional argument."
The Senate voted 56-44 in favor of proceeding with Trump's second impeachment trial on Tuesday after its constitutionality was brought into question.
Six Republicans broke with their party to vote with Democrats on the issue, citing the strength of the legal arguments made by House impeachment managers.