After the near-collapse of his defense team, former President Donald Trump has cemented two lead attorneys to represent him in what will be his second impeachment trial before the U.S. Senate.
David Schoen and Bruce Castor Jr.—both experienced in criminal defense—will head the effort in the trial slated to begin on February 9, Trump's office said in a statement on January 31.
"Schoen has already been working with the 45th President and other advisors to prepare for the upcoming trial, and both Schoen and Castor agree that this impeachment is unconstitutional—a fact 45 Senators voted in agreement with last week," the release said, referring to the procedural vote brought forward by Republican Rand Paul to dismiss the charge as unconstitutional.
According to his law firm's website, Schoen has "extensive complex litigation experience as lead counsel in trial and appellate courts throughout the country" after 30 years in practice.
Schoen previously served as a lawyer to longtime Trump ally Roger Stone, representing him during a sentence appeal last year. Stone was convicted in November 2019 for lying during the investigation into Russian election interference. Trump granted Stone a presidential pardon before leaving office.
Schoen has also made headlines recently for meeting with convicted sex offender Jeffrey Epstein the day before his death. Schoen previously told Newsweek Epstein had asked him to "consider representing him in the then-pending criminal case."
Castor is a former county commissioner and former district attorney for Montgomery County, Pennsylvania. He is mostly known for his decision not to prosecute Bill Cosby in 2005 after a Temple University employee accused Cosby of sexual assault. Castor later sued Cosby's accuser for defamation, claiming she destroyed his political career in retaliation.
The two attorneys were tapped to take over Trump's defense after his previous team, led by South Carolina lawyer Butch Bowers, reportedly left after he insisted they make a case that the 2020 election was stolen.
The public got a preview of Schoen and Castor's defense strategy in a 14-page brief filed on February 2. Trump has been charged with "incitement of insurrection" after a mob of his supporters stormed the U.S. Capitol on January 6.
Much of the filing was on the argument that the Constitution's impeachment provision does not apply to a former president. The two attorneys also argue that Trump did not incite the crowd "to engage in destructive behavior" and that his statements that day are protected by his First Amendment right to freedom of speech.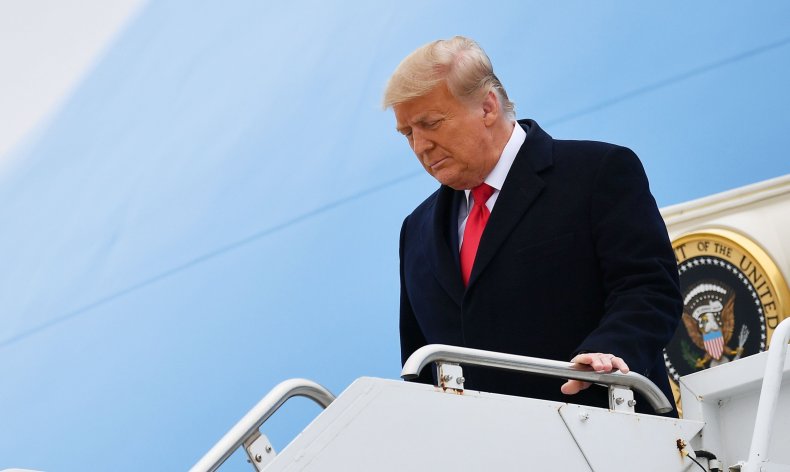 The brief also touched on Trump's false claims that the election was rigged and riddled with fraud.
"After the November election, the 45th President exercised his First Amendment right under the Constitution to express his belief that the election results were suspect, since with very few exceptions, under the convenient guise of Covid-19 pandemic 'safeguards' states election laws and procedures were changed by local politicians or judges without the necessary approvals from state legislatures," Trump's lawyers wrote. "Insufficient evidence exists upon which a reasonable jurist could conclude that the 45th President's statements were accurate or not, and he therefore denies they were false."
Meanwhile, the House impeachment managers argued in their 80-page brief that Trump was "singularly responsible" for the deadly riot at the U.S. Capitol. Representative Jaime Raskin, the lead manager, also requested that Trump testify under oath but the request has been rejected.
The impeachment trial will start on Tuesday, February 9. Democratic Senator Patrick Leahy of Vermont will preside over the trial.
Newsweek reached out to Schoen and Castor for comment on the upcoming trial but didn't receive a response prior to publication.