'Crying Nazi' Chris Cantwell is Still Spreading Hate a Year After Violence in Charlottesville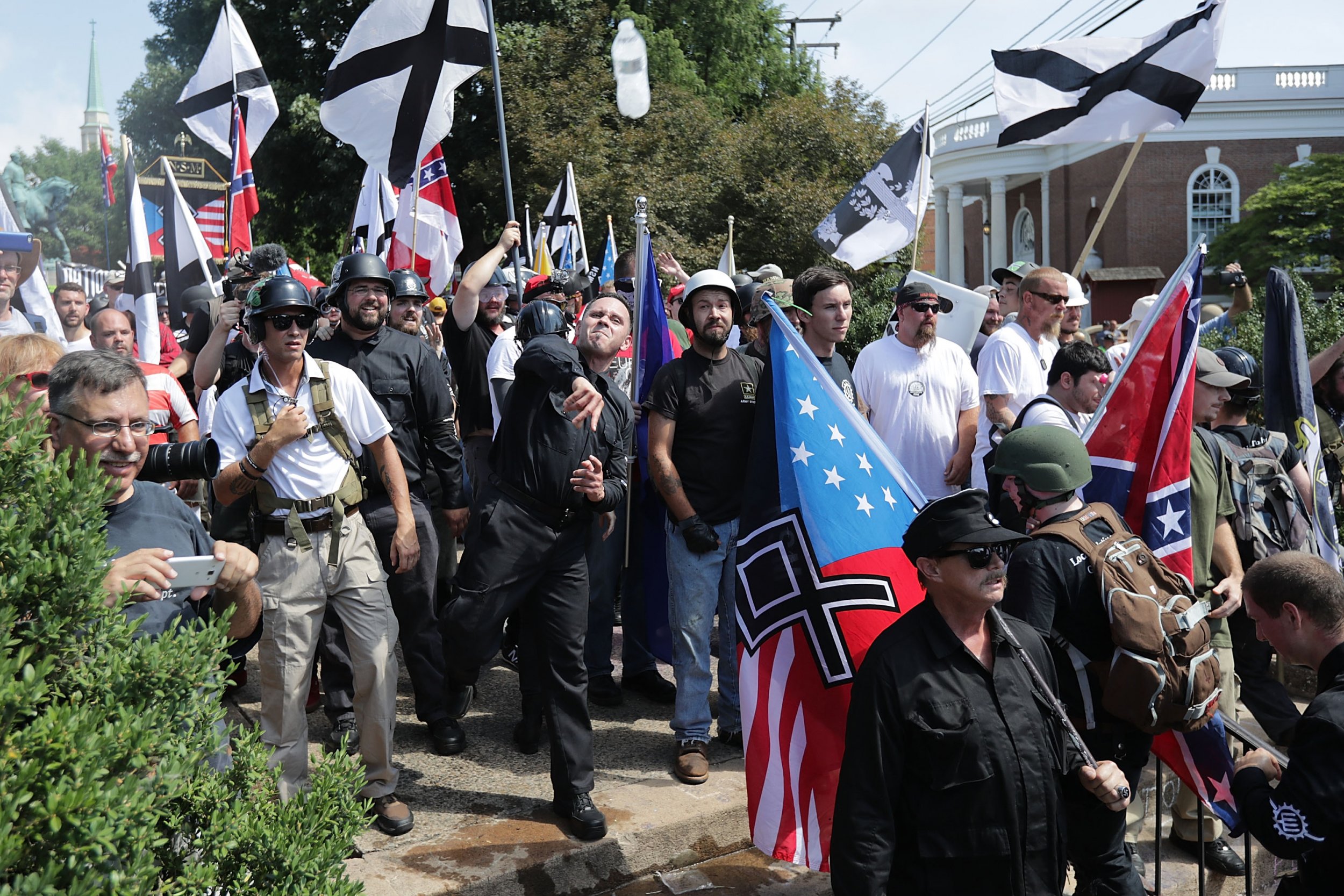 Today, Christopher Cantwell is a white nationalist podcaster, advocating for an ethnically white state, and pinning the blame for all of America's problems on people of other races.
His rise to fame began just over a year ago, when he was planning to speak at a Unite the Right rally in Charlottesville, Virginia.
Cantwell became one of the central figures one of the most controversial episodes in the country's history. He has since been barred from the state of Virginia for crimes at that violent rally, in which one young woman died and dozens injured.
Today Cantwell is best known as the "crying Nazi" because took to YouTube days after the fatal rally and first fought back tears while speaking of his fear of arrest.
"I'm armed. I do not want violence with you. I'm terrified. I'm afraid you're going to kill me, I really am," Cantwell said when he offered to give law enforcement his location. "Just let's do this, however, we need to do it. If I gotta go to jail, it won't be the f****** first time, alright. I don't want to, I don't think I should. I honestly believe I've been law abiding. I've been engaged in violence, I have, there's no question about it. And I've done nothing to hide that. But it was done in defense of myself and others."
It was particularly striking given the bravado he had displayed during an interview with Vice News. He pointed to the shootings of young black teenagers Trayvon Martin and Michael Brown as "black a******* behaving like a savage and he gets himself in trouble shockingly enough.
"Whatever problems I might have with my fellow white people, they generally are not inclined to such behavior and you gotta kinda take that into consideration when you're thinking about how to organize your society," Cantwell said.
He was asked if his movement was capable of violence "I didn't say capable," he said. "Of course we're capable. I'm carrying a pistol, I go to the gym all the time," Cantwell said. "I'm trying to make myself more capable of violence. I'm here to spread ideas, talk, in the hopes somebody more capable will come along and do that. Somebody like Donald Trump, who does not give his daughter to a Jew," he said, referring to the President's daughter, Ivanka Trump, and her husband, Jared Kushner, a devour Jew.
Cantwell added: "I don't think that you could feel about race the why I do and watch that Kushner bastard walk around with that beautiful girl."
Eleven days after the rally, Cantwell turned himself in to Lynchburg police.
In December, Cantwell was charged with misdemeanor assault and battery later faced charges of violating his bond for disparaging Charlottesville victims on social media and elsewhere.
Last month, after serving 107 days, Cantwell plead guilty to the charges and the remainder of his possible 12-month sentence was suspended, prosecutors told The New York Times. The judge also banned Cantwell from the state for five years.
Cantwell later said he had to plead guilty even though he was innocent of the charges. He reiterated his goal of "having an ethno-state," and plans to use his nickname, the "crying Nazi."
He said to The Times: "I've got to leverage whatever I can to get what I want."