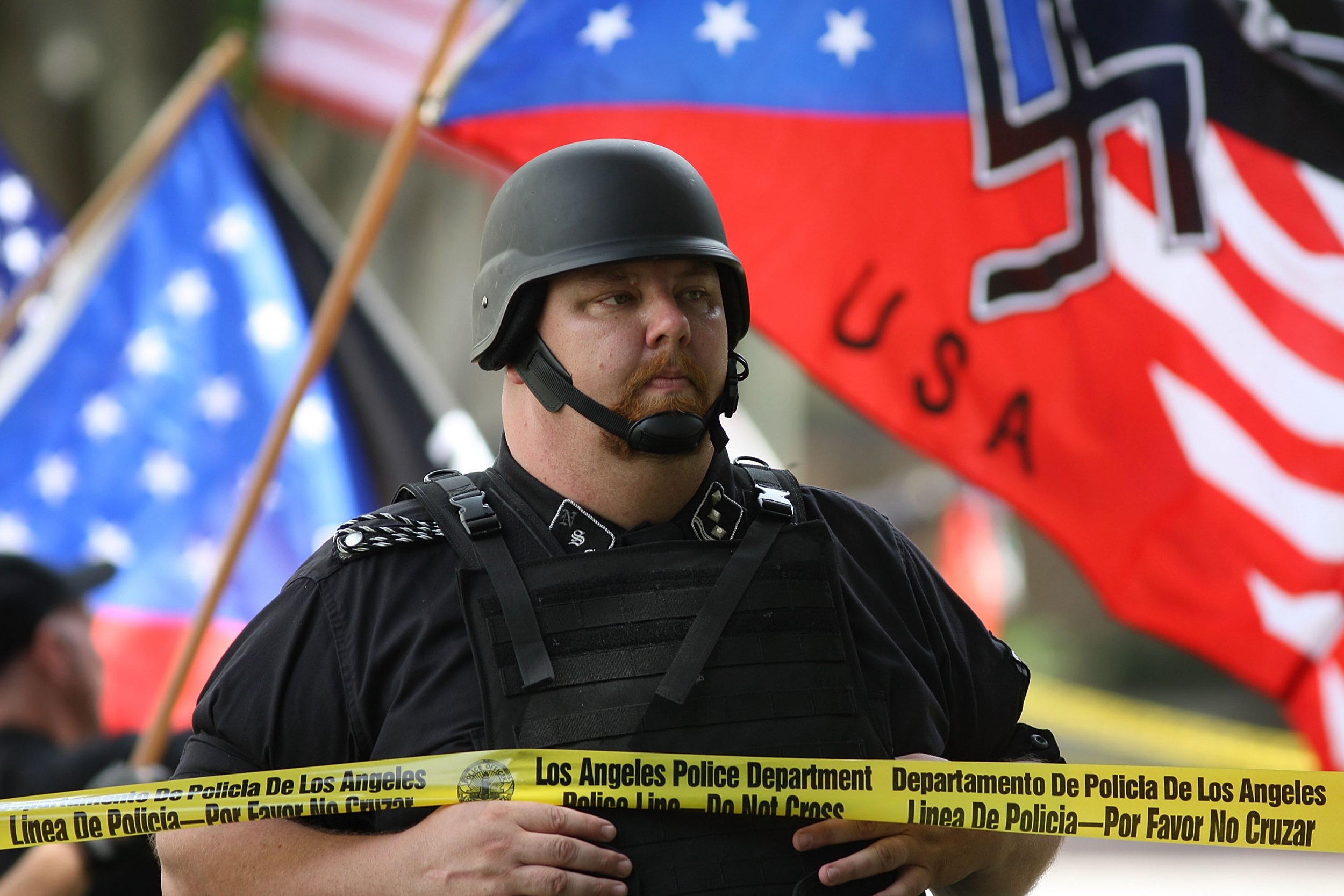 Updated | The neo-Nazi website Radical Agenda, which recently published an anti-Semitic rant calling for the mass murder of Jewish children, has been dropped by GoDaddy, the domain registry and web hosting company following a Newsweek story on the violent rhetoric.
Christopher Cantwell, known colloquially as the "crying Nazi," will have to find a new venue for his site after Andrew "Weev" Auernheimer, a neo-Nazi who co-runs the anti-Semitic conspiracy website Daily Stormer, called for death to Jews on his podcast.
"Someone has to step in," Auernheimer, 32, told Cantwell on the site, as Newsweek reported. "If you don't let us dissent peacefully, then our only option is to murder you. To kill your children. To kill your whole families. There is only one thing absent free speech that we can do to express our dissent and that's to slaughter you like dogs, and you're gonna have it coming and your children will deserve to die."
GoDaddy told Newsweek that its "digital crimes team" had determined that Cantwell's site had broken their Terms of Service agreement and Cantwell would be forced to move the domain "to another provider."
The company said it supports free speech and "a free and open Internet," but had to act because "the content on the site clearly crossed the line and encouraged and promoted violence."
Cantwell, who earned the nickname "crying Nazi" after posting an emotional video of himself after Charlottesville police issued a warrant for his arrest, is currently under house arrest in Virginia on two felony charges for allegedly using tear gas and pepper spray at the doomed Unite the Right rally in that city last August.
The content was also posted on DailyStormer.red. Neo-Nazi websites often jump around the internet when their existing servers cut them off.
Daily Stormer, which primarily posts Jewish conspiracy theories and memes celebrating the wholesale murder of Jews, women and people of color, has found a safe haven on its current DailyStormer.red address for over a month now. Prior to that, the website had been barred from over a dozen domains, most recently one hosted by the Hong Kong government.
Story was updated to remove a reference to a web company.