How To Get the Sad Face Filter Taking Over TikTok by Using Snapchat
The sad face, or crying face, filter has been taking over TikTok this past week with an ongoing influx of viral videos showing the strange-yet-hilarious effect.
Each video takes the same plot: someone unknowingly filmed with the face filter on, appearing to sob hysterically yet remaining insistent that they're not crying.
Although it's continuing to produce viral video after viral video, the filter has left users confused as to how they can use it too, with it not being quite as simple as others. Despite becoming a hit on TikTok, it's actually a Snapchat feature.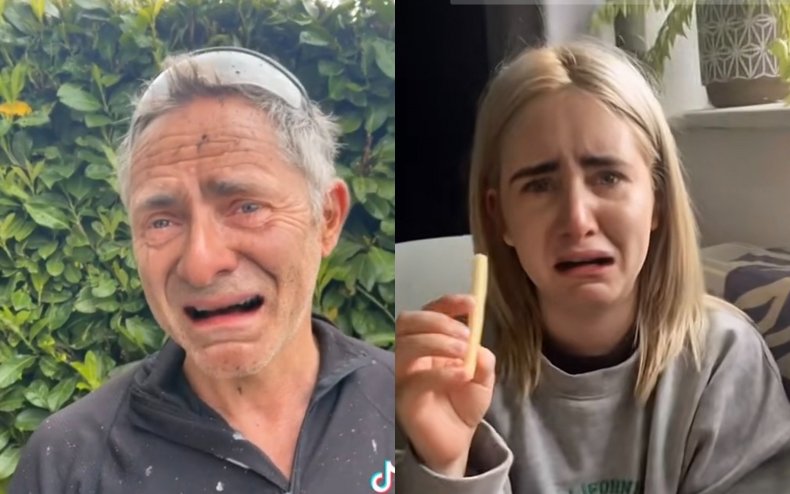 What Is the Sad Face Filter on TikTok?
The crying face is something in itself with watering eyes and a downturned mouth, it's arguably the most famous one since Kim Kardashian's. In fact, one viral post even placed the filter on the Kardashians' faces at the Met, racking up over 1 million views.
The filter has become the latest to trend on the app with videos easily earning views in the millions as the comedic aspect refuses to lessen despite the amount of clips.
Reportedly, the Snapchat Lens has already gained over 1.3 billion impressions after debuting just last week.
TikToker @puwtok racked up over 1 million views and 140,000 likes with their use of the filter, as his daughter filmed the whole thing.
"I'm not sad," he defended, not realizing the look on his virtual face. "What on Earth are you doing," replied Paul when asked why he was crying.
"I'm over it," he continued, after his daughter asked if he was crying over his favorite soccer team's match results, before laughing. Thanks to the filter, any attempt to laugh appears like a measly attempt at disguising a cry.
@fablesinfocus similarly went viral with the filter, amassing over 19 million views as her daughter took control behind the camera. After being asked for some of her fries, Jodie happily obliged but her face didn't appear so happy thanks to the filter in use.
"Have the chip back," said the daughter, meeting the mom's confusion and continued crying face.
How To Get the Crying Face Filter on TikTok
Those wanting to find the filter to try it out themselves have found themselves struggling, with comments on videos filled with confusion. Users have been left attempting to find it everywhere there.
Despite finding fame on TikTok, and many believing it to be an Instagram filter instead, the crying face filter is actually a Snapchat Lens.
TikTok users have been filming the clips on their Snapchat app but saving the video and sharing it on TikTok instead, like some kind of Disney crossover episode.
To Try Out the Crying Face Filter on Snapchat
Open your Snapchat app
Open "Lenses" by clicking on the face button to the right of the photo button
Press "Explore" on the button right and search "Crying"
Select the filter simply titled "Crying" which should be the first to appear
Try the filter out yourself and save it