In Cuba, Hard-Liners Still in Charge, but Signs of Change, New Politburo Shows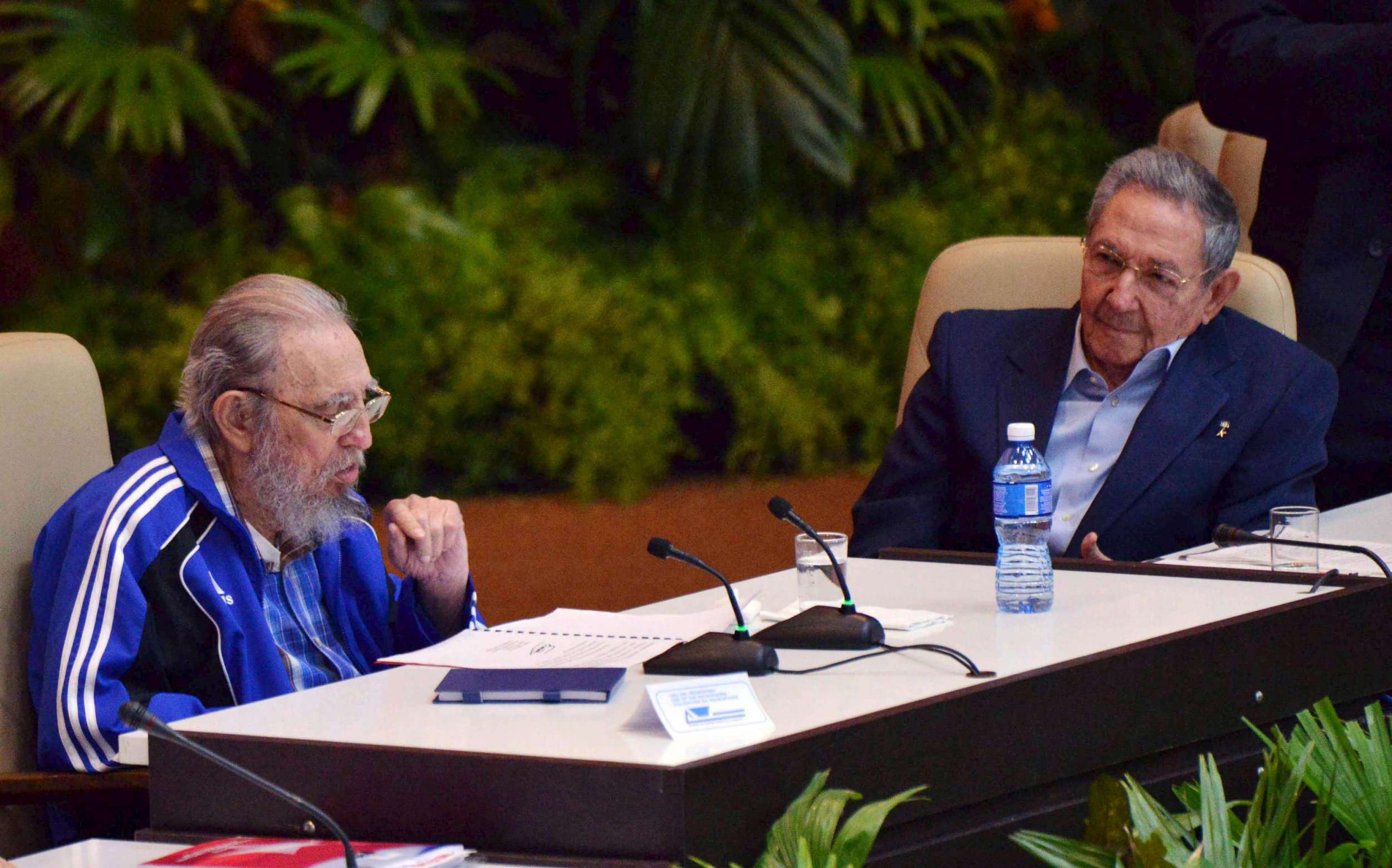 Updated | Raúl Castro has said he will step down as Cuba's president in 2018, but that doesn't mean he's leaving politics. The third Castro son, 84, will keep his post as first secretary of Cuba's communist party, the highest rank in the country's politburo, through 2021, state media reported Tuesday.
Castro's decision to remain atop Cuba's communist party apparatus, which is inextricably intertwined with the state, sends a signal that the country's Revolution-era political élite will remain in control, at least for the time being. It also signals that any Cubans hoping for rapid social, political or economic change will have to keep hoping a while longer.
"As long as Raúl Castro is alive and healthy, he will be the most powerful person in Cuba, regardless of what his titles are," John Caulfield, who was chief of the U.S. Interests Section in Havana from 2011 to 2014, tells Newsweek . "But obviously it will be disappointing to some who hoped for a quicker turnover in generations."
But Castro's decision to stay at the head of the party could also be a sign that he means to see through Cuba's economic transformation, "if not to its conclusion, then to a point at which it's really irreversible," William LeoGrande, a professor of government at American University who wrote Backchannel to Cuba: The Hidden History of Negotiations Between Washington and Havana, tells Newsweek .
In another sign that party hard-liners aren't loosening their grip on the island, the party's second secretary, José Machado Ventura, 89, will also keep his post. Machado Ventura is generally considered a socialist die-hard. "He's seen as a conservative, more conservative than Raúl, a traditionalist [and] very suspicious" of the United States, says Caulfield. In July, after Google CEO Eric Schmidt offered to expand Wi-Fi access throughout Cuba, Ventura, who rarely gives interviews, blasted the plan to the press as "ideological work for a new conquest" by the U.S.
The new politburo consists mostly of older party apparatchicks. But it also elected five new members: two union leaders, two academics in important industries and the country's public health minister. The new appointments are a sign that party leadership knows it can't continue with business-as-usual, LeoGrande says. Three of the new members are leaders in business sectors the party wants to become cornerstones of the new Cuban economy—information technology, biotechnology and health services—and two are members of grassroots labor groups with their "ears to the ground" who can keep party leadership apprised of public opinion, he says. Since December, 2014, when President Obama announced new U.S. policy toward Cuba, Cuban public opinion and communist party policy have sometimes appeared at odds. The president's recent visit to the island highlighted the contrast, with many ordinary Cubans expressing a desire for change, while some party officials, including Fidel Castro, decried the Obama's visit as capitalist infiltration.
But there are also those within the party who would like to see change happen faster. "There's clearly a reformist movement within the party that would like to move faster and that worries about the political risk of moving too slowly, whereas Raúl seems to be more worried about the political risk of moving too fast," LeoGrande says. As part of the four-day party congress, in which Castro's and Machado Ventura's positions were announced, René González, one of the so-called Cuban Five who was imprisoned in the U.S. for 13 years and released in 2011, appeared to be among those hungry for reform. "Let the party call for a broad public discussion that goes beyond concepts of economic development," González reportedly said. "Let's arrive at the eighth party congress for the first time in human history with a consensus on that human aspiration that some call democracy, and that's possible through socialism."
González's comments could be viewed as indicative of pro-change currents beneath the surface, Caulfield says. "I think that whatever he said has been choreographed by others. Somebody has used him as a mouthpiece because he's a hero in their eyes and somebody whose loyalty to the revolution could not be questioned."
Who those modernizers are is a mystery, Caulfield says. But the most likely candidates are a trio of younger senior ministers: current vice-president Miguel Díaz-Canel, who is seen as Raúl Castro's likely successor for the presidency, economics minister Marino Murillo and trade minister Rodrigo Malmierca Díaz. But, Caulfield cautions, "nobody knows what these guys really think. They're all monitored by security services. They're all listened to."
Update: This article was updated to include quotations from William LeoGrande.