Cuba's President Admits Mistakes As Country Concedes to Protesters' Demands
After largely blaming the U.S. and social media for the unrest rocking his country, Cuba's president Miguel Díaz-Canel has admitted his government has made mistakes as Havana announced a limited easing of food and medicine restrictions.
In a concession to the protests which started over the weekend amid anger at food and medicine shortages, price hikes and the government's handling of COVID-19, Havana said that it would temporarily ease curbs on food and medicine travelers could bring in, Reuters reported.
Meanwhile, in an unexpected moment of self-reflection, Díaz-Canel accepted that his government had a degree of responsibility for the unrest, saying in a televised address: "We have to gain experience from the disturbances."
"We also have to carry out a critical analysis of our problems in order to act and overcome, and avoid their repetition," he added on Wednesday, according to the Associated Press.
The government had blamed the unrest on U.S.-financed "counter-revolutionaries" it accused of exploiting hardship exacerbated by the U.S. trade embargo, which was tightened under the previous Donald Trump administration.
One of the demands of the social media campaign promoted under the hashtag #SOSCuba was for the government to lift customs restrictions on food, medicine and hygiene products.
The Cuban government, which said the social media campaign was part of a U.S-backed plot to destabilize the island, relented, with Prime Minister Manuel Marrero announcing an easing of restrictions starting on Monday and lasting until the end of the year.
"It was a demand made by many travelers and it was necessary to take this decision," Marrero said on state television as he sat next to Díaz-Canel, although there are very few flights coming into the island meaning it was uncertain what kind of immediate impact the measure would have.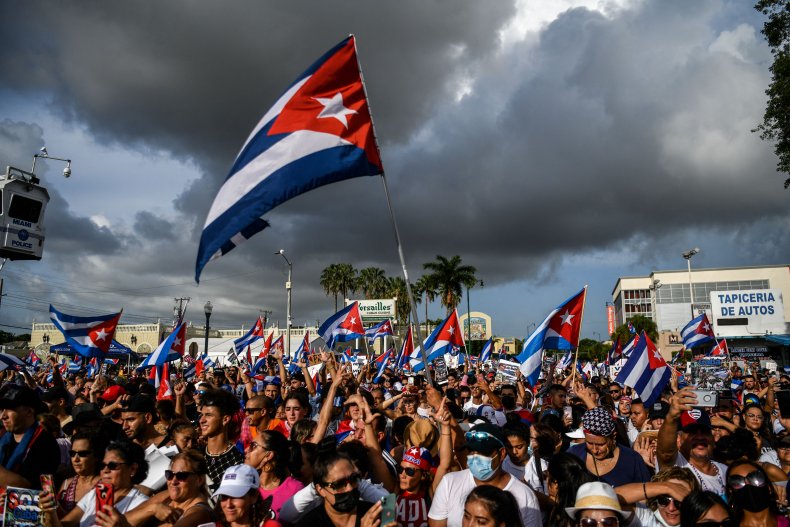 Government critic Yoani Sánchez, tweeted to her more than 753,000 followers that the move was not enough, writing: "We do not want crumbs, we want freedom."
"Blood was not spilled on Cuban streets in order to import a few extra suitcases," she added.
The government has been accused of trying to quash dissent through internet outages, and rights groups have expressed alarm at the number of people arrested who remain unaccounted for.
There had been concern over the fate of Dina Stars, a Cuban YouTube personality who has been critical of her government when she cut short a TV interview because the security services wanted to detain her. However, on Thursday, she tweeted that she had returned home.
The situation puts pressure on the Joe Biden administration, which faces calls from Black Lives Matter (BLM) to lift the decades-long U.S. trade embargo.
Meanwhile, prominent Republicans, such as Cuban-American Senator Marco Rubio (R-FL), have called for the Biden administration to condemn the Cuban regime.
Senator Ted Cruz (R-TX) tweeted that "American socialists don't want to acknowledge the evil, suffering, and oppression that Cuban socialists are imposing on the people."
Newsweek has contacted the White House for comment.