As a growing chorus of conservatives in the United States calls for a repeal of the landmark Supreme Court ruling legalizing same-sex marriage nationwide, a communist-led country just 90 miles away is poised to make history with a referendum that could usher in a new era for its LGBT+ community.
The vote in Cuba, scheduled for September, would rewrite nearly half of the nation's Family Code, which until 2019 strictly defined marriage as "a voluntary union between a man and a woman." That language was removed after a previous referendum held that year. Now, a new draft code approved by lawmakers in December seeks an even more ambitious set of reforms that would enshrine rights such as marriage and adoption to same-sex couples as well.
Among those advocating for such a change are Leonardo Pérez Gallardo and Yamila González Ferrer, law professors at the University of Havana who serve as president and vice president, respectively, of the National Union of Jurists of Cuba's Society of Civil and Family Law.
In joint responses sent to Newsweek, the pair pointed out that the reforms were rooted in codifying three major principles when it came to defining the Family Code in Cuba: "family pluralism," "inclusion" and "affection as the foundation of family relationships." These extended to affording extra rights not only to same-sex couples, but also to single-parent households, victims of domestic violence and others who have traditionally fallen through the cracks of the country's legal system.
"The Draft Code is one of the most important standards for the social life of the nation," Pérez Gallardo and González Ferrer said. "It is a groundbreaking vision that breaks the traditional paradigms that have sustained the laws of the family; extending the cloak of protection to all people, increasing the affection and reach of the laws."
"The project is a reflection of the reality of Cuban family life," they added, "the reality that has been established for more than 40 years by the many social sciences and by the judicial system."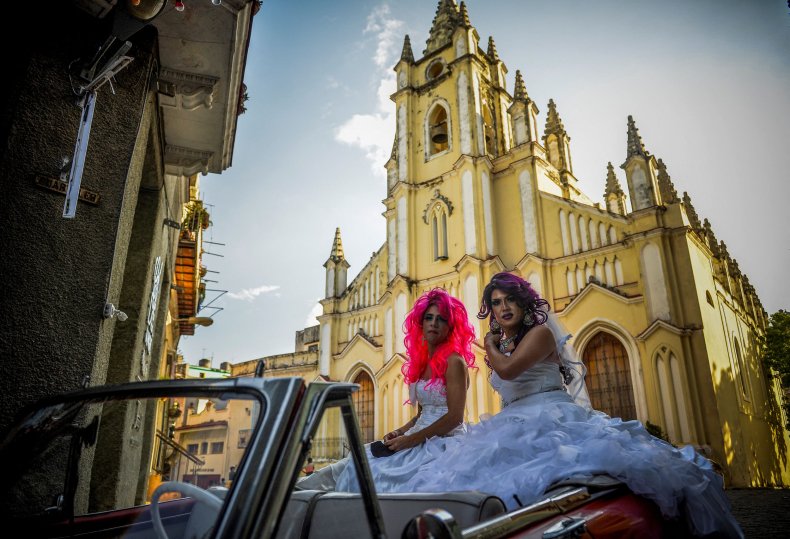 Thirty-one countries around the world have fully legalized same-sex marriage. Switzerland and Slovenia are the most recent, passing measurers earlier this month, and Mexico has also legalized the practice in a number of its states. While some communist countries have made some strides on particular progressive ideals such as anti-racism and gender equality, Cuba would be the first such country to legalize same-sex marriage.
As in many countries that have set out to achieve this goal, Cuba's decades-long path has been met with domestic opposition, even though it is a single-party state. Some of this pushback falls in line with the machismo culture prevalent in a number of Latin American countries, which emphasizes masculinity to the point of sexism and homophobia, as well as religious arguments following the country's influential Catholic tradition.
Pérez Gallardo and González Ferrer argue that much of this opposition is rooted in harmful and misinformed positions that are perpetuated in Cuban institutions to this day.
"The content of this debate, we believe, is mainstreamed by an entire patriarchal, machista and homophobic culture that is still very much alive in the processes of education and socialization that permanently establish sexist stereotypes that generate prejudice that lead to various expressions of discrimination," they said.
The ruling Cuban Communist Party, which took power in a 1959 uprising led by lawyer-turned-revolutionary Fidel Castro, has acknowledged in more recent decades that it adopted abusive positions toward homosexuality. Castro himself famously told Mexican newspaper La Jornada in 2010 that "if someone is responsible, it's me" for what he called a "great injustice" in Cuba's treatment of the LGBT+ community, especially in the 1960s and 1970s.
Demonstrating a shift in the Cuban government's views, it was Fidel's niece, Mariela Castro, the daughter of his brother and successor Raúl Castro, who became one of the country's most vocal and influential champions of LGBT+ rights as head of the state-funded Cuban National Center for Sex Education. The center, known as CENESEX, has been pivotal in influencing legislation on such issues, including a 2008 law that allowed for state funding for sex reassignment surgeries.
Pérez Gallardo and González Ferrer acknowledged the important work conducted by CENESEX, as well as other progressive institutions such as the Federation of Cuban Women it was modeled after. At the same time, the pair argued that, "we are still located in a stage of 'tolerance' and not of respect for diversity."
"This means that, despite these advances," they added, "there are still many obstacles in all areas and that the challenges that lie ahead are complex."
Pérez Gallardo and González Ferrer stated that no religious mandate could be imposed on the state, either, if Cuba's goal was to attain a society in which coexistence and equality are truly enshrined in law, Rather, a more inclusive understanding of social structures through the lens of their most fundamental institution, the family, would have to be introduced, especially in the education system, they asserted.
"You have to work hard on it, it's not about defending slogans or mottos but about seeing the issue from a human rights perspective," Pérez Gallardo and González Ferrer said. "And in this way, schools play an essential role, the increasingly inclusive education of all people."
"Inclusion is a goal for a society that is conceived as truly plural, incorporating it into the letter of legal norms is a step, but the aspiration is for it to be part of the lives of its citizens," they added. "And it must be a continuous education that allows for identifying the values ​​of people for what they are and not for their sexual orientation or gender identity."
And the new Family Code is about much more than just same-sex marriage.
To achieve this inclusivity, Pérez Gallardo and González Ferrer said the new Family Code "is intended to make visible the actors present in the various family constructions, sometimes even in situations of vulnerability."
This would entail "the recognition of the rights and guarantees of protection of children and adolescents, of people who are in a disabled situation, older adults, LGBTIQ+ people, victims —mostly women — of domestic violence, family caregivers, among others."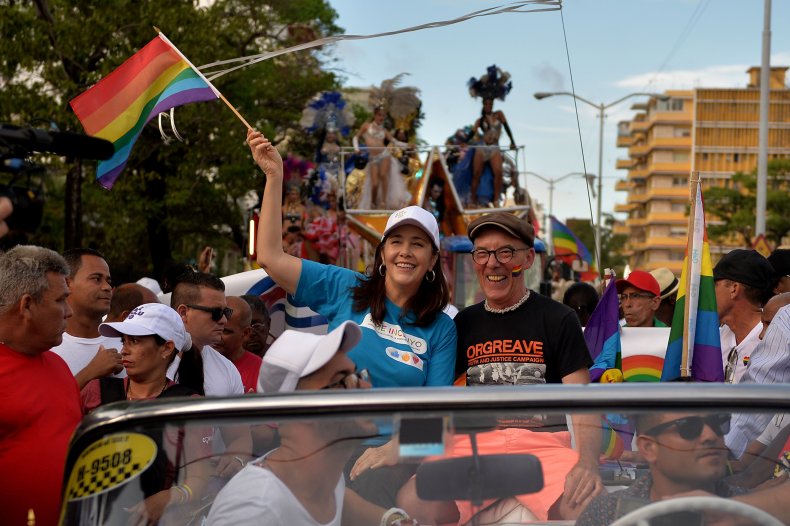 As a vocal community strove to make this vision a reality in Cuba, fellow supporters of same-sex marriage legalization in the U.S. have grown increasingly concerned that this right is now at risk at home.
Despite the Cold War-era geopolitical lines that still divide the two countries, most visibly in the decades-long U.S. economic embargo on Cuba, activists in both countries have fought similar battles, albeit through different systems of government.
After decades of activism in support of greater LGBT+ rights in the U.S., the 1993 lawsuit Baehr v. Miike in Hawaii first challenged the constitutional basis for state bans on same-sex marriage. The case was ultimately struck down, and the fallout of the case initially saw a number of further statewide bans as well as the federal Defense of Marriage Act (DOMA) that defined marriage as "only a legal union between one man and one woman."
Progress continued nonetheless, however, as Vermont became the first state to grant civil-union status to same-sex couples in 2000, and Massachusetts became the first to allow them to marry in 2004. Legal battles ensued across the states until DOMA was struck down by the Supreme Court's ruling on United States v. Windsor in 2013, and same-sex marriage was legalized nationwide after Obergefell v. Hodges in 2015.
But even landmark Supreme Court cases are not final, as demonstrated most recently by last month's repeal of the historic 1973 Roe v. Wade decision that ruled any bans on abortion unconstitutional across the country. Here too, conservatives long fought to relitigate the issue and ultimately won, with Associate Justice Clarence Thomas going as far as to write that the legal basis for Obergefell v. Hodges and other cases dealing with same-sex intimacy and contraception access were "demonstrably erroneous" and should be reconsidered.
Speaking in the aftermath of the ruling, Vice President Kamala Harris suggested that same-sex marriage could be the next legal front, telling CNN at the time that Thomas "just said the quiet part out loud, and I think that is why we all must really understand the significance of what just happened."
Influential Republicans have since seized on Thomas's remarks, with Senator Ted Cruz of Texas, who has argued many times before the Supreme Court, proclaiming in a clip of his podcast published Saturday that Obergefell v. Hodges was "clearly wrong," though he did not explicitly call for it to be overturned. Fellow Texas Senator John Cornyn and Senator Josh Hawley of Missouri have joined a mounting wave of conservative commentators in attacking the legal basis for same-sex marriage.
Roe v. Wade's repeal also demonstrated how quickly states can revert to previous bans. Were it not for Obergefell v. Hodges, some 35 states would have bans on same-sex marriage, according to research conducted earlier this month by the Pew Research Trust.
In a direct response to these fears, lawmakers in the House of Representatives passed a bill Tuesday called the Respect for Marriage Act that would preserve same-sex marriage within federal law. Some 47 Republicans joined Democrats in endorsing the move, though it remains uncertain whether conservatives would also cross party lines in the Senate to bring the bill to President Joe Biden's desk.
With tensions high, those involved in this new fight to save same-sex marriage remain concerned. Among them is Evan Wolfson, who led the successful campaign to win marriage for same-sex couples in the U.S. and now advises others worldwide, serving as the founder of the Freedom to Marry, a national bipartisan advocacy organization.
"Having seen with their own eyes families helped and no one hurt when same-sex couples can marry, more than 71% of Americans have come to support the freedom to marry," Wolfson told Newsweek, "including a solid majority even of those still willing to declare themselves Republicans."
"The Republican party should stop threatening to roll back rights, and should stand up for the freedom and family values they profess to support," he added. "The cure for those who threaten further rollbacks of rights in America is to vote them out of office."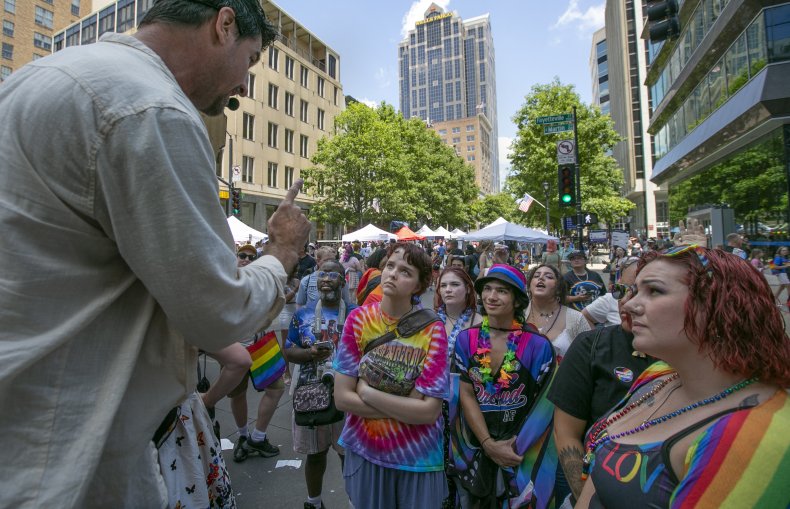 Wolfson's extensive career in advocating for same-sex marriage across the globe has taken him to communist countries that have taken varying degrees of steps toward considering such a move, including China, Cuba and Vietnam.
As Cuba takes the lead in putting the matter to a vote in a matter of months, Wolfson said he hoped the island nation's efforts would be met with the same success as select others in the region, including across much of Latin America's four most populous nations.
"Well over 70% of the people of Latin America now live in a country where loving and committed same-sex couples can share in the freedom to marry, strengthening their families, the economy, and society," Wolfson said. "The people of Cuba deserve no less."
"Gay, lesbian, and trans Cubans share the same needs and dreams for their families," he added, "and it's time for Cuba to join the now 32 countries worldwide who have moved past discrimination and exclusion to do the right thing for families, for fairness, and for love."
This possibility was on the table as Cuban President Miguel Díaz-Canel sat down Monday with members of the Council of State and other top officials to discuss the Family Code reform initiative. Early feedback based on broad engagement with the population conducted earlier this year showed nearly 62% of Cubans are supportive of the new draft.
"We are looking for a Family Code that opens doors and builds bridges," Pérez Gallardo and González Ferrer said. "The bridges of life travel back and forth. It is not a rigid norm; the plural has a symbolic and emphatic meaning."
Achieving that plurality, they said, "is not a simple addition of a letter, the 's', at the end of the word," but rather it "implies a legal revolution at the constitutional and legal level, advancing in the recognition of rights to people so that they can develop in different forms of family organization based on equality and non-discrimination, autonomy and freedom from the pedestal on which the Constitution of the Republic places dignity as the supreme value of all constitutional and legal rights."
"After all, people pass through this transition that is part of life," they added," but families...families are forever."