Cuellar Hits Cisneros, AOC Hard Using GOP Defund the Police Talking Points
The opponent's messaging against the Democrat in the Texas congressional race is rife with attacks.
The challenger, Jessica Cisneros, the broadside reads, "would defund the police and border patrol which would wreck our local economy."
It claims she is backed by the "Defund the Police movement," and has "pledged to defund the border patrol and our immigration courts."
It ends by charging that Cisneros would make "our communities less safe, open the border, and take away good paying jobs from South Texas families."
But it's not a Republican opponent hurling these GOP talking points at Democrat Cisneros.
It's Henry Cuellar, the incumbent Democratic representative from Texas' 28th Congressional District, a seat that he has held since 2005, and her opponent in the Democratic primary on March 1.
It offers a window into the politics of Texas, where a Democrat has no qualms about a no-holds barred attack against an opponent who could represent their party in the general election, with Cisneros facing Cuellar again after she lost to him by just four points two years ago.
The Cuellar campaign fired back when asked by Newsweek about the congressman's use of established GOP campaign tactics against a fellow Democrat.
"As far as a GOP talking point, what makes the Democratic caucus great is diversity, but you have to have diversity of opinion," a Cuellar campaign source said. "If Cisneros were to win this primary we would lose this seat to Republicans, in all likelihood."
But Cuellar's volleys against progressives weren't limited to Cisneros.
A sold out appearance by New York Representative Alexandria Ocasio-Cortez in support of his opponent drew an enthusiastic crowd, leading Cuellar to respond that the "election is taking place in the 28th Congressional District of Texas — not New York City."
"The voters will decide this election," Cuellar added, "not far-left celebrities who stand for defunding the police, open borders, eliminating oil & gas jobs, and raising taxes on hard working Texans."
The Cuellar campaign argues that despite his tough attacks on Cisneros, he has voted with President Joe Biden 97% of the time, and lifetime that number is 85%.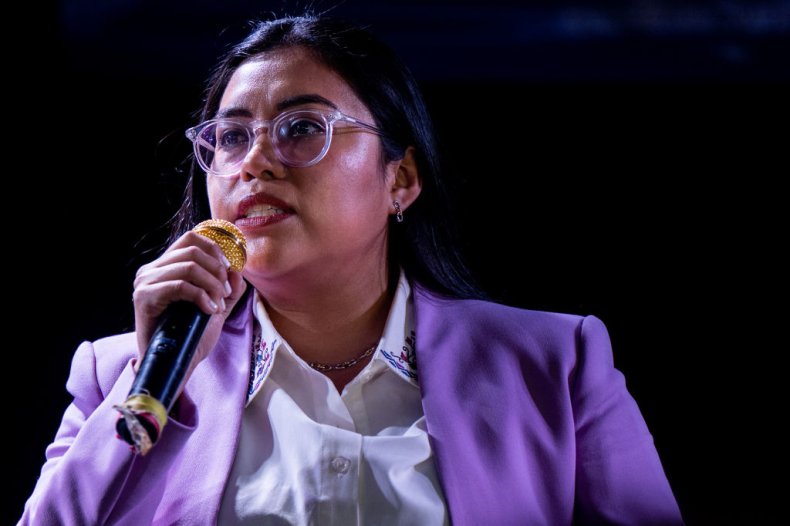 While Cisneros does not actually support defunding the police or the border patrol, that doesn't stop the Cuellar campaign from using those lightning rod issues in a part of Texas where there is strong support for law enforcement, and the border patrol employs lots of residents.
"This district is on the border, people are not pro-illegal immigration here — it's their backyard," the Cuellar campaign said.
They claimed that Cisneros was "out of touch" with the values of the district.
But while Texas Democrats and progressives acknowledge the attacks may resonate in South Texas, many also see Cuellar's attacks as desperate.
"Henry Cuellar is fighting for his political life," San Antonio based Democratic strategist Joaquin Guerra told Newsweek. "It's only natural that he would embrace Republican talking points that were used against him last cycle — that will be used against whomever the Democratic nominee is after the primary."
Ed Espinoza, the executive director of Progress Texas, said that "defund the police" has never been a popular message in Texas.
He recalled that even at the height of the protests over the killing of George Floyd in June 2020, his group's poll found that "it was a loser," with only 19% support in a bipartisan sample.
When the phrase was tweaked to "reform the police," however, support jumped up to 71%, he said, an example of why Cuellar is driving his particular message hard.
"Some of us may need to pay for a bad message that came from D.C., but I never heard Cisneros use it," Espinoza said, noting that his group endorsed Cisneros in 2020, but chose not to endorse in any races this year.
He said it was "disingenuous" of Cuellar to use these attacks, noting that the border patrol is a major employer in the 28th District, but admitted that the messaging could be effective.
"I think it's a knee-jerk reaction," Espinoza said, "but he does understand his district very well. He does understand Latino voters will be receptive to that. Is it enough?"
"There has to be credibility in the claims," he added, "and people have gotten to know Cisneros very well since she came so close to beating him."
Victor Leal, who served as the mayor of Muleshoe, Texas, and as finance commissioner for former Republican Governor Rick Perry, has a lot of family in the Rio Grande Valley, and used to visit family across the border in Mexico as a child.
He said Cuellar knows south Texas, and said his message would be effective, even if people don't like to see a Democrat going after a fellow Democrat in that way.
"It will resonate with a lot of folks along the border," Leal said, "because Hispanics want police protection, because when criminals run loose and nothing is done to fight crime, it's the poor communities that suffer the most."
While the Cisneros campaign told Newsweek the Ocasio-Cortez visit ramped up energy and attention to her race, selling out 1,000 tickets quickly with early voting underway, Leal believes tying the two together works for Cuellar with "moderate and conservative" Democrats.
"When you have a person like AOC who says these things and is far-left," he said, "I don't think folks understand that a liberal in Texas is much different than a liberal in New York."
"That's why it resonates," he added.