Cultural Boycott Against Israel's Batsheva Dance Company Mixes With Anti-Trump Messages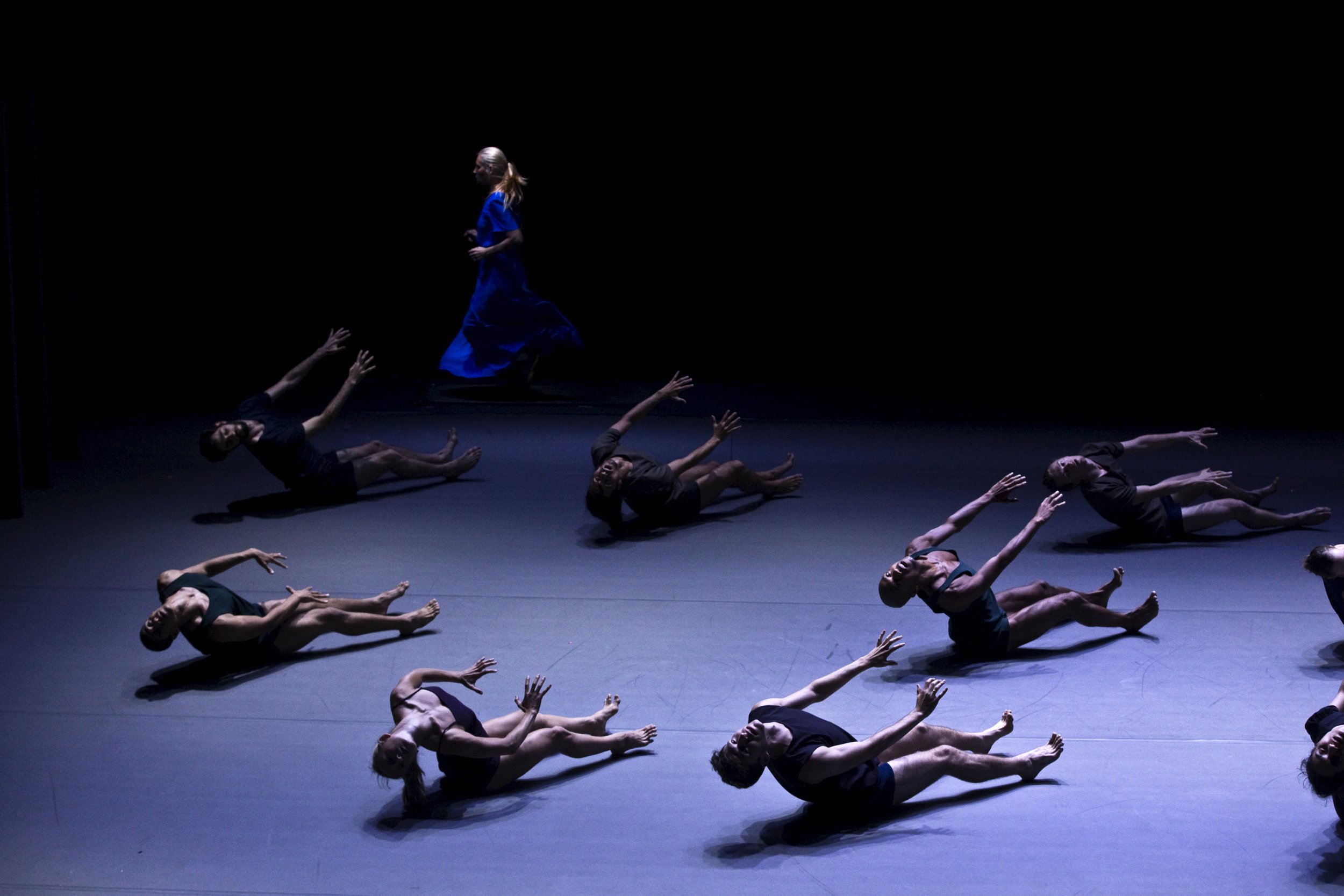 The yelling and cheering could be heard more than a block away from the Brooklyn Academy of Music on Saturday evening. For an hour and a half before Batsheva Dance Company performed at BAM's Howard Gilman Opera House, protesters gathered in support of a cultural boycott of Israel, part of the larger Boycott, Divestment, Sanctions (BDS) movement against the country. The protesters' signs, held high around a Palestinian flag waving in the frigid wind, featured slogans like "Don't dance around apartheid" and "Batsheva proud ambassador of racism."
"For many years every time a cultural institution like Batsheva or the Israeli Philharmonic or the Israeli ballet [performs], we carry out protests," says Riham Barghouti, one of the organizers from Adalah-NY: The New York Campaign for the Boycott of Israel. "While Israel is bombing Gaza or confiscating Palestinian land in the West Bank to build settlements, Israeli cultural ambassadors like Batsheva are supposed to perform around the world and make people kind of forget this side of Israel. So we're here to remind them that this is part and parcel. They are actually a front for the Israeli government."
Related: How a documentary filmmaker fell in love with dance and made 'Mr. Gaga'
The issue, she clarifies, is not that Batsheva is performing in the U.S., but that it accepts funding from the Israeli government when it tours. This most recent 2017 North American tour brought Last Work, by choreographer and artistic director Ohad Naharin, to cities including Ottawa, Ann Arbor and Chicago before New York and continues to Seattle and San Francisco. A program note at BAM stated that the tour "was made possible by the generous support from Israel's Office of Cultural Affairs in North America," and Canada's National Arts Center website says the performances there were supported by the Israeli embassy in Canada.
The U.S. Palestinian Community Network already organized a protest of the company in Chicago and Barghouti says additional demonstrations are planned at its next stops. That's hardly a surprise to Batsheva; the company was met with protests from Adalah when it was last at BAM in 2014 and 2012. Pro-Palestinian activists interrupted the company's shows at the Edinburgh Fringe Festival in 2012 and the composer Brian Eno denied Batsheva permission to use his music for Israeli embassy-sponsored performances in Italy in 2016.
"It's very sad," Naharin told Newsweek in January ahead of the New York shows, speaking about the protests that follow the company wherever it goes. "It's really sad because first of all, the system that democratic countries [have] is that the state has a responsibility to support its artists. So the money that is given to me, it's taxpayer money given to me by a system that's established not by a particular government."
That system is perhaps less familiar in the U.S., where he says funding for the arts comes more often from private sponsorship. "People take over this responsibility because the state doesn't," he says. Funding for the National Endowment for the Arts (NEA) made up 0.003 percent of federal spending in 2016. "And now Trump wants even to abolish it. Because he doesn't understand this obligation, unfortunately."
While administrations can have an impact on funding for the arts, accepting NEA and similar funding is not always a declaration of support for the government's policies or an endorsement of the status quo. The choreographer Kyle Abraham, for example, received a grant from the New England Foundation for the Arts (funded in part by the NEA and state arts agencies, along with corporations, foundations and individuals) to help develop and tour what became Pavement. The subject of that work, Joan Acocella wrote in The New Yorker, is "fear, and vigilance. If you're a young person in one of this city's black neighborhoods, you don't have to do or be anything special in order to get killed."
But the protesters Saturday saw any form of funding connected to the Israeli government as unacceptable. "We believe that that is tantamount to gaining popularity, gaining fame, gaining exposure, by selling their soul, by supporting the Israeli government. The Israeli government is paying this company to essentially whitewash their image," said Ravi Mishra, a first-time protester of Batsheva.
The protest included performances by the Rude Mechanical Orchestra and the Freedom Dabka Group, in line with its stated goal: to "celebrate art for liberation—not occupation," using culture to protest culture. When the musical groups weren't performing, the protesters were often chanting. The list of chants this year included not only rhymes like "Pas de deux or arabesque/The occupation is grotesque" and "BAM you've got to draw the line/Stand up for Palestine," but also one more specific to 2017: "No walls, no Muslim bans/No racism on stolen land."
Barghouti said the group felt an urgency to make a connection between its own cause and the recent actions of the Trump administration. "The rise of extremism in the U.S. is parallel with the rise of extremism in Israel," she says. "Really it is one struggle to say there should be no bans, neither on Palestinians moving in Palestine or trying to travel abroad nor on Muslim immigrants coming into the United States. There shouldn't be any walls on stolen Palestinian land or on the U.S.-Mexico border." The turnout on Saturday was higher than in previous years, she said, attributing that fact at least in part to the current political climate.
Udi Pladott, an Israeli software developer who served in the IDF and moved to the U.S. 15 years ago, first came out to join the cultural boycott in 2012, standing in the same spot outside BAM. He, too, felt this year's protest had an added component. "When we protest Israeli apartheid in the age of Donald Trump, we're protesting something larger," Pladott said. "Because Israel and the U.S., although they've always been aligned, now the alignment is even more onerous and more dangerous to people who are brown and Muslim. I think that's the larger context right now. And the coming out of JDL against the Palestinians shows what we're up against."
Pladott was pointing to the much smaller group of counter-protesters standing behind a second set of barricades opposite Adalah's gathering. The Jewish Defense League (JDL), a right-wing group that was defunct in New York for many years and began to resume its activities only about a month ago, is described by the Southern Poverty Law Center as "a radical organization that preaches a violent form of anti-Arab, Jewish nationalism," while the Anti-Defamation League, many years ago, said it monitored "the contemptible activities of the JDL and its leadership."
"We're here to counter the protest here of Adalah. They said they were going to shut down the show and they promote BDS. We stand with Israel," said the group's spokeswoman, Karen Lichtbraun. "We're back in New York and we're here to counter BDS and anti-Semitism."
But it's hard to imagine a group less aligned with the ideas espoused by the dance company and choreographer it had showed up to support. The true counter-protest was inside the sold-out theater, where for the fourth night in a row, hundreds of audience members filled the narrow seats of the Beaux Art venue to watch Naharin's Last Work. BAM did not comment on the protests, but confirmed that the theater, with a capacity of roughly 2,100, sold out for all four performances. On opening night on Wednesday, viewers were transfixed during the 75-minute show and rose all at once at its conclusion to give it a standing ovation. The entire audience was on its feet, without exception.
"When I'm asked why did I call my last creation Last Work," Naharin says in Mr. Gaga—a documentary about his life and work that had its U.S. theatrical release on February 1, coinciding with Batsheva's U.S. performances—"one of the answers that I give is maybe it is my last work, since we live in a country that is infested with racists, bullies, lots of ignorance, lots of abuse of power, fanatics," he says. "It reflects on how people choose our government. And this government puts in danger not just my work as a creator, it puts in danger the existence of all of us here, in this country that I love so much. Are we going to be here?"
Naharin has often been critical of the Israeli government and certain forces within Israeli society, and has not been afraid to take a drastic stand in the face of governmental pressure. He became a hero to many secular, liberal Israelis when Batsheva was scheduled to perform one of his most iconic works at a jubilee program for the 50th anniversary of Israel in 1998. Two religious parties and an ultra-Orthodox deputy mayor objected to the undershirts and shorts dancers wore during part of the piece. The office of Benjamin Netanyahu, then in his first term as prime minister, and then-President Ezer Weizman pressed Naharin to swap them for more modest long underwear. He initially agreed but quickly resigned. After the company refused to perform, in solidarity with Naharin, he returned to his post. Meanwhile, protests against religious censorship popped up all over the country.
"We must remember that artists many times oppose the policies of their own government. Many times artists create the new codes for new solutions," Naharin said. "Not to support it and not to recognize it, especially in the situation we have in the Middle East, the atrocities that are going on and the wrongdoing of the Israeli government and the Israeli army.… To support us is actually much better for the hopeful solution than to think [the boycott] can help the Palestinian cause," he said. "It is not helping the Palestinian cause. It is only hurting us and them."