Even though they are not where the coronavirus pandemic was spreading, schools will be closed in New York City if its infection rate goes above 3 percent, New York's Governor has said.
Andrew Cuomo said that decisions on how to mitigate against the virus had been devolved to the state's 700 school districts. He appeared to suggest that prior agreements to tackle infection rates would be adhered to despite there being a "very low rate of positivity in the schools."
When asked by MSNBC if schools in New York City would be closed, Cuomo curtly replied: "Yep," before going on to say that "New York City set 3 percent as the agreement. If the number goes over 3 percent... the schools will close.
"The question will be then how quickly can reopen them."
Cuomo told MSNBC that there was a "tremendous amount of testing in the schools" and that "what we have learned is that we are not seeing spread in the schools. You see a very low rate of positivity in the schools."
"So even though you have a jurisdiction that may be at 3 percent, that doesn't mean the schools are what is spreading it and we have to take that into consideration and I think that will facilitate a reopening."
On Friday, infection rates in the city have hit a 2.83 percent positivity rate, close to the 3 percent benchmark set by New York mayor Bill de Blasio for closing public schools. However parents object to the closure of schools, where the infection rate is less than one percent.
Cuomo has been at odds with de Blasio who announced a plan that could see the city's schools close as early as Monday. The governor has said that bars and restaurants should be targeted.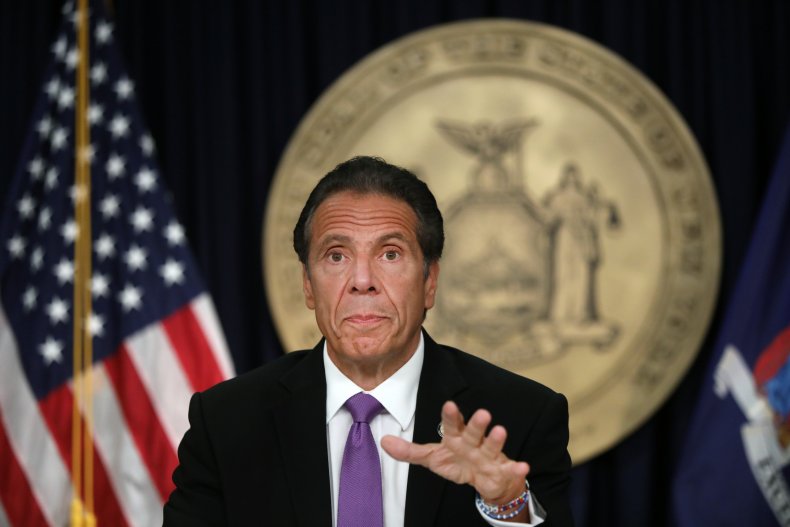 However, the governor who has the ultimate say, indicated that he would not block de Blasio's plan to send students home.
MSNBC anchor Katy Tur asked Cuomo why allow closures if the schools were not where the virus was spreading. He referred again to how prior agreements had been made at a local level with teachers and unions.
"Remember where we were. Parents were nervous and everybody was nervous," Cuomo said.
"The agreement in New York City was just that. If the infection rate in New York City went above 3 percent, the schools close. That was the agreement," he added.
Separately, Cuomo criticized President Donald Trump for threatening to withhold a coronavirus vaccine until he can trust that the state will distribute it.
"He uses the government as a retaliatory tool, that's what he does. He's also a bully," Cuomo said in the same interview.
The graphic below provided by Statista shows the number of hospitalizations caused by the coronavirus.