A CNN reporter was left flabbergasted when a man charged with breaching the U.S. Capitol on January 6 said that he was not convinced about the veracity of two of the insurrection's fatalities.
In a segment on Anderson Cooper 360, Drew Griffin was recounting his interview with the founder of Cowboys for Trump, Cuoy Griffin, who is also a New Mexico county commissioner.
The network's correspondent said he learned from pursuing the story that many of those who had stormed the Capitol still believed the line pushed by former President Donald Trump and his allies that the election had been stolen.
Cooper then threw to a clip of an interview the correspondent had with Couy Griffin, who said he doubted whether Ashli Babbitt and U.S. Capitol police officer, Brian Sicknick had even died as a result of the riots.
Babbitt was shot and killed by police as she tried to force her way past a barricaded doorway. Sicknick died the day after the riots from a stroke.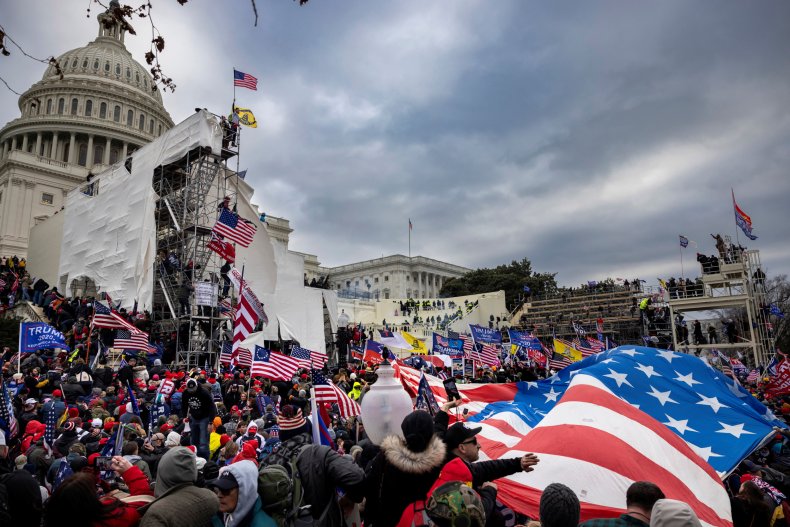 "I'm not even so sure that Officer Sicknick's even dead," Cuoy Griffin said, stunning the CNN correspondent. "I'm serious," he continued, "That's, that's how – and I hate to be so crazy conspiracy-minded. I'm not even so sure Ashli Babbitt is dead."
"I mean, who's to say that was – have you seen anything of any of her family?" Griffin added.
The answer to that was yes, as the clip then segued into an interview with Babbitt's brother, Roger Witthoeft who described how close the siblings had been and how he was dealing with her loss.
Back in the studio, Drew Griffin said that Cuoy Griffin was "so far off the rails" with his belief in the conspiracy theories, that "I would dare to use the loaded term, he is brain-washed. He is out there, he still believes this stuff."
"Others like him—I don't believe Cuoy would be dangerous—but others like him can and will be dangerous."
His comments come as conspiracy theories continue to swirl about the events of January 6, including one that the the FBI was involved in plotting the attack after infiltrating far-right groups.
Couy Griffin serves as District 2 Otero County Commissioner and Otero County Commission Vice Chairman in New Mexico, according to the Alamogordo Daily News.
He was arrested on January 17 and charged with knowingly entering or remaining in a restricted building or grounds without lawful authority.
The U.S. Attorney's Office for the District of Colombia said that after the incident, he had posted a video to the Cowboys for Trump Facebook page stating that he "climbed up on the top of the Capitol building and . . . had a first row seat."
Griffin's lawyers say that unlike the other protesters, he did not enter the Capitol, but instead stood on the steps of the building urging on others with a bullhorn, Buzzfeed News reported.
While Griffin says he did not knowingly trespass, news outlet KVIA showed images this week of Griffin scaling a metal barricade to get to the inauguration platform.
Newsweek has contacted Cuoy Griffin's county commission office for comment.