Cup of Urine With 'F*** Off Chinese' Left on Asian Woman's Car in California
A Japanese-American woman in California returned to her vehicle on Sunday and found a cup of urine with a racist and hate-fueled message on the windshield.
Melissa Tao shared a photo of the urine-filled cup on Instagram after a trip to Pleasure Point in Santa Cruz County. The photos showed that the words "f*** off Chinese", "die China" and "kill China" were written on the plastic cup.
Police told Newsweek on Thursday that they are investigating the "disgusting and disturbing incident," as Asian Americans across the country face an uptick in anti-Asian hate crimes and racism.
"Today, i found this cup filled with pee on my windshield after leaving my car for 15 minutes in a parking lot across from the billabong store in Capitola. my thoughts you may ask? disgust, fear, and sadness that someone was watching and waiting for me to come back to what they may think was a joke [sic]," Tao wrote in her Instagram post.
"I want to post this in order to bring awareness to the Santa Cruz area that racism and hate exists in our small little town that I've called home the past 24 years. I never knew such a thing would occur in a place that has made me feel so safe and secure [sic]," she added.
San Jose-based The Mercury News first reported on the incident.
The Santa Cruz County Sheriff's Office condemned the incident in an email to Newsweek.
"This is a disgusting and disturbing incident for anyone to have to go through and will not be tolerated. Our detectives are currently investigating this case and looking for any information that could lead to the person responsible. We are following up to determine if there is any video evidence or witnesses who may have seen anything suspicious at the time," Ashley Keehn, a spokesperson for the sheriff's office, wrote.
A March report from the Center for the Study of Hate and Extremism at California State University, San Bernardino showed that anti-Asian hate crimes in the U.S. soared in 2020—increasing by nearly 150 percent compared to 2019. Separately, the organization Stop AAPI Hate reported in March that there were about 3,800 anti-Asian racist incidents reported over the past year amid the COVID-19 pandemic—up dramatically from the 2,600 counted incidents the previous year.
Activists have blamed the anti-China rhetoric pushed by former President Donald Trump and other Republicans as they've attacked the rival East Asian nation for its handling of the COVID-19 pandemic. Some GOP politicians have regularly referred to the novel coronavirus as the "kung flu" and the "China virus," which activists have said added fuel to longstanding anti-Asian sentiments.
Although the administration of President Joe Biden has adopted a less racially charged tone towards China, many activists are concerned that ongoing geo-political tensions with China could continue to spur racism towards Asians within the U.S.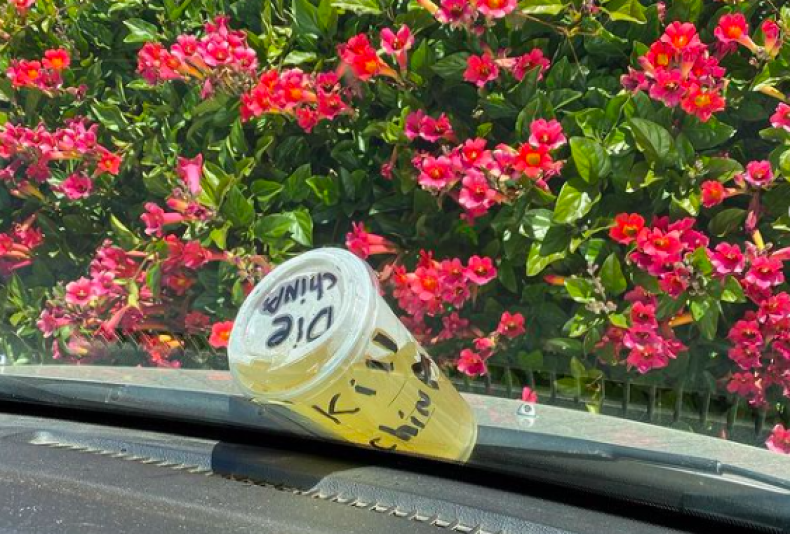 A new poll published on Thursday by the Pew Research Center found that 81 percent of Asian Americans said that violence against their community is on the rise. Only 6 percent said that the level of violence has remained the same, while just 2 percent said it's decreasing and 9 percent said they were unsure.
Newsweek reached out to Tao via Instagram for further comment, but did not immediately receive a response.