Customer Confusion With Decade-Old Menu Delights Internet: 'Throw It Away'
Internet commenters were left laughing after one restaurant employee recounted how an 11-year-old online menu sparked a spat with a disgruntled customer.
In a viral video posted November 4, TikTok user Angela Ramirez (@angelaxramirezz) said she was working when she was approached by a takeout customer demanding to pay less for an order than was actually owed.
"I tell her the total for her to-go order and she's like, 'Well online it said it was $8.50,'" Ramirez explained. "[And] she pulls up a picture of our menu from 2011.
"I was like, '[It's] now $10 for that meal, and $10 is what you have to pay,'" Ramirez added. "She's like, 'This is what online said, and this is what I thought I was going to pay, so that's what I want my food for.'"
Continuing to explain that the customer was adamant about paying $1.50 less for her takeout order, Ramirez said that after some back-and-forth, she issued an ultimatum: either pay full price for the meal, or leave and the food would be thrown away.
Eventually, the customer paid in full and left, but not before taking issue with the restaurant's severely dated online menu, telling Ramirez that her employer "needs to fix that Google menu."
Simply captioned, "#storytime," the video has amassed more than 108,000 likes and has been viewed nearly 400,000 times.
In an era dominated by social media promotion and internet reviews, a restaurant's online presence can be crucial to its success.
And with delivery apps like Doordash, GrubHub, Uber Eats and others exploding in popularity throughout the coronavirus pandemic, even the smallest, hole-in-the wall eateries have succumbed to the need for virtual improvement.
"Having an online presence as a restaurant is vital in this day and age," GloriaFood, an Oracle-owned platform dedicated to online ordering and marketing solutions, told Newsweek.
"The more customers can learn about you online, the better," the platform added.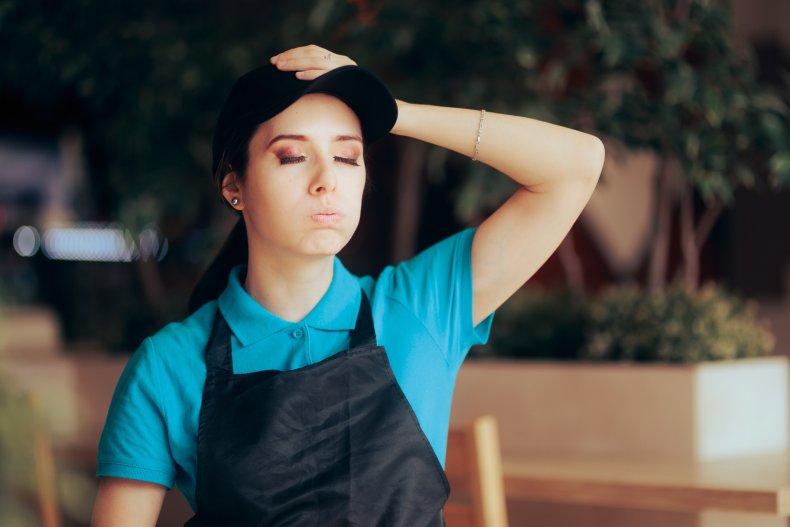 However, no amount of digital advertisement or social media buzz can make up for online inaccuracies. Customers may be able to learn about an eatery through digital channels, but that learning is all for naught if information is incorrect.
"[Name, address and phone number] consistency across all platforms is fundamental to avoid misunderstandings and disgruntled customers who may have stumbled upon conflicting information," GloriaFood told Newsweek. "The same applies to [menus] and opening hours.
"Every time you update them, ensure the changes are reflected online," GloriaFood added. "This will also help your local search engine optimization, allowing more relevant customers to find your restaurant online."
Throughout the comment section of the viral video, many TikTok users were in stitches after hearing Ramirez's account of the customer interaction.
Other TikTok users, however, remained focused on the issue at hand—the unwanted presence of incorrect information on the internet.
"Menus on Google always end up being a blurry picture from 7 years ago," one user lamented. "[You] gotta go to the restaurant's website."
"If she got it off Google it's usually customers taking pictures of the menu," a second user agreed.
"She [has] a point," a third added, defending the customer in question. "People [for real] need to update their online site."
"The company should fix that online menu though," another commenter echoed.
Newsweek has reached out to Ramirez for comment.
Have you had a similar workplace dilemma? Let us know via life@newsweek.com. We can ask experts for advice, and your story could be featured on Newsweek.