Fury as Wedding Venue Changes Menu and Price Weeks Ahead of Ceremony
A wedding venue was slammed online, after someone set to wed shared that their food choices were changed just weeks ahead of the big day, including their prices.
The customer shared their upset in a post to popular forum Mumsnet, where they explained that an email alerted her that the pre-chosen menu would now be different and would cost an extra $24 per person.
According to the post, they had previously chosen a three-course set menu for 44 guests, with "crowd pleasing mains" of fish and chips or roast beef or chicken with fancy potatoes. The decision was made in February, with confirmation from the head chef, and the couple have since printed menus and spent "hours" creating a spreadsheet to complete the pre-order, along with ordering drinks.
As per The Knot's Real Wedding Study, couples rank food as an important investment when it comes to the big day, with 57 percent choosing food and beverages as the most important planning priority.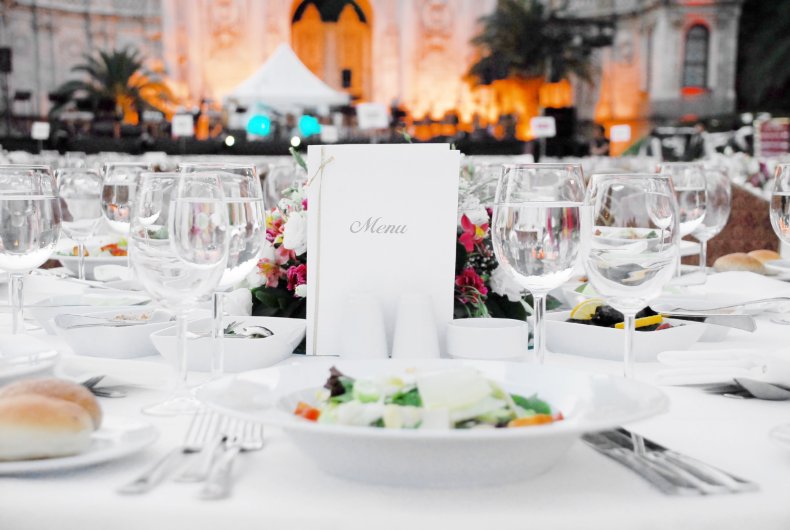 For this engaged couple however, it's become the most stressful instead. "I have just received an email from my wedding venue saying there has been a miscommunication with my menu choices for my upcoming wedding," wrote one half of the to-be-wed couple.
"I am in complete disbelief. The new set menu they have sent me bears no resemblance to my menu and is £20 per head more expensive," they added. "They have offered me a bottle of champagne to say sorry."
The poster clarified that the venue claimed to have accidentally sent the old menu that they no longer offer, and they are now unable to source some of the ingredients.
Unsurprisingly, internet users were left reeling by the last-minute change to the day and backed the couple's anger at the venue.
"It sounds like they have messed up with sending you the wrong menu. On the one hand I would not want to fall out with the people doing the food for my wedding, on the other hand I would not be willing to hand over another £880 for their mistake," wrote one user.
"I would say that if the new menu bears no resemblance to the new menu, ask what they can do to make it as near as possible for the original budget. Make it clear it was their mistake."
Another agreed, writing: "It is reasonable for them to change the menu if they can't get the ingredients, but extremely unreasonable for them to expect you to pay the difference. You have a contract with an agreed price. Tell them you are happy to accept the change but will not be paying anything further and stand firm."
"I absolutely would not be paying any extra for the new menu. It is their mistake not yours," added another user bluntly.
In an update, the poster shared a happy change of events, writing that the venue decided to offer the original menu again, presumably due to the mentioning of allergies.
"I've just got off the phone and apparently my pre order had been mixed up with someone else's (or my long email about entering a contract and food allergies etc worked) they are now honoring everything on our pre order at the same price," they wrote.
Has a wedding come between your relationship with a loved one? Let us know via life@newsweek.com. We can ask experts for advice, and your story could be featured on Newsweek.