Baffled Customer Can't Open Door After Driver Leaves Full Coffee Outside
Food delivery drivers are part of the fabric of society, from ordering takeaways for a night in to bringing us a McDonald's breakfast when we're hungover.
And they're not just limited to food now, as you can get your weekly shop, alcohol, desserts and even morning fuel, aka coffee, brought straight to your front door.
But that literal interpretation threw a spanner in the works for one man, named Alex Bradshaw, after his delivery driver essentially trapped him inside his house by placing a full cup of coffee in front of the door.
Bradshaw shared a clip of his predicament to TikTok account, @slopshaw, with the glass showing his cup placed just inches away from the door. And as his door opened outwards, he faced the near-impossible task of retrieving his drink, without tipping it over.
"Thanks for the coffee Doordash," he captioned the clip, shared at the end of last month. The video, which can be seen here, amassed more than 945,000 views, and shows him opening the door a fraction as he tries to work out how to get his coffee.
The clip ends without a resolution, as Bradshaw, whose Twitter account states he's based in New Jersey, explained more about the situation in the comments.
He said: "Because it's coming up a lot, I tipped $3.50 on an $11 order for an iced coffee and bagel. I ran out of coffee and was busy working my remote full-time job + my own business I have been getting off the ground for the last couple of months."
And after numerous people suggested he use another door to exit, he wrote: "Thank you all for the continued suggestion of using my non-existent back door to retrieve the coffee I ordered almost a month ago. Greatly appreciated."
Commenting on the clip, Carnie wrote: "Pull the mat to the left until you can reach the coffee."
RedLyfeTrey joked: "I thought everyone leaves their house through the window."
"This is why I'm thankful my door opens inwards haha," Cass gloated.
Bradshaw didn't update fans with what befell his coffee, but a clip shared to his account on Thursday incredibly revealed the same thing happened again.
"It happened again, let's give your suggestion a try," he wrote. He quickly pushes the door open, knocking over the drink, which he picks up almost immediately.
He holds the cup up to the camera, showing a minimal amount spilled.
Food delivery apps and services have exploded in recent years, with UberEats, Grubhub and Deliveroo all competing for customers.
Business of Apps noted: "The United States has one of the most competitive food delivery markets, with DoorDash, Grubhub and Uber Eats competing for first place.
"Market revenue has increased 204 percent in the past five years, powered by the introduction of platform-to-customer services, such as DoorDash, Uber Eats and Postmates, which are able to provide a wider selection of restaurants and food types."
A spokesperson for DoorDash told Newsweek: "DoorDash is proud to serve our communities, and we strive to ensure orders are delivered carefully and conveniently. We're constantly working to improve the drop-off experience, including enabling customers to provide instructions for Dashers and ways to connect with our support team to offer feedback."
Newsweek reached out to Bradshaw for comment.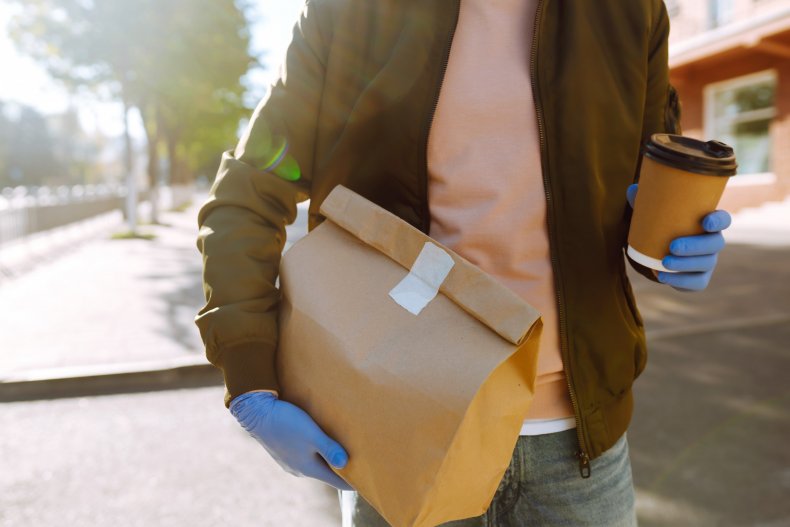 Update 10/21/21, 3:30 a.m. ET: This article was updated with comment from DoorDash.