Customers Attack Workers, Destroy Store Over $1 Sauce in Chaotic Clip
Customers wreaked havoc at a fry restaurant in New York City over the weekend, hurling objects at employees and leaping over the register after they were charged extra for sauce.
The New York Police Department (NYPD) told Newsweek that three women were arrested after the attack at Bel-Fries in the early hours of Sunday morning.
Restaurant staff have quit in droves since the pandemic began, citing difficult customers and managers among their driving motivations. In a 2021 survey from Black Box Intelligence, 62 percent of workers reported receiving emotional abuse and disrespect from their customers, while 49 percent reported abuse from managers.
Employees in food service quit their jobs at a rate of 5.6 percent in April, nearly twice the national average rate of 2.9 percent, according to the Bureau of Labor Statistics.
Extra Sauce, Extra Cost
Chef Rafael Nuñez recorded the chaotic attack on his cell phone. His video has gone viral across TikTok, Twitter and Reddit.
"They wanted extra sauce for the fries, and when we explained that it costs $1.75, they got upset. And that's where it all started," said Nuñez in an interview with Univision.
His video showed three women, identified by police as Pearl Ozoria, Chitara Plasencia and Tatiyanna Johnson, grabbing items from across the restaurant to hurl at employees, including glass bottles and a metal stool.
They climbed over the counter and danced on top of it, tore down a plastic barrier and threw up middle fingers. In the background, a crowd of people could be seen laughing and recording the outburst on their phones.
The three women also removed $10 of cash from the register, police said. Their attacks injured a 33-year-old female worker and a male worker, who both suffered lacerations to their heads.
Ozoria, Plasencia and Johnson were all arrested for robbery and criminal mischief. Ozoria also received charges of assault and resisting arrest for punching an arresting officer in the face. Plasencia and Johnson were each charged with criminal possession of a weapon.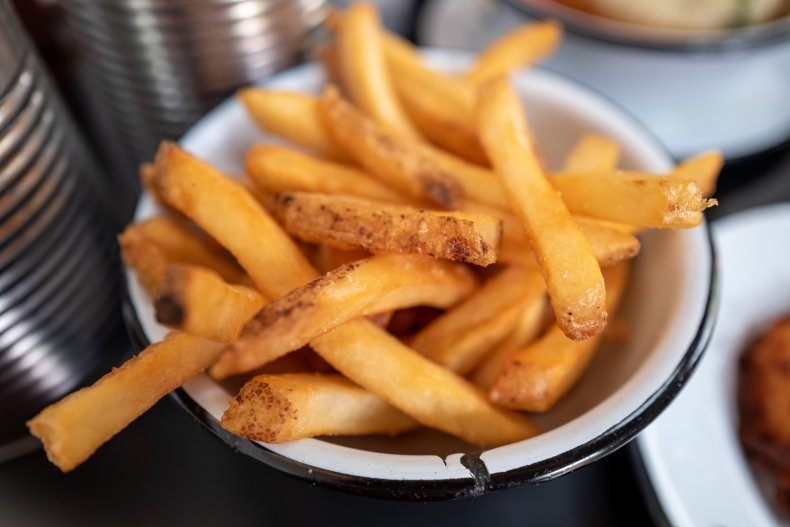 The restaurant remained closed on Wednesday, it announced on social media.
"Still working through the incident from Saturday night," said a message on its Instagram page. "We will do our best to open by tomorrow. And thank you to everyone who has reached out."
Newsweek reached out to Bel-Fries for comment.
Violent outbursts from fast food customers regularly make the news.
Last month, an Atlanta Subway worker was shot dead in front of her son by a customer who allegedly complained about "too much mayonnaise on his sandwich."
In March, another Atlanta customer allegedly jumped over the counter at McDonald's and pulled an employee's hair following a dispute over her order.
And an attack from two Cincinnati customers allegedly fractured an employee's leg at a Wendy's drive-thru in February.