A mom-to-be shared how she revealed her pregnancy to her husband in a now-viral video viewed more than two million times.
Sammie Hendren, known as @sammie.hendren, uploaded the video to TikTok where she shared the news with her husband Dillon Hendren while they were taking pictures in a photobooth.
One of the first people to learn of pregnancy is typically the pregnant person's partner, and Pampers listed a few ways one can share the exciting news.
The diaper company ran through various "cute," "creative" and "fun" ways someone can announce their pregnancy.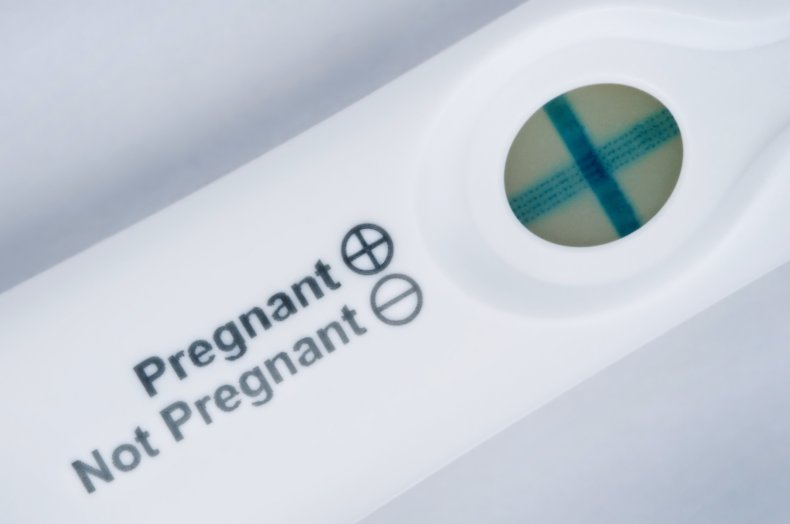 From sharing the message in a sweet treat to getting a pet in on the announcement, there are a few different options for someone to break the news.
"Enlist your dog's help by putting a sign round on the collar that says 'you're going to be a daddy,'" the piece suggested.
Sammie put her announcement plan into action as she and her husband were taking pictures in a photobooth. His reaction was documented as the booth continued to take photographs.
"I've had this planned for years and I'm so happy I was finally able to do it," Sammie's caption read. "The photo strip with his reaction is priceless."
The couple took the first photo smiling and facing the camera, but just before it took the second picture, Sammie pulled out the pregnancy tests and told her husband that she is pregnant.
A second photo was taken as her husband looked shocked and asked her if she "was serious."
He broke into a wide smile, examined the tests further and the third photo was taken.
Sammie confirmed the pregnancy and held up the tests while smiling for the fourth photo. Her husband laughed and clapped his hands before offering his own smile for the final picture.
The video concluded as he continued to study the pregnancy tests with a smile on his face.
In a follow-up video, Sammie shared what the photo strip looked like and revealed she chose to share the news with him at the Santa Monica Pier, which was where they had their first Valentine's Day date.
She told Newsweek that any time they have the chance to have a day set aside for a date, they go to the pier. And, because she enjoys taking pictures in the photobooth, Sammie knew Dillon would be none the wiser to her plan.
"It was an easy way to surprise him," Sammie said.
The two have been together since 2010, and her idea to reveal her pregnancy with the photo booth came to her in 2014.
"It's so cool to see it come to be," she said. "The pictures came out perfectly."
Sammie also said that Dillon's reaction to the news was exactly as she expected.
"I knew he was going to be so excited," she said. "He's so ready to be a dad."
Viewers loved the idea and the outcome of Sammie's pregnancy announcement.
"This is such a cute idea," a viewer commented.
One wrote that it seemed the two will make "great parents."
"So nice to see such excitement from him," they wrote.
"I love that he was present in the moment and didn't pose for the photos," another shared. "So candid! Goosebumps everywhere! Congrats!"
Under the follow-up video, a viewer suggested that the photo booth can become a tradition.
"Now you can take the kid to the photo booth every year," they wrote.
Another wrote that the photo strip will be a sweet memento that can be shared with the couple's future child.
While many pregnancy announcements have gone viral because they are heartwarming, others have gone viral for different reasons.
A woman's video where she told her boyfriend she was pregnant left viewers in stitches after he mistook the test for a positive COVID test.
One woman's partner was confused as to why she hid a positive pregnancy test in his breakfast food, seen in a viral TikTok video. Another woman may have had a similar thought process and hid a positive pregnancy test in an ice cream cone that she gave to her partner, though some viewers suspected it was a prank.