Cyber Attack on Colonial Pipeline Leads to Emergency Declaration in 17 States
The Biden administration issued an emergency declaration in Washington, D.C. and 17 states on Sunday night as it sought to help Colonial Pipeline transfer fuel after a cyber attack shut down its operations.
Department of Transport officials said the emergency powers would lift restrictions on fuel transport by road to keep fuel lines open and prevent shortages in the wake of the Friday ransomware attack.
The administration said in a statement that its emergency declaration addressed the "conditions creating a need for immediate transportation of gasoline, diesel, jet fuel, and other refined petroleum products and provides necessary relief."
The declaration covers Alabama, Arkansas, District of Columbia, Delaware, Florida, Georgia, Kentucky, Louisiana, Maryland, Mississippi, New Jersey, New York, North Carolina, Pennsylvania, South Carolina, Tennessee, Texas, and Virginia.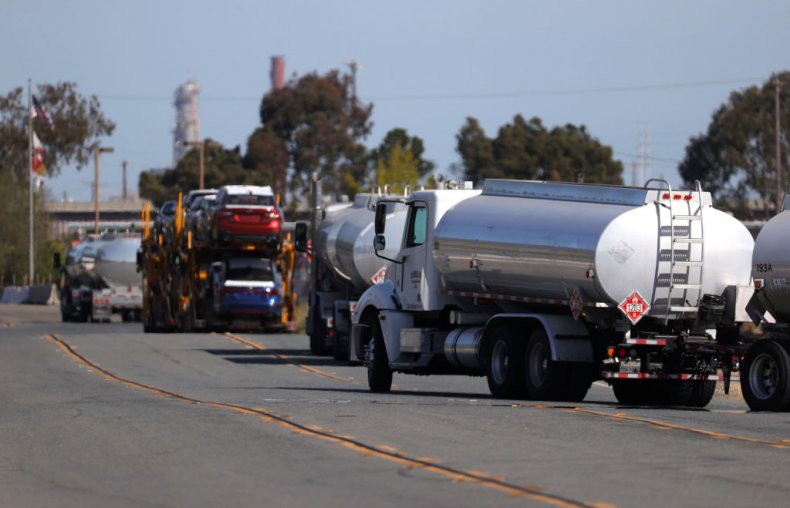 Colonial Pipeline is crucial to fuel supplies in the U.S., stretching more than 5,500 miles and transporting as many as 2.5 million barrels of fuel per day to large U.S. markets. Its capacity is said to count for almost half of the East Coast's fuel supplies.
But the Georgia-based company had to take IT systems offline and shut down operations on Friday last week after it was targeted by a ransomware attack. Cybersecurity experts are investigating the attack, and law enforcement has been alerted.
Ransomware attacks typically involve a hacker taking control of a computer system and installing software the requires the user to pay a fee before their computer system is returned to them.
"Maintaining the operational security of our pipeline, in addition to safely bringing our systems back online, remain our highest priorities," Colonial Pipeline said in a Sunday statement. "Over the past 48 hours, Colonial Pipeline personnel have taken additional precautionary measures to help further monitor and protect the safety and security of its pipeline."
The fuel pipeline operator added that its operations team was working on a "system restart plan" to reopen the crucial fuel line, but added that some "smaller lateral lines" were operational again.
Associated Press reported on Monday morning that a criminal gang known as DarkSide was behind the cyberattack, citing two sources close to the investigation. Reuters also said the group was among the suspects.
President Joe Biden's Commerce Secretary Gina Raimondo said on Sunday that incidents like the Colonial Pipeline cyber-attack were becoming more common and were a "priority of the administration" going forward.
"As it relates to Colonial, the president was briefed yesterday. It's an all hands on deck effort right now," she told CBS News' Face the Nation. "We are working closely with the company, state, and local officials to make sure that they get back up to normal operations as quickly as possible, and there aren't disruptions in supply."