'Cyberpunk 2077' Update 1.06 Improves Stability on Consoles
CD Projekt Red has released a brand new update for Cyberpunk 2077, the latest move in the studio's continuing efforts to make the massive open-world RPG playable on PS4 and Xbox One.
Version 1.06 for Cyberpunk 2077 is now available for PC and consoles, and while it's not as meaty as the previous two updates, it still puts a dent into the numerous bugs that gamers have experienced since the game's December 10 release.
Here's the complete patch notes and full list of changes for Cyberpunk 2077 version 1.06: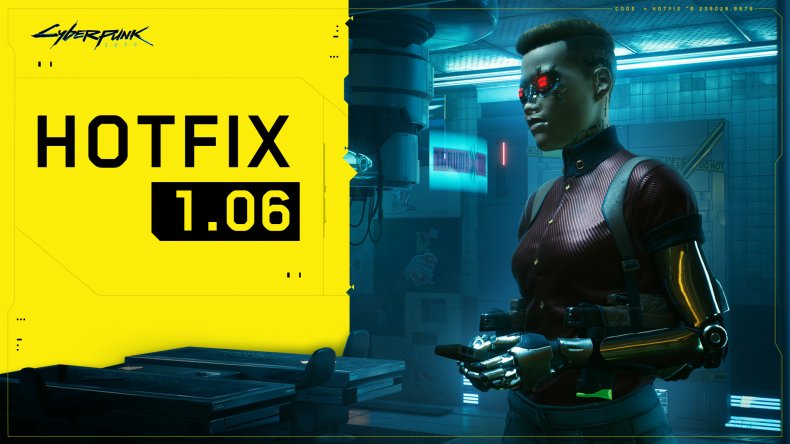 Quests
Dum Dum will no longer go missing from Totentanz entrance during Second Conflict.
Console-specific
Improved memory management and stability, resulting in fewer crashes.
PC-specific
Removed the 8 MB save file size limit. Note: this won't fix save files corrupted before the update.
CD Projekt Red's latest game has been marred with controversy and a very rocky launch. Since its December 10 release, gamers found that Cyberpunk 2077 does not perform as well on current-gen consoles like the PS4 and Xbox One. Reports of game-crashing bugs, visual and frame rates issues plagued the launch of Cyberpunk 2077, enough so that gamers took to social media to voice their displeasure.
On December 14, CD Projekt Red issued an apology for the lack of transparency in regards to the PS4 and Xbox One version of Cyberpunk 2077 and offered refunds for those who bought the game digitally. Unfortunately, many gamers had trouble procuring their refunds from Sony and the PlayStation Store.
After a few days, Sony issued its own statement regarding Cyberpunk 2077 and promised refunds for those who purchased the game via the PlayStation Store. Sony also took it upon itself to remove the game from its digital store. When the game will return is unknown.
Microsoft would follow suit days later by expanding its own refund policy in regards to Cyberpunk 2077, but it kept the game to purchase in the Microsoft Store. Retailers such as Best Buy and, reportedly, GameStop have allowed for refunds on physical versions of Cyberpunk 2077 even if the game was opened.
CD Projekt Red did promise two major updates in early 2021 in its apology, which will help stabilize and fix many of the game's issues on PS4 and Xbox One. Those updates are scheduled for January and February.
Cyberpunk 2077 is available now for PS4, Xbox One, PC and Google Stadia.
What do you think of Cyberpunk 2077 so far? Have you encountered some of these issues? Let us know in the comments section.