Cynthia Nixon Calls Andrew Cuomo 'Corrupt' Liar In Debate Showdown
The first and only gubernatorial primary debate between New York Governor Andrew Cuomo and his Democratic primary challenger Cynthia Nixon turned into a war of words on Wednesday with Nixon calling Cuomo a "lying" and "corrupt" leader while the incumbent accused the actor-turned-politician of peddling "fiction" to voters.
"I'm not an Albany insider, like Governor Cuomo, but I think that experience doesn't mean that much if you're not actually good at governing," Nixon began at the debate, which took place at Hofstra University.
Calling Cuomo a "corporate, corrupt Democrat," Nixon accused Cuomo of "incredible corruption" in his administration, as well as of having "broken the New York City subway" and having "handed" the State Senate to Republicans.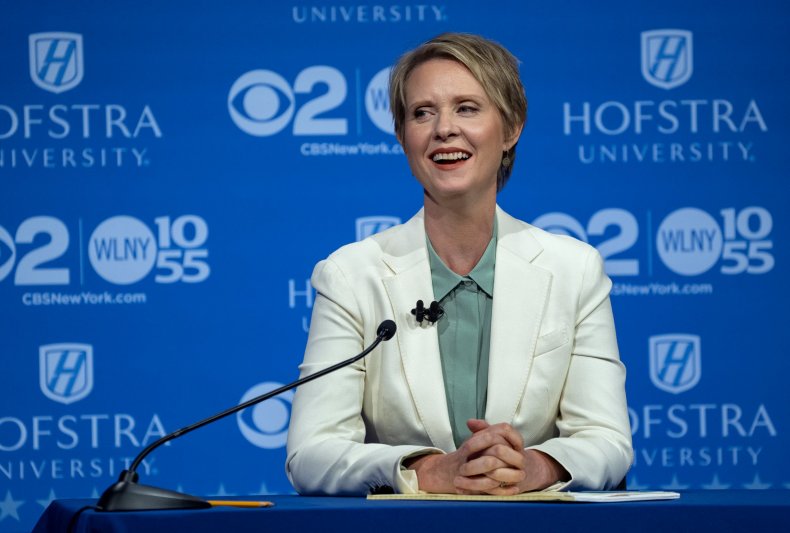 "I think that governor Cuomo is a very astute politician, he's a crackerjacked fundraiser," Nixon said, but, she urged constituents to "look at how he's broken the New York City subway," as well as to "look at how he's handed of the State Senate to the Republicans" and "look at the incredible corruption in his administration, particularly where his economic development is concerned."
The debate heated up after Nixon accused Cuomo of leaving the city's transportation system underfunded, accusing the governor of using "the MTA like an ATM."
As a back-and-forth between the two ensued, Cuomo asked Nixon: "Can you stop interrupting?"
"Can you stop lying?" the former actor hit back.
"Yeah, as soon as you do," Cuomo responded.
The governor later accused Nixon of peddling "fiction, not facts," to voters, hitting out at the former actor's lack of experience in the political sphere.
"This is real life," the New York governor said.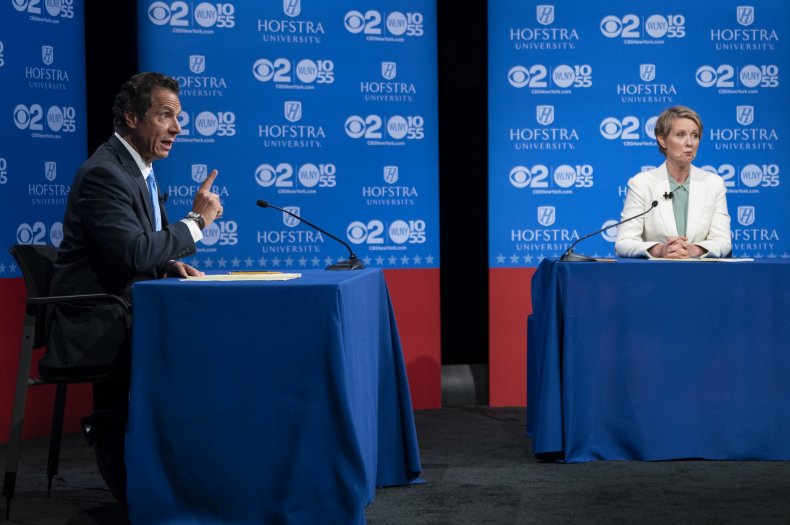 "You're in charge of fighting terrorism, fire, floods, emergencies, train wrecks," he continued, adding that part of his role was also to "fight Donald Trump," calling the U.S. leader the "main risk to the state of New York."
"He is trying to change the rights and values of New Yorkers and the first line of defense is New York and the governor leads that fight and you need to know how to do it," Cuomo said.
Nixon seized on his comments, accusing the governor of failing to stand up to the president after Trump railed against Cuomo over comments that America "was never that great."
"You stood up to him about as well as he stood up to Putin," Nixon said, in an apparent reference to Trump's apparent refusal to endorse the U.S. intelligence community's assessment that Russia interfered in the 2016 presidential election during a summit in Helsinki with Russian President Vladimir Putin.
Read more: Hillary Clinton Says She's 'Inspired' By Women As She Endorses Andrew Cuomo Over Cynthia Nixon
Cuomo's comments also prompted a question over whether the governor was laying the groundwork for a presidential campaign in the 2020 election.
Asked if he could promise voters that if he is re-elected, he will not end his term early to run for president, Cuomo responded: "No, I'm running for governor of New York."
"My job as governor is to protect New Yorkers, whether it's from terrorism, climate change or mother nature," he said. "But part of the largest threat today is President Trump."
Asked again to confirm that he would not end his term early for a White House bid, the governor said: "The only caveat... is if god strikes me dead."
"Otherwise, I will serve as governor of New York," he added.