Cynthia Nixon Campaign Blames 'Extremely High Turnout' for Election Loss to Andrew Cuomo
As Governor Andrew Cuomo moved closer toward securing a third term on Thursday evening, claiming the Democratic nomination in New York, rival Cynthia Nixon appeared to take the landslide loss in stride—for the most part.
"While the result tonight wasn't what we had hoped for, I'm not discouraged. I'm inspired. I hope you are too," Nixon tweeted on Thursday evening.
With 93 percent of precincts reporting, Cuomo had 65 percent of the vote compared with her 35 percent.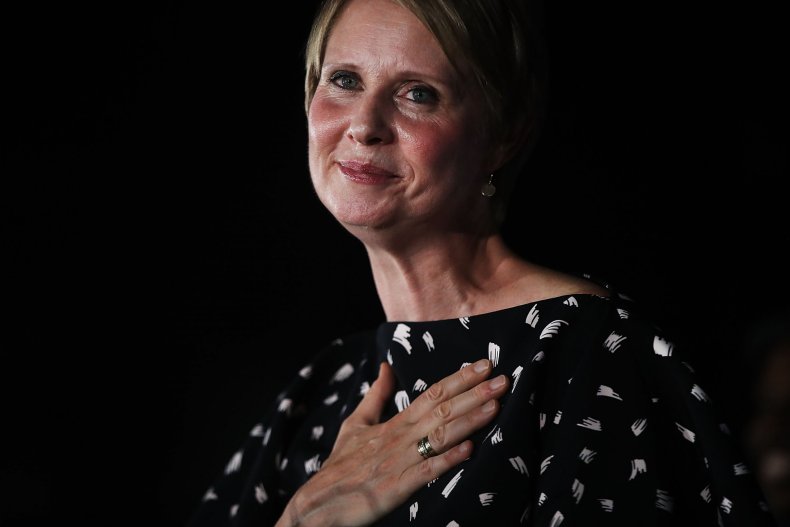 While Nixon called on voters to become change makers, her campaign team seemed to send a different message, attributing the candidate's loss to high voter turnout.
In a memo sent to journalists as polls closed, Nixon's campaign team accused Cuomo's campaign of overseeing an "unconscionable influx in spending" that resulted in an "extremely high" turnout "throughout the state," according to The Hill.
"This is likely due to two factors: tens of millions of dollars in advertisements from Andrew Cuomo pushing voters to the polls, and a desire on the part of prime Democratic voters to send a message to [President Donald Trump] for the first time since his election," the campaign team said.
In the memo Nixon's team also blamed fewer polling hours in upstate New York, where her team said Nixon had polled better than in New York City, for the landslide loss.
They also cited reports of voting problems in New York City neighborhoods, where they said Nixon had polled better than anywhere else as having conributed to her loss.
The message from Nixon's campaign team stood in stark contrast to the candidate's own statements, celebrating the campaign as a success, despite her loss.
"This isn't just a symbolic victory," she said. "This campaign forced the governor to make concrete commitments that will change the lives of people across the state."
The actor-turned-politician appeared to take credit for Cuomo's announcement in April that the state Senate's Independent Democratic Conference, which she described as "the group of breakaway corporate Democrats who handed the State Senate to the Republicans," had agreed to disband.
"For 7.5 years, the Governor said he had no power to disband the IDC...," Nixon wrote. "Then, 2 weeks into our campaign, he miraculously disbanded them.
"Last year, the governor opposed recreational marijuana," Nixon noted. "We came out strongly in favor of legalizing it as a matter of racial justice and the next day, the governor declared that 'the facts on marijuana have changed.'"
Nixon also championed her campaign's focus on calling for improvements to New York City's subway system, stating: "We made the crisis in the subway a cornerstone of our campaign. Now, everyone in New York understands that the governor controls the subway, and it's the governor's responsibility to fix it."
Read more: Cynthia Nixon Calls Andrew Cuomo 'Corrupt' Liar In Debate Showdown
Nixon also noted that after her team released its climate justice plan in the Rockaways, the governor "reversed himself and halted construction of a pipeline that would've devastated that community's water and health. The list goes on and on."
The former Sex and the City star said that while some people had called the chain of events the "Cynthia effect," she called it "what happens when we hold our leaders accountable."
"This is more than just a campaign—this is a movement," Nixon said. "The movement we're building isn't just about one candidate, or one election. It's about offering a vision of the way things COULD work, if only we have the leadership and the political courage to make it a reality."
Nixon called on the "generation coming of age in Obama's and Trump's America" to change the country "and for the first time in our history, create a nation that finally belongs to all of us.
"We started something here in New York, and it doesn't end today. This is just the beginning. And I know that together, we will win this fight," Nixon said.
She did not appear to have addressed the comments of her campaign team about high voter turnout contributing to her loss.
While Nixon appeared to concede the Democratic nomination to Cuomo, her campaign is not officially over.
She still has the backing of the state's liberal Working Families Party, which secures her a spot on the ballot in November—unless she decides to remove herself.
This story has been updated with more information on Cynthia Nixon's campaign.