'Sex and the City': Our 1999 Feature on the Show Starring Cynthia Nixon and Sarah Jessica Parker
In 1998, the hit HBO series Sex and the City broke boundaries with its portrayal of single, urban women on the hunt for sex and satisfaction. In 2018, the show is back in the conversation—co-star Cynthia Nixon has announced a run for governor of New York and because of its upcoming 20th anniversary. Here's Newsweek's 1999 feature on Sex and the City—​and what it says about modern (well, then-modern) women living the single life.
Four women walk into a bar. Miranda, Samantha, Charlotte and Carrie—a careerist, a slut, a romantic and a writer who's a little bit of all three. Four glamorous New Yorkers clad in Gucci and Versace, on the hunt for sex, hoping for love. They move to parties and then to bedrooms, where the men they've picked up—oh Lord, these men!—display an assortment of sexual shortcomings so pitiable and obscene they cannot be detailed in a family magazine. The next day these women reconnoiter in a hip downtown restaurant to dish about the guys they've met and the guys who exist only in their dreams. What do single girls want? Love? Marriage? Great sex? How about all of the above—and not necessarily in that order.
In its second season, Sex and the City has become a bona fide hit, showing more staying power than Carrie's (Sarah Jessica Parker) and Samantha's (Kim Cattrall) boyfriends. Last week it garnered Emmy nominations for outstanding comedy series and, for Parker, outstanding lead actress in a comedy series. HBO says Sex has attracted 21 percent more viewers this season and wins its time slot in homes carrying the channel. Meanwhile, single girls on the big screen are getting ballsier, too. A decade ago Julia Roberts shot to stardom in a movie about a pretty woman wanting to marry a rich guy. In Runaway Bride, out this week, Robert is a defiant single girl notorious for leaving guys at the altar.
Publishing houses are churning out a cascade of books about the trials and triumphs of single, urban, female life. The best of the bunch, Melissa Bank's charming Girls' Guide to Hunting and Fishing (Viking), has spent six weeks on the New York Times best-seller list. Tama Janowitz skewers gold diggers in A Certain Age (Doubleday), and Amy Sohn's Run Catch Kiss (Simon & Schuster) is a wobbly attempt to follow in Bridget Jones's Manola Blahniks.
The life of single women in the big city has had a powerful hold on our psyches since Helen Gurley Brown's Zeitgeisty book Sex and the Single Girl in the '60s and Mary Tyler Moore's bachelorette pad in the '70s. But the single heroines in today's popular imagination are worlds apart from Helen and Mary, and an even farther cry from their old-maid aunts. They're well dressed, well paid and sexually gratified. "I don't understand why women are so obsessed with getting married," says Samantha. "Married people just want to be single again. If you're single, the world is your smorgasbord." And more and more, it seems this undomesticated fantasy world is seeping into the daily lives of single women.
As our favorite TV foursome prowls through New York hunting down new men and discarding the old ones like last year's Prada bags, they reinforce this fact: women who make their own money don't have to depend on a man, and they don't have to settle. American women are staying single longer than ever; since 1960, the number of unmarried women in their late 20s has tripled. And they make more money—single women make 92 percent of men's wages today. So the manhunt has become less a matter of economic survival and more of a leisure activity, like shopping. "A woman who can afford to travel and buy her own furniture is entirely different from the dried-out old spinster you have to remember to bring to the party," says Marcelle Clements, author of The Improvised Woman: Single Women Reinventing Single Life. "I don't have to get married to buy a house," adds Crystal Ashby, 38, a lawyer from Chicago. "I don't even have to get married to have a kid."
The women of Sex and the City sleep with whomever they want, max our their credit cards and never have to worry about playdates or carpools. And they know their married friends aren't having any fun at all. "The show is really breaking through the notion that marriage is the end-all and be-all," says Benilde Little, author of The Itch, a best-selling novel about women and infidelity. "Single women need to be reminded of that." It's not that they don't want to fall in love—it's just that, as Melissa Bank points out, "there's a way in which you can fall in love with your single life. You're in charge."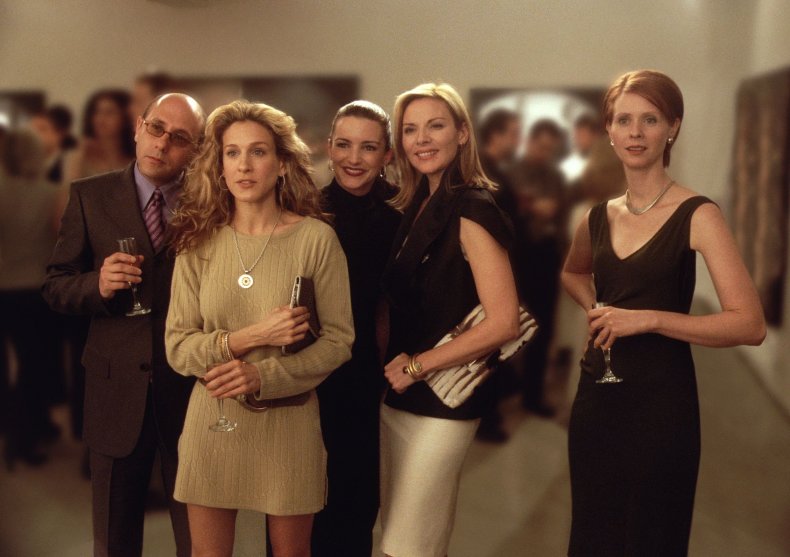 On Sex and the City, the locker-room talk is raunchy enough to bring a blush to the cheeks of the Alpha male. Samantha, Carrie, Charlotte (Kristin Davis) and Miranda (Cynthia Nixon) have shockingly explicit conversations about vibrators, threesomes and practically any bedroom gymnastics you can think of. And they settle the debate once and for all: size does matter. "I wanted to do an R-rated show about adult sexual relationships that had no kind of censorship, moralizing or judgment," says creator Darren Star, who also brought us the vixens of Melrose Place. Fans love the down-and-dirty sex talk—it's not the first time they've heard it. "I'm not sure even cable is ready for the conversations my girlfriends and I have!" says Andi Litschko, 35, a billing coordinator from Cleveland.
Though our Fav Four can talk a good game, they're not without their vulnerabilities. They have their bad moments—one episode was called "They Shoot Single People, Don't They?" "It all comes down to that one thing—we're single—and there's this little person inside of you saying no matter how successful you are or how great your wardrobe is, you don't have a date. Maybe, just maybe, you're a big loser," says Karen Ohlrich, 36, a sales representative from Willoughby Hills, Ohio. Single-girl stories are resonating with young women who are struggling with a question that never seemed to plague the Mary Tyler Moores of the world. What happens when you've embraced the modern fantasy of independence but still find yourself craving the old-fashioned fantasy of marriage?
And there's an even bigger problem: the men. The Turtle. Mr. Big. Mr. Euphemism for a Female Sexual Organ. The weird guys on Sex and the City are such bit players they don't even get real names. For Carrie et al., dishing about the men they've been with is even more important than being with the men themselves. What do single girls want? The answers, like the men on the show, are fleeting. As soon as you think you've nailed them down, they escape you. But one thing's for sure: you won't see any of these women at the altar until they've figured it out.
This story originally appeared in the August 2, 1999 issue of Newsweek with the headline "Sex and the Single Girl." By Yahlin Chang and Veronica Chambers, with Joan Raymond in Cleveland.