DaBaby's Senior-Assisted Grammys Performance Leaves Fans Confused
Rapper DaBaby took to the 63rd Annual Grammy Awards stage on Sunday night to perform "ROCKSTAR," but viewers were more focused on the background than his music.
Though his musical talents were front and center, a group of older women in choir robes sung behind him. Their appearance onstage has already caused viewers to share numerous memes online.
The identities of the choir-robe-clad singers are unknown, but their presence on the stage could rival pop cultural moments past. (Left Shark, anyone?)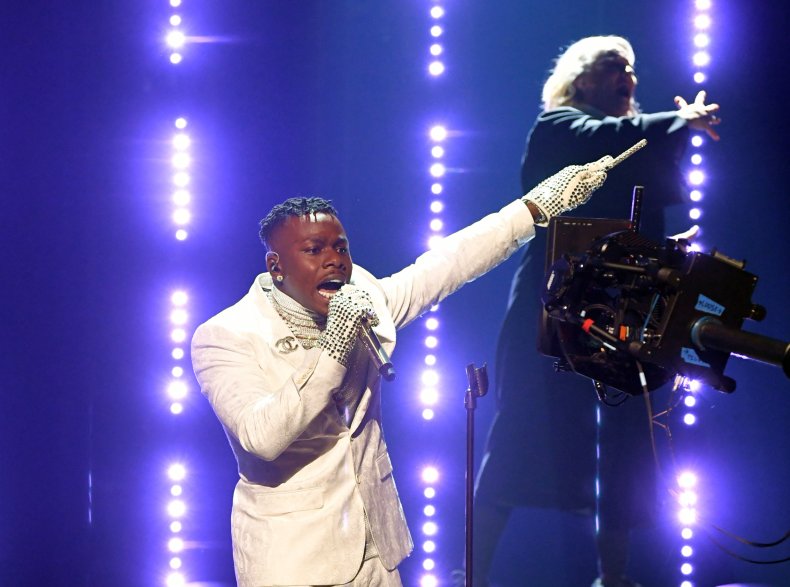 Twitter users were confused as to why the women had a place on the stage. In the background, they stood mainly in darkness as they danced along with the lyrics. Their black robes even brought in some comparisons to Ruth Bader Ginsberg and Margaret Atwood.
Other jokes, even from notable names like Tyler Oakly, brought thoughts of Reality TV—from Shark Tank to Judge Judy—to the forefront.
Other memes compared DaBaby's violin player to Ariana Grande because of the musician's high-ponytail, as well as her short, white dress that resembled Grande's tour outfits.
DaBaby was nominated for four Grammy awards on Sunday night, including Best Rap Performance for "BOP," Best Melodic Rap Performance for "ROCKSTAR," Best Rap Song for "ROCKSTAR" and Record of the Year for "ROCKSTAR."
The rapper lost all four categories on Sunday night. Best Melodic Rap Performance went to Anderson.Paak, who won for "Lockdown." Best Rap Performance and Best Rap Song were also lost to Megan Thee Stallion's "Savage (feat. Beyoncé)," and Record of the Year went to Billie Eilish for "Everything I Wanted."
DaBaby has no previous Grammy wins to his name, either, but he was nominated for Best Rap Performance and Best Rap Song in 2019—both for the song "Suge."
Sunday night's Grammy Awards began with the Best New Artist award, which rapper Megan Thee Stallion took home. The show began with musical performances from guests including Harry Styles, Billie Eilish, HAIM, Black Pumas, DaBaby, Bad Bunny and Dua Lipa.
Styles kicked off the evening's performances, and he also set off the first big wave of memes when he stepped onto the Grammy stage wearing a green boa. During the performance, Style took off the scarf and threw it behind him to reveal a leather suit. Fans of Styles took to Twitter to praise the singer's green boa scarf and sense of style.
Later, when Styles stepped onto the stage to accept the Best Pop Solo Performance award for his song "Watermelon Sugar," he was wearing a purple boa. Fans applauded his commitment to the fashion accessory.
Updated 3/15/2021, 12:13 a.m. ET: This article was updated to include DaBaby's Grammy losses on Sunday night.