Megan Thee Stallion continues to build upon her massive successes of 2020—the Good News rapper won the Grammy Award for Best New Artist on Sunday night.
The only other female rapper to win that same trophy is Lauryn Hill, who won the award in 1999. However, some people—like, say, the voters in the Recording Academy in the late '90s—might argue that she was a singer who incorporated elements of rap and hip-hop into her music. Hill's classic solo debut album, The Miseducation of Lauryn Hill, was categorized as an R&B album by the Recording Academy in '99.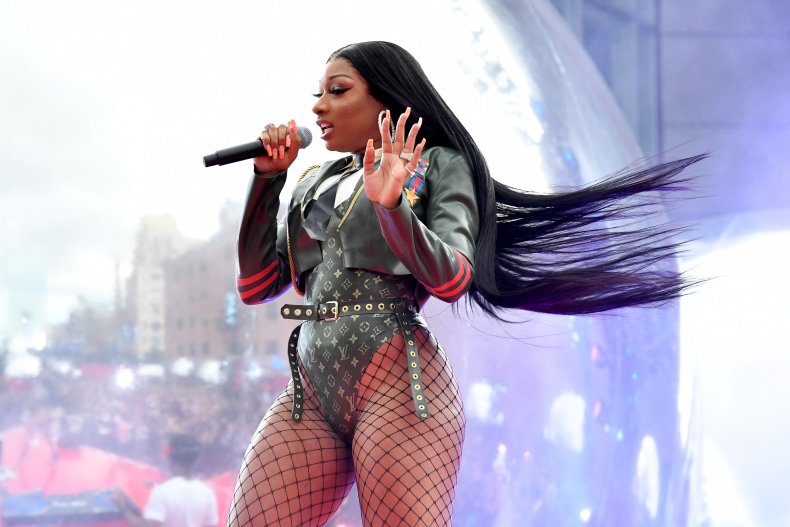 As for male rappers, they actually haven't fared much better in the Best New Artist category. Only three male hip-hop acts have won the award: Arrested Development (1993), Macklemore and Ryan Lewis (2014) and Chance the Rapper (2017).
"I don't want to cry, but first of all, I want to say everybody is amazing. Every artist that was nominated for this award is so amazing," Megan said, fighting back tears, while accepting the award. "Secondly, I really just want to thank God. Thank you for putting life into my body for me to be able to even be here today."
Megan finished with a special message to her late mother. "She's not here with me today, but I know she's here with me in spirit and she always believed I could do it," she said.
Fans celebrated Megan's on social media, including some famous admirers, like rap icon Q-Tip.
Retired NBA star Dwyane Wade also paid his respects.
Of course, plenty of non-famous fans were equally ecstatic.
Megan Thee Stallion can now add this prestigious trophy to her already impressive list of accomplishments. The 26-year-old Houston native had one of 2020's biggest singles with "Savage," as well as one of the year's best-selling albums with her proper debut, Good News. She also famously (and infamously) appeared on Cardi B's single "WAP." Both the "Savage" remix (featuring Beyoncé) and "WAP" went to No. 1 on the U.S. Billboard Hot 100 chart, with the latter reaching the top spot on the charts in countries all over the world. In the pre-show to the ceremony, Megan Thee Stallion won Best Rap Performance with Beyoncé.
In winning the Best New Artist award, Megan Thee Stallion beat out a slew of acclaimed newcomers: Ingrid Andress, Phoebe Bridgers, Chika, Noah Cyrus, D Smoke, Doja Cat and Kaytranada.