Dad Ditching His Girlfriend to Prioritize Time With Teen Daughter Blasted
A man has sparked a debate on the internet after revealing that he forgot to tell his girlfriend about changing his plans and spending Saturday night with his daughter instead of her—and most users are taking the girlfriend's side.
In a post shared on Reddit on Tuesday, under the username u/throw-aitaaakwv, he explained that his teenage daughter, who usually spends only weekends with him, asked him to watch something together on Saturday night, which was very unusual for her, but exciting for him, because she usually spends the night on her phone.
According to a study by Headphones Addict, the average teenager in 2023 spends around seven hours and 22 minutes a day on the phone, even though the recommended screen time is no more than two hours.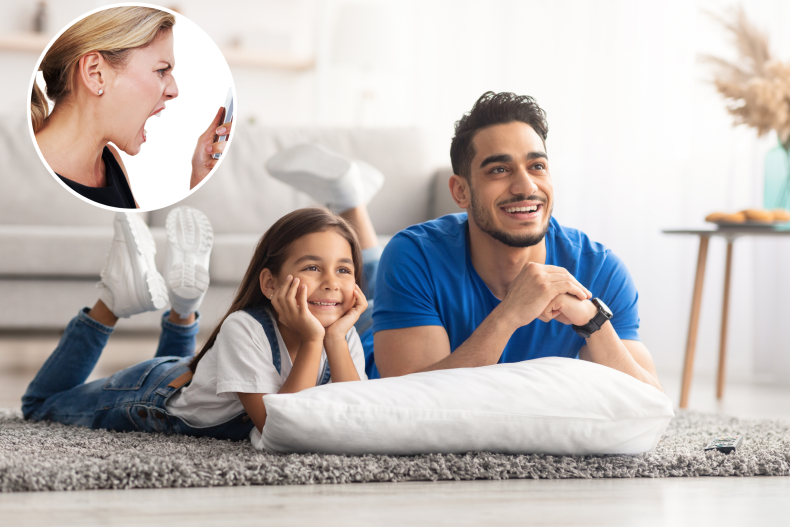 So the poster and his daughter stayed in bed watching Breaking Bad while eating ice cream, and before he realized, it was 10 p.m., when his girlfriend was supposed to come over.
He wrote: "My [girlfriend] texted me asking when she could come over and I realized that I completely forgot that I said she could come over on Saturday. So I just texted her saying if we could meet up tomorrow (Sunday) instead. But then she called me and she was angry that I changed plans in the last second and I didn't even tell her."
"I tried to explain the whole situation and that I simply forgot but she just hang up and then she texted me saying that if I don't care about our plans she's not coming over on Sunday. And she didn't. In fact, we haven't seen each other since last week. So was AITA?"
Life coach Marni Goldman told Newsweek that when you start dating someone, learning how to handle your differences is much more important than the similarities you might have.
She said: "Knowing how to communicate is key. Sadly, this girl chose to 'cut her nose to spite her face.' It's absolutely ridiculous. In fact, a loving father shows such wonderful character. You wouldn't want to be with somebody who didn't put their children first anyway.
"For this dad, here is a prime example, of a red flag/and or dealbreaker. If she is upset about this, I can't imagine how she would react to something that seriously affected her. Most people know in the world we live in, when you are with, or around any teenager, we don't see their faces, only the top of their heads. You could be right next to somebody, yet worlds apart.
"This dad must've been on CLOUD 9 spending actual quality time with his daughter. Ice cream and TV? Come on! She should've been elated for him, rather than the immature jealous behavior she displayed."
Accepting an Apology
According to Goldman, in a healthy relationship, if someone is big enough to say I'm sorry, then one should accept it and move forward.
"It's so unfortunate when people ruin 'a good today, over a bad yesterday.' When people show you who they are, believe them. She showed you, and I would say 'Bye! Next!" She added.
The post, originally shared on the r/AmItheA****** subreddit, where people discuss their actions with online strangers, has gone viral, receiving over 7,100 upvotes and 2,300 comments so far.
One user, Ok_Yesterday_6214, commented: "[You're The A******], it's all cool you prioritize your daughter, as you should, but completely forgetting about plans with your [girlfriend]? And when SHE texted to know what's going on you just went: don't really have time for you now, let's reschedule? No sorry, no nothing? Well, you seem like a good dad but a lousy boyfriend..."
And Zealousideal-Mud6471 said: "[You're The A******]. Ohhhh good view, the daughter is totally being used for sympathy votes and he almost got mine! There was time to text the [girlfriend] before they started binging or even during, I refuse to believe he didn't look at his phone once."
Sad__Platypus added: "[Not The A******] for spending time with your daughter. Your daughter should go before your girlfriend. But [You're The A******] for not informing your girlfriend about the change of plans until [the] last second, and also completely forgetting that you even had plans with your girlfriend. I'm leaning towards soft [You're The A******] just because it is okay to change plans, especially when it's something to do with your own kid, but when you decide to change plans, you need to inform the person/people you originally had plans with. It is annoying to be told very last minute that there has been a change of plans."
On the other hand, nolimitxox wrote: "[Not The A******] - mistakes happen. Spending quality time with your teenage daughter at her request would probably throw me for a loop, too. I'm sure you were excited she asked to spend the time with you as it probably doesn't happen all that often on her dime. Your girlfriend will get over it. Try your best to make it up to her, but firmly hold true - this opportunity presented itself, and it was important you took it."
Newsweek reached out to u/throw-aitaaakwv for comment. We couldn't verify the details of the case.
Have you noticed any red flags that made you end a relationship? Let us know via life@newsweek.com. We can ask experts for advice, and your story could be featured on Newsweek.