Sleep deprivation is a common complaint among new parents but the reality is that, for many, the lack of rest doesn't end in infancy.
A 2019 study published in the scientific journal Sleep found new parents face up to six years of sleep deprivation, with that number likely to increase should they have more children.
Early starts can also be commonplace among young kids, especially when it comes to occasions like birthdays and Christmas.
For some children, the excitement of the big day and the presents that await is almost too much to bear, resulting in sleepy-eyed parents being woken at the crack of dawn to unwrap gifts.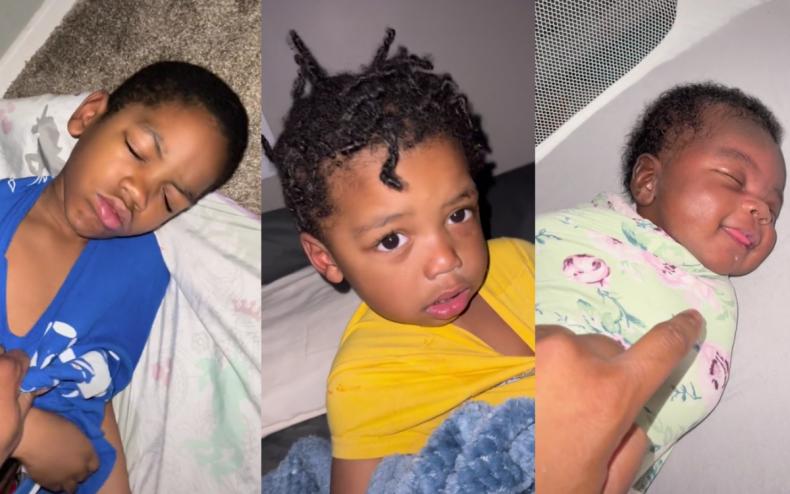 It's a familiar scenario for families far and wide, which is perhaps why there has been such a strong reaction to the video shared to TikTok by one dad this Father's Day.
In the clip, uploaded to the account Tmillz30, an unnamed dad is shown exacting sweet revenge on his four children by waking them early to ask: "Can I Open My Father's Day Gift?"
Captioning the video, the prankster father explained he was getting "payback" for all the "Christmas dads" jolted out of their slumbers by their children.
The footage shows the vengeful dad waking each of his kids in turn to ask if he can open his gift. Their response is usually one of sleepy confusion and occasional anguish, though his baby daughter is the exception.
Asking the sleeping tot if he can open his Father's Day gift, the dad finds his question greeted with an adorable smile. She doesn't even open her eyes but the sound of her father's voice leaves her evidently delighted.
Footage of the prank was first posted to TikTok where it has racked up over 1 million views. The video has also been shared on Twitter by Getthebagcoach who branded it "Grade A High Quality Father's Day content."
That version has been viewed over 3 million times, earning more than 27,000 retweets and 187,000 likes.
On TikTok, Dante Wright branded the video "underrated," with hitmanm_ calling it "quality content." King_Wallace_III noted: "I don't think the baby was there for Christmas," with Tmillz30 replying: "She wasn't but she part of the gang."
LA_Woman69, meanwhile, quipped: "I forgot how deep the sleep is when you don't have bills," while InfinityKlampexxx noted: "the baby heard your voice and was happy."
On Twitter, _JMHyde warned the dad he would likely face consequences for his actions writing: "Once them kids are up it's going to be a problem," with Thabo_Maubane adding: "Judging by how they sleep, they use a lot of energy."
Jayinem said: "This gave me anxiety. Because when you wake them up, they're not going back to sleep. Happy Father's Day!"
Others like Magnachardish, however, were impressed. "That's soooo good!" they wrote. "Well played!!!!"
Newsweek has contacted Tmillz30 for comment.