Dad's Unique Tribute to Queen Delights Internet: 'Mourning Run'
Following the death of Queen Elizabeth II on September 9, many people found their own way to grieve, or not. A video of a man's unique tribute to the queen, posted on TikTok by his son Owen Reeman, has gone viral with over 2.2 million views.
Captioned "It's what Liz would have wanted," the video shows a screenshot of the Strava exercise app with a summary of his most recent run, titled "Mo(u)rning Run." He burned 740 calories over a distance of 6.56 miles, it showed, his circular run tracing an uncanny outline of the queen's profile, tiara and all.
A message from his father below the image readL "Have either of you seen my run on Strava that looks like the queen? Ran it this morning in remembrance."
One user commented: "The amount of planning that must've gone behind his route lol!!"
After the queen's passing, people from around the world scrambled to pay their respects in their own way. More than 250,000 people waited in queues of up to 35 hours to see the queen lying in state, Michelle Donelan, Britain's culture secretary, said this week. One woman said seeing the queen's coffin was more exciting than giving birth to her children.
Other tributes to the Queen included:
A Not-So-Popular Mural
A mural near Hounslow East tube station in west London was recently painted in her honor, although it didn't quite get the reaction its creators, Jignesh and Yash Patel, had hoped for.
"We love the queen, [and] when she died, we thought we had to pay tribute," Jignesh told the BBC. "It is a unique way to do a tribute. In Hounslow, there is a lack of creativity."
Many people online called for the mural to be painted over. "Doesn't look very much like her! It's a bit disrespectful I feel! [The] best thing they could do now is paint over it," Margaret Ellingworth said in a Facebook comment.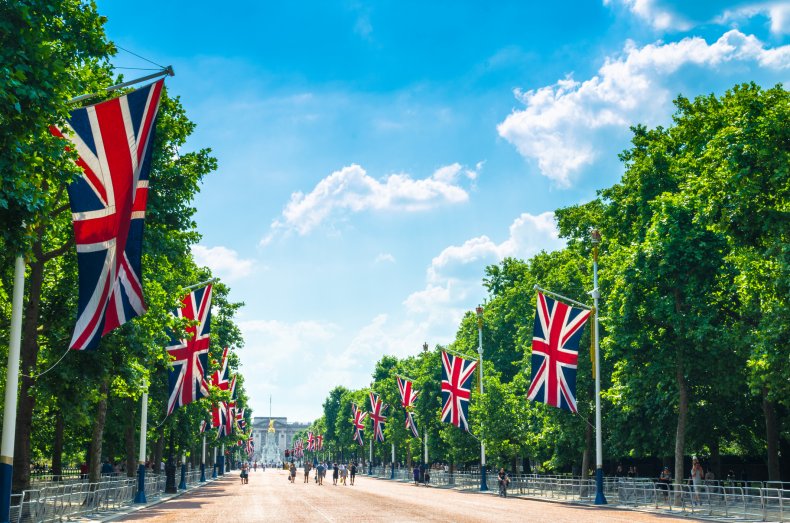 Marmalade Sandwiches
A video of the queen and Paddington Bear having tea in for her Platinum Jubilee delighted viewers from around the world and amassed over 12 million views on YouTube. As a result of its popularity, mourners have been leaving marmalade sandwiches, as well as teddy bears and other non-perishables.
Users on Twitter were quick to criticize people for leaving sandwiches. Meanwhile, the Royal Parks charity, which manages over 5,000 acres of the family's parkland across London, were more concerned with the non-perishables.
"In the interests of sustainability, we ask visitors to only lay organic or compostable material. Non-floral objects/artifacts such as teddy bears or balloons should not be brought," it said in a statement.
The World Reacts
In Paris, the Eiffel Tower turned off its signature light show in honor of the queen, and the mayor, Anne Hidalgo, offered the city's "deep sorrow" to the British ambassador.
In New York City, the Nasdaq headquarters in Times Square displayed a photo of the late monarch with the message: "Nasdaq honors the life and legacy of Queen Elizabeth II."
In Australia, soldiers fired a 96-gun salute to honor the life and legacy of Queen Elizabeth II in Canberra at dusk on September 9. At the Zimbabwe National Art Gallery in Harare, a commemorative portrait of the queen was mounted on the wall.