Dakota Johnson Seems To Notice Johnny Depp's Severed Finger in Old Clip
A clip of Dakota Johnson seemingly noticing Johnny Depp's injured finger in 2015 has resurfaced online amid the actor's ongoing defamation trial against Amber Heard.
The Pirates of the Caribbean actor's severed finger has become a key anecdote in the highly publicized $50 million trial against his ex-wife.
The 58-year-old alleges that the injury occurred in 2015 when Heard threw a glass vodka bottle at him during a fight, which led him to experience a nervous breakdown. Heard has disputed the claims.
Depp starred alongside Johnson in the film Black Mass back in 2015 and one clip from the movie's press tour is now racking up thousands of views online.
In the clip, the actors are seated side by side at a press conference and it looks as though Johnson asks Depp what happened to his finger, which appears to be in a bandage.
The Chocolat actor seemingly responds with a joke and the two laugh but Dakota looks concerned while Depp's hands tremble.
TikTok user, @dakifanatic, shared the clip on the platform where it has amassed more than 26,000 views, while on Twitter, another version of the clip has racked up another 54,000 views at the time of publishing.
Depp explained how he got the finger injury while giving testimony last week.
"I grabbed a bottle of vodka that was there and shot glass and sat at the bar, poured myself two or three stiff shots of vodka. Then she [Heard] came down and of course started screaming, 'Oh, you're drinking again, the monster' and all that," Depp explained.
"She walked up to me and reached and grabbed the bottle of vodka, kind of stood back and then hurled it at me. It just went right past my head and smashed behind me."
Depp then detailed how Heard picked up a second bottle of vodka and threw that at him and it made contact with his hand which was resting on the bar.
"My hand is on the edge of the bar like that, leaning over the fingers like that and she threw the large bottle and it made contact and shattered everywhere," he said. "And then I looked down and realized that the tip of my finger had been severed.
"I was looking directly at my bone sticking out—and the meaty portion of the inside of your finger—and blood was just pouring out."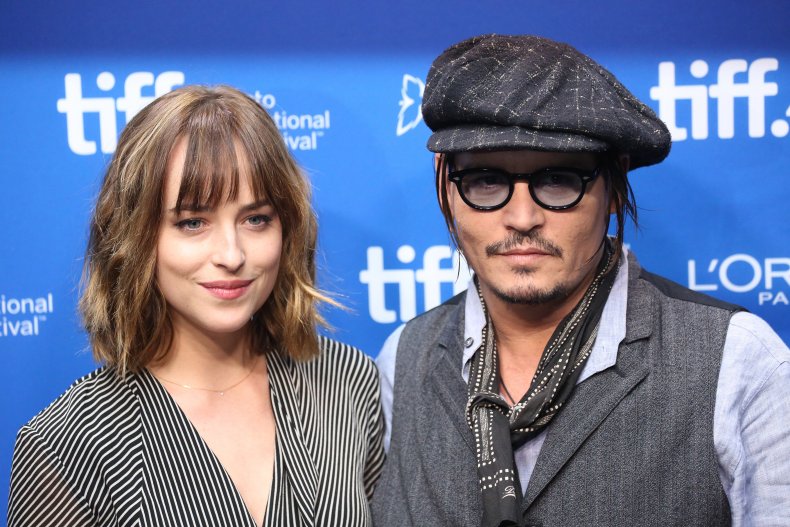 Depp then said that this is when he started to experience what he felt was similar to a nervous breakdown.
"I think I went into some sort of ... I don't know what a nervous breakdown feels like, but that's probably the closest that I've ever been," he said. "Nothing made sense."
Jurors were shown a graphic photo of Depp's sliced finger in court.
He said he hid in the bathroom and then went to the hospital for the injury, where he lied to doctors about how it happened to protect Heard.
"I lied because ... I didn't want to disclose that it had been Ms. Heard that had thrown a vodka bottle at me and took my finger off," he told the court in his lawsuit against Heard. "I didn't want to get her in trouble."
Jonhson previously defended Depp in an interview where the topic of the MeToo movement was raised.
"I never experienced that firsthand from any of those people," she said of Depp and actors Shia LaBeouf and Armie Hammer who have also been accused of abuse.
"I had an incredible time working with them; I feel sad for the loss of great artists. I feel sad for people needing help and perhaps not getting it in time," she told The Hollywood Reporter.
"I feel sad for anyone who was harmed or hurt. It's just really sad. I do believe that people can change. I want to believe in the power of a human being to change and evolve and get help and help other people. I think there's definitely a major overcorrection happening. But I do believe that there's a way for the pendulum to find the middle."