Dale Earnhardt Jr. and Family Survive Fiery Plane Crash In Tennessee
Former NASCAR driver Dale Earnhardt Jr., his wife and daughter were transported to a hospital following a private plane crash Thursday.
The Carter County Sheriff's Office confirmed to NBC affiliate WCYB5 that the family was on a plane that crashed at the Elizabethton Municipal Airport in Tennessee's Carter County.
The plane, which landed at 3:38 p.m., was carrying Dale and Amy Earnhardt, their one-year-old daughter Isla Rose and the family dog, ESPN reported. The FAA and National Transportation Safety Board are investigating the fiery crash, multiple reports said on Thursday.
Kelley Earnhardt confirmed on Twitter that her brother Dale, his wife and their daughter were on board the crashed plane.
"Everyone is safe and has been taken to the hospital for further evaluation. We have no further information at this time. Thank you for your understanding," she wrote.
Earnhardt's sister also noted that two pilots were on the plane, but reports suggested there were no injuries from the two pilots reported to the Federal Aviation Administration (FAA) and Elizabethton Fire Chief Barry Carrier told WCYB that everyone survived the accident. However, the local news station posted exclusive footage of Dale Earnhardt Jr. on a grassy area, presumably near the scene.
A video published by ABC News shows a thick, black smoke rising from the site of the crash, while ESPN detailed that Earnhardt sent a text message to sports reporter Marty Smith that everyone was fine.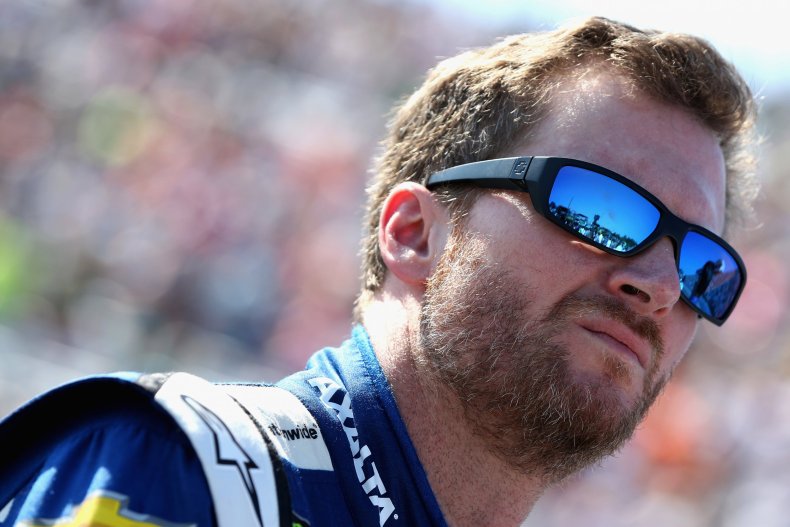 Earnhardt Jr. announced in 2017 he would retire from racing full-time. The third-generation driver followed in the footsteps of his father, the late NASCAR legend Dale Earnhardt Sr., as well as his grandfather, Ralph Earnhardt, the 1956 NASCAR Sportsman champion.
Ralph Earnhardt died of a heart attack in 1973, and Dale Earnhardt Sr. died in a crash during his final lap at the Daytona 500 in 2001. Earnhardt Jr, won the Daytona title at the same speedway where his father crashed only three years later.
Today, Earnhardt Jr. is currently an analyst for NBC Sports. He was reportedly flying to eastern Tennessee for this weekend's races at Bristol Motor Speedway.
Earnhardt Jr. suffered a number of race car crashes over the course of his career. He revealed last year on his weekly podcast that he believes a ghost saved his life after he suffered a serious crash 14 years ago at Infineon Raceway in Sonoma, California.
While Earnhardt Jr. no longer drives in NASCAR's Cup series, he is scheduled to race at Darlington Raceway's NASCAR Xfinity Series on August 31. This will be his second NASCAR-sanctioned event since he retired. He competed at Richmond Raceway in their Xfinity Series race in September 2018.